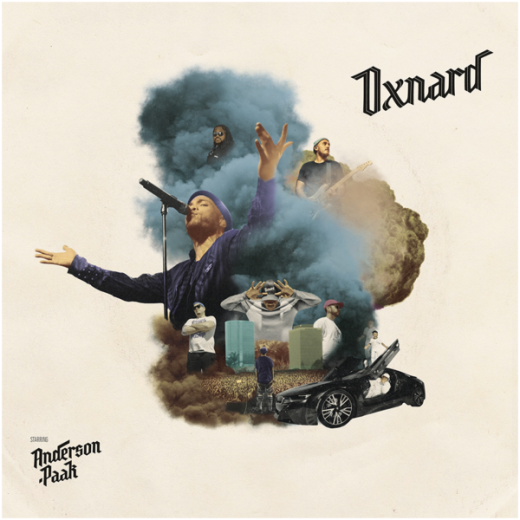 Anderson .Paak, the hardest working man on the southern Californian coast is back. After his breakthrough on Dr Dre's Compton, he has gone from strength to strength, churning out his own unique hybrid of vintage soul, funk, hip hop and R&B across the so-called Beach trilogy (so far, 2014's Venice and 2016's Malibu). Between collaborations with Knxwledge (which bore the excellent NxWorries album), Kaytranada, the late Mac Miller and others, Paak has somehow managed to find the time to pen his latest album, Oxnard, thereby marking the end of the Beach trilogy. Aptly, Oxnard is Paak's hometown, and as you might expect, the album finds him to be in his element, taking his Grammy nomination and new-found fame in his stride.
The abundance of talent gracing Oxnard is testament to Paak's ascension. On his third full offering all the big hitters of hip-hop are almost omnipresent, including Q-Tip, J-Cole and The Game, not to mention Dr Dre on production. While collaborations on Malibu were abundant and engaging, the casting of Kendrick Lamar and ScHoolboy Q highlights that Paak really has moved up to the next league.
Lead single 'Tints' provided a taster of what was to come in Oxnard. Released in October, the single reconnected us with our breezy and whimsical protagonist, now so famous he simply cannot imagine travelling behind untinted windows. 'Smile/Petty's downtempo groove brings in inflections of Paak's gospel upbringing, while 'Anywhere' chunters along its gentle funk backbone. Between them, and a smattering of other tracks, Paak conjures the warm tones and colourful textures that one imagines when picturing the Californian coastline.
Oxnard sees Paak fall into heavier hip-hop influences, largely as a result of Dre on production duties. 'Who R U' is as gritty and sharp as the name suggests, whilst 'Mansa Mura' finds Paak comparing himself to the legendary African emperor, whose personal wealth was so vast it could not be measured, over a frenzy of cymbals and Arabian scales. 'Brother's Keeper' swells with a cocksure bravado that struggles to tether Pusha T's guest appearance.
Lyrically, Oxnard is full of Paak's trademark wit and zeal. "If Jesus had a better lawyer would he have to see the cross" is a frontrunner for Oxnard's finest one liner, as is "It's hard to leave your foundation, this spaceship took me to Pluto/still an underground king, but the money Jason Derulo". Paak, refreshingly, has tried his sharp tongue as a weapon against the socio-economic issues affecting modern day America, with the results commendable and poignant. '6 Summers' is a probing tirade against America's broken politics, calling for reforms in gun law: "'Cause there's money to be made in the killing spree/that's why you tryin' to start a war on the Twitter feed". 'Cheers' sees Paak mourn for Mac Miller, questioning the frenetic and demanding nature of show business: "Shit, music business movin' too fast for me/wishin' I still had Mac with me".
For all of the good intentions, .Paak often strays into the crass and overworked themes of hedonism, arriving in the predictable form of money and sex that so often befalls hip-hop. As a result, the hard hitting themes he does address fail to convey their message long beyond the closing bars of 'Left to Right'. "Back on my bullshit/I got some money to blow, I'm lookin' good bitch" he declares in 'Mansa Mura', while 'Sweet Chick' is a steamy exploration of all of Paak's sexual partners around the globe. It's cheap, distasteful, and unnecessary for an uprising artist who is unafraid of asking bigger questions in his lyrics.   
There's much to love on Oxnard, but too much more to miss, if you've followed Paak's career to date. With so much talent and originality at his fingertips, it's frustrating to find Paak straying from beautifully influenced and sun-soaked paths that Venice and Malibu carved. Oxnard is far from a failure – just a damp ending to an exquisite coastal drive. Dominic Edge