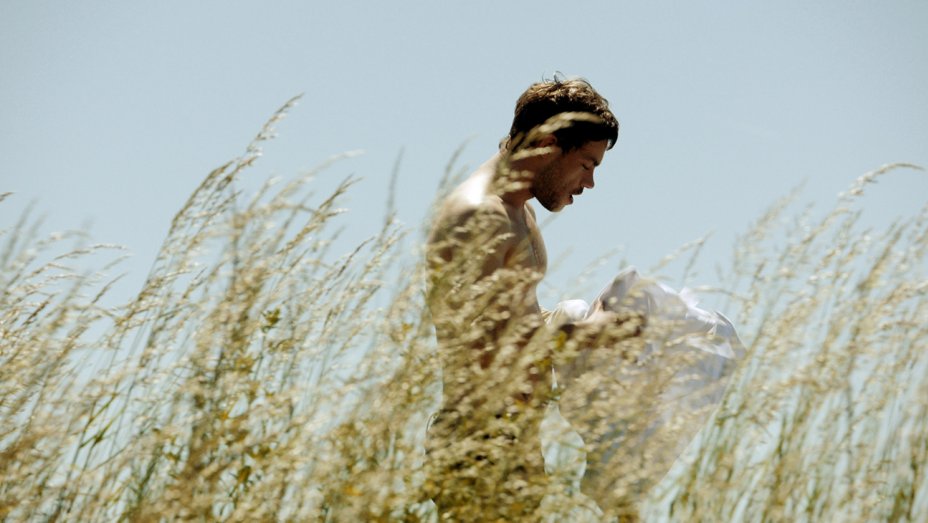 Christopher Honoré's Sorry Angel is an AIDS film where the presence of the virus comes through in tone and colour rather than political sentiment. The writer and director bathes the interiors and costuming of his cross-generational French romance in hues of blue. It is the colour of melancholy, of the autumn sky just before the light gives out — and, crucially, of hospital wards.
Jacques (Pierre Deladonchamps) is a mildly successful but emotionally withdrawn Parisian novelist (imagine!) who is HIV positive but still in reasonably good health. But it's the 1990s, and so his condition is more or less fatal. He has resigned himself to an uneventful final stretch, but is surprised with a last-gasp romantic flourish with Arthur (Vincent Lacoste), a young promiscuous provincial boy from Rennes. The original French title Plaire, aimer et courir vite, which translates as Pleasure, Love, and Run Fast, captures the sense of impetus that Arthur springs in Jacques, but this is a muted, restrained portrait of the twilight of shortened queer lives.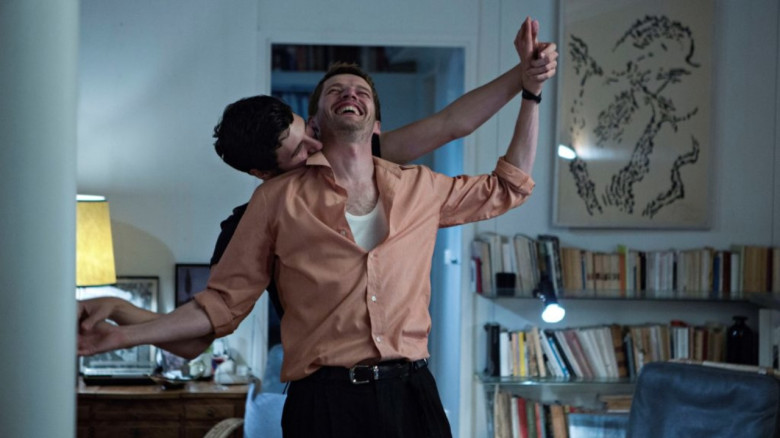 The film's various lovers, central and peripheral, orbit eachother in ritualised movements of interest and connection. Physical contact is primarily an act of kindness, Jacques pulling his sick ex, whose legs have given out, into the bath for a soapy, sweet hug and a discussion of funeral arrangements. At a point in the men's lives where it seems silly to be overly attached and precious about romance, and connections have a transitory quality, feeding into the film's sedate, slightly long-feeling pace. A tasteful period piece with a solid sense of time and place.
Where in Sorry Angel bodies are sites of contact and connection, in Camille Vidal-Naquet's Sauvage, the highlight of the week, they are instruments and recipients of force, manipulation and commercial control. This tough, honest, fragile film follows the day-to-day challenges faced by Léo (Félix Maritaud), a 22 year-old gay prostitute and vagabond who sells his body by on the side of Strasbourg's roads.
Historically, queer film either celebrates the body, in opposition to a culture of self-hate and shame, or details its damage in the context of the AIDS tragedy and the skeletal transformations it produced. Here, Léo's body bears the wear and tear of his vulnerable existence. The swollen ankles from a protein deficit, the wheezing, whistling breath of an infected lung, the black circles and bloody wounds of violent clients. Léo has the spiralling emotional pain to match: an unrequited love for friend and fellow prostitute, and a sweet, disorientating loneliness. When a doctor shows him basic professional courtesy during an exam, he hugs her tight, nakedly desperate for affection.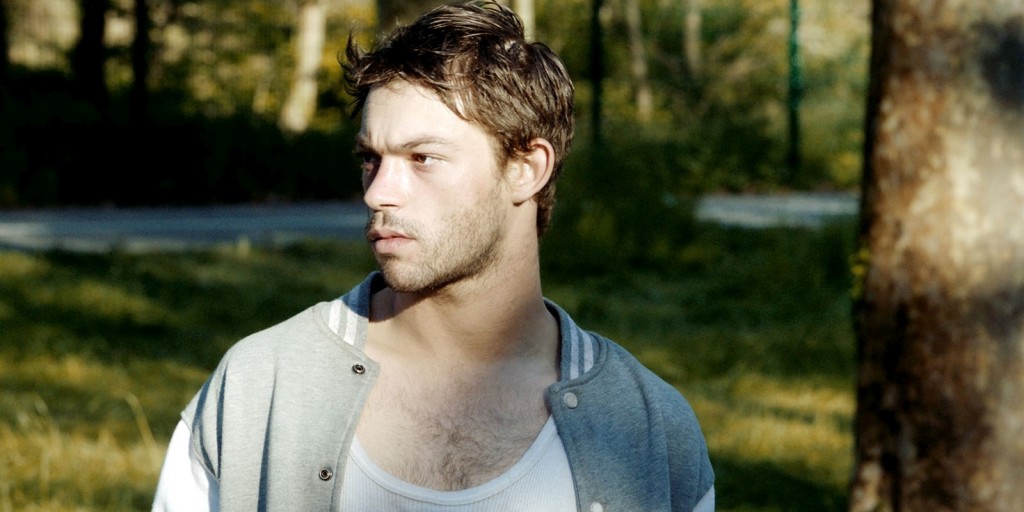 But this kindness is in short supply in a profession where, for a decent price, anyone can do anything to you. There's a particularly difficult and humiliating scenario involving a comically monstrous butt plug. Down on his hands or lapping up puddle water pooling by the pavement, Léo resembles a kind of city stray, broken but essentially innocent, whose best bet for security is a nice, middle-class owner. His final dash for agency is cathartic and endearing, a moment of calm amidst perpetual stress.
A Deal With The Universe, a basic-budget but sweet documentary about modern trans experience, begins with pilgrims praying for a miracle. Director Jason Barker, a comic performer by trade, is shooting home movie footage of him and his partner Tracey at an abandoned chapel in the French countryside, asking the figure of the Virgin Mary to bestow a child upon them.
And there is a touch of the miraculous to Universe's story: Jason, having transitioned to male a long time ago, and more or less adjusted to his new gender reality, is forced to take on pregnancy duties for the couple when Tracey's body becomes unable to. A pregnant man: it's the stuff of tabloid exclamation, the click-here content of sponsored ads.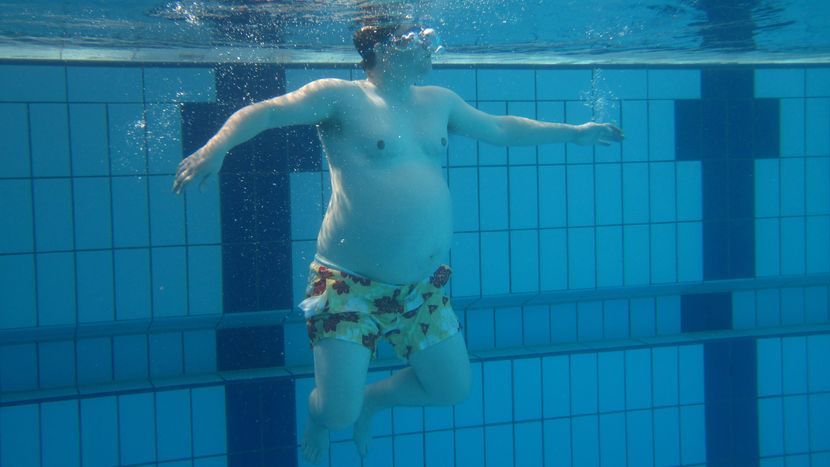 The film — a string of fuzzy, homemade videos of the couple speaking to camera, mostly in their London flat, and footage of Jason's stage act — absorbs an extraordinary situation into the ordinary flow of romantic and domestic life. The most moving moments are unconnected to Jason's trans experience: the heartbreak and self-judgement of yet another failed pregnancy test; the sudden, devastating loss of a friend; the gentle, chatty camaraderie between the partners. The two weather their trials — Tracey's breast cancer; the failed, expensive IVF; the false hopes of fertility roulette— with good humour and support. They are highly likeable people to spend an hour and a half with, and, one gets the impression, rich sources of parental love.
A more textbook documentary is Every Act of Life, a celebration of the life and career of Tony-winning American playwright Terrence McNally. A prolific presence on the New York stage since the 1960s, the 80 year-old McNally has produced an astonishingly diverse output of plays, film material and musical theatre. Written and directed by Jeff Kaufman, Every Act charts the young, gay ambitious McNally's early days in the city, including romantic dalliances with Edward Albee and formative experiences as tutor to John Steinbeck's children, and his transition into the theatrical establishment.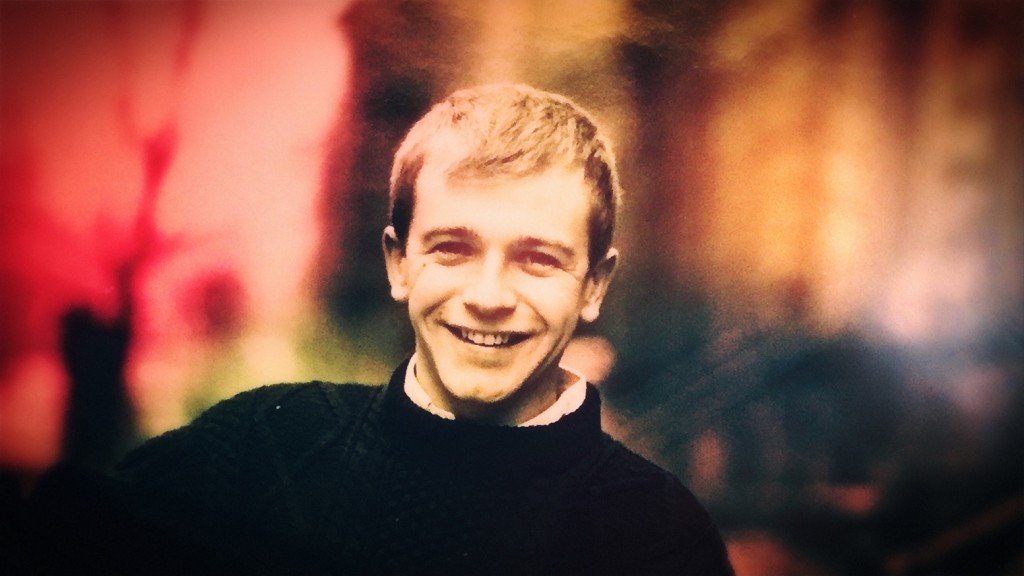 Every Act of Life has the slick, professional, chummy feel of an awards show highlight reel. Famous faces like F. Murray Abraham, Christine Baranski, Nathan Lane and Angela Lansbury line up to tell stories about McNally's brilliance and creative toughness, and fans of post-war American theatre will enjoy the reminiscences and archive footage, but anyone else will be a little lost. Formally conservative and intellectually scattershot, Every Act traces McNally's work across massive social changes but doesn't really put his work into productive dialogue with the culture around it. McNally comes across as a talented and gentle writer, with a genuine love for the mythology of theatre life.
Sorry Angel ★★★
Sauvage ★★★★
A Deal With The Universe ★★★
Terrence McNally: Every Act of Life ★★
Watch trailers for the films below, or revisit our coverage of last year's Outburst film programme.