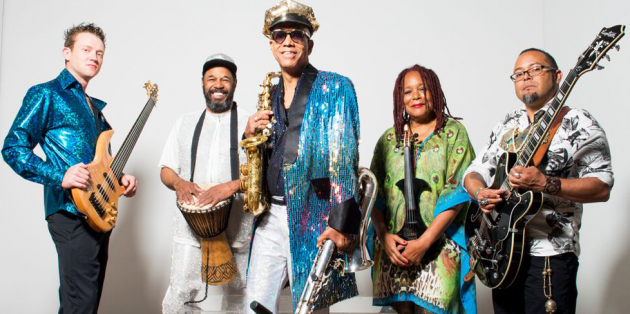 For some people, genius is a bottomless well that flows from within and permeates everything it touches. Like our first co-presented show with Moving On Music back in October – Peter Brotzmann's Full Blast – we're delighted to bring an artist to the Belfast, who, despite decades between his inaugural cultural moment and now, continues to create music of astonishing relevance. Idris Ackamoor is a saxophonist, sometime keytarist & artistic director of afro-jazz ensemble The Pyramids.
The Pyramids were founded in the early 70s through Antioch College as part of Cecil Taylor's Black Music Ensemble. Embarking on the kind of pilgrimage that's the stuff of musical legend, they moved from Paris to Amsterdam, before departing for Africa, which up until that point had been somewhere they were "brainwashed into being afraid of". Time was spent recording African musicians across Uganda, Ethiopia, Morocco and beyond, settling for a long stint in Ghana, where they spent time with Hugh Masakela and joined the king prayer drummers of the Ghanian Dagomba people. In Kenya, they studied with Massai & Kikuyu musicians, and upon returning, Ackamoor graduated and they went on to self-record & release three albums in limited quantity until their 1977 dissolution.
Three decades later, physical demand for his music started to reappear. The Pyramids made their live reunion in 2007, sandwiched between two lifetime achievement awards for Ackamoor from the San Francisco Bay Guardian & Gilles Peterson at the Worldwide Awards Show, no less. Our recent collective renewed passion in afrobeat and spiritual & afro-futurist jazz disciplines has accentuated how deeply-ingrained his influence is, bleeding far and wide into Kamasi Washington & Shabaka Hutchings' Sons of Kemet through to Floating Points & Flying Lotus, placing them, deservedly, into the hallowed positions reserved for Sun Ra Arkestra, Art Ensemble of Chicago & Pharaoh Sanders.
The Pyramids now too have come full circle and released three of their career's finest in 2012 return Otherworldly, 2016's We Be All Africans, and this year's An Angel Fell, the latter of which matches, if not eclipses their 70s work not just in quality and diversity, but in political and spiritual understones. Euphoric, yet dark, 'Message To My People', for example, conjures vivid mirages of distant places as Ackamoor's weeping, furious tenor makes more than implicit Ackamoor's call for humanity on 'Soliloquy for Michael Brown'. Their current incarnation is a theatrical, ceremonial performance that pays celebrates to their ancestry, featuring Ackamoor's award-winning tap-dancing, congas, violin & guitar, leading to exciting and often dischordant interplay.
There's something deeper in the recent collective reconnection to devotional & spiritual undercurrents in jazz & Afrobeat as we see tensions grow around us, but that's another article in itself. But his underlying plea, as someone primarily involved in the creation of art as social activism – having received several US ambassadorial roles to Africa and his other day job, Cultural Odyssey – to ultimately celebrate what brings us together is proof of the merits of looking to space and our history to ground us. Don't miss this chance to see one of the last standing visionaries of spiritual jazz, and their live ritual.
Idris Ackamoor & The Pyramids play the Black Box this Sunday, November 25. Tickets are available here, priced £14, or £10 concession. Doors open at 7pm.