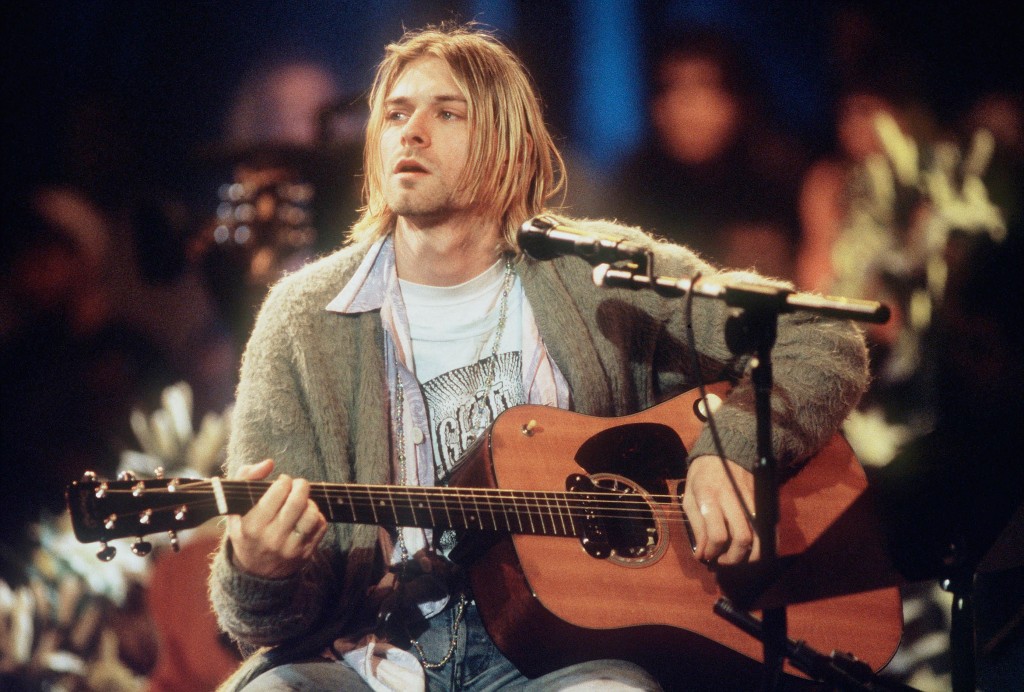 On November 18th 1993, the three members of Nirvana sat down on the stage of the Sony Music Studios in New York, and recorded their own epitaph.
Of course, they couldn't have known that at the time, nor could the TV show producers, the gathered audience, or the guest musicians accompanying the band for this stripped back performance. But through the murky fog of hindsight, the resulting performance and live album seem infused with death, a haunted, haggard journey through one man's misery, a journey that would end with his own death a few months later. As the world struggled to come to terms with how this gifted young man had taken his own life, MTV Unplugged in New York became part of the grieving process, an album with a readymade mythology, a panacea for our collective pain. With the passing of years, it's largely been seen as a musical suicide note.
Listening to the album now, it's perhaps becoming possible to shear away some of the imposed layers of meaning, to finally hear the record as simply that – a document of one evening, where the biggest rock band on the planet dialled it down for an intimate performance, throwing a few curveballs into the mix. The MTV Unplugged format had been well established by the time Nirvana were lassoed into taking part, with the likes of Paul McCartney, Eric Clapton, and Mariah Carey sitting down, reworking their back catalogue, and earning a shedload of money in the process. By 1993, it had become de rigueur for bands to turn off the amps, and pick up the acoustic guitars, and Nirvana were no exception.
In March of 1992, Nirvana's nearest rivals Pearl Jam tackled the format themselves, turning in an overwrought and emotionally charged run through of their debut album Ten. With Eddie Vedder clawing his way inside the songs, perched atop a stool, and walking a tightrope between chaos and order, Pearl Jam seemed to view the Unplugged format less as a way to have a bit of fun, get some exposure, and make a ton of cash, and more as a way to expose the beating heart of their songs, previously buried beneath ocean-sized riffs. By ditching the electric guitars, Pearl Jam reinforced the idea of themselves as accomplished songwriters, rather than scruffy grunge upstarts.
By all accounts, Kurt Cobain was somewhat envious of the critical respect afforded to Vedder's lyrics. Or, at the very least, he would have been keen for his own writing to be regarded with similar care. Nirvana were outselling all their rivals by a comfortable amount, and were rewriting the rule book for what a dishevelled punk-inspired power trio could do. But though plenty of acclaim had been dumped upon them, there weren't many people talking about the actual 'songwriting', instead focussing on the power and rawness of Cobain's approach to music. Rolling Stone categorised the band's 1991 breakthrough Nevermind as, "Sing-a-long hard rock", The New York Times declared that "The songs seem to follow an internal purpose all their own," and Entertainment Weekly opined that the lyrics added "To the music's edginess."
For the follow-up, Cobain knew that all eyes would be on him, and as such, he turned in his finest set of lyrics, kicking off this raw and discordant roar with the words, "Teenage angst has paid off well, now I'm bored and old." Over the course of the 12 songs on In Utero, Cobain alternately raged and whimpered, fluctuating between being bored and angry, or hurt and sad. Once again, while not quite a 'songwriter's album', In Utero showed a depth to Cobain's words that was arguably missing on Nevermind. If that breakthrough album had announced the most singular new voice in music, then the follow-up allowed us to listen to what he actually had to say.
All of this makes it even more surprising that when Nirvana walked into the studio in New York, of the 14 songs they'd perform, six of them were covers. For someone who clearly had ambitions of being more highly regarded as a songwriter, the MTV Unplugged format seemed the perfect fit, allowing Cobain to turn down the volume, pick up the acoustic guitar – a totem of critical legitimacy, if ever there was one – and showcase what a gifted writer he was. Instead, he turned to some esoteric influences, showcasing a cool, record collector approach that gave an insight into the years he'd spent compiling songs in his journals, obsessively making lists of the music that affected him.
David Bowie wasn't enjoying one of his periodic spouts of 'cool' in 1994, having released the…difficult to love Black Tie, White Noise the previous year. But Cobain delved deep into the back catalogue to unearth the title track to Bowie's 1970 album, The Man Who Sold the World, and in doing so, gave Bowie a cultural cache he hadn't had since the early 80s. The MTV performance belied the 'unplugged' conceit, featuring the main melody played on a distorted guitar.


It wouldn't have come as a huge surprise for Nirvana fans to hear the band covering Scottish indie-poppers The Vaselines, with the odds-and-sods collection Incesticide having collected two covers of the band, recorded during a BBC session. For Unplugged, Cobain turned to their take on an old Christian song, reworked as 'Jesus Doesn't Want me for a Sunbeam'. The song seems a perfect fit for Nirvana, fusing The Vaselines' sense of child-like wonder with a raw sense of anger. Cobain crooned "Don't expect me to die", while bassist Krist Novoselic pumped an accordion, looking for all the world like he was sitting on his back porch, watching the sun go down.
Perhaps a more unexpected choice of material came in the shape of Arizona acid-punks The Meat Puppets. Their 1984 album Meat Puppets II had been a revolutionary evolutionary leap in the sound of American punk rock, transforming the band from the primal distorted howl of punk rock, to the tripped-out sound of psychedelic country. In a move that raised a few eyebrows with the MTV production team, Nirvana opted to cover not one, but three songs from Meat Puppets II, joined by Cris and Curt Kirkwood from the band.
In its original form, 'Plateau' is one of the most beautiful songs to emerge from the American indie underground of the 1980s, a luminescent piece of music that feels like watching the sun come up over the horizon. Nirvana can't quite touch the original, but capture that wide-eyed wonder that gives the song much of its enduring appeal. 'Oh Me' follows, losing the meandering guitar solo of the original, opting instead for an intricate and delicate mesh of guitars, taking us right into the heart of the Arizona desert. And then, to finish off this mini-suite of songs from a long forgotten album that enjoyed a commercial renaissance in the aftermath of Nirvana's patronage, we're brought into the Presbyterian hell of 'Lake of Fire', Cobain assuming the role of damned preacher, intoning his account of the place where "bad folks go when they die". All three of the Meat Puppets covers are excellent, but only 'Lake of Fire' outstrips the original.
Rounding off the show, Cobain gave one of his most celebrated – and chilling – performances, Lead Belly's 'Where did you Sleep Last Night'. A traditional song, rearranged by the Louisiana bluesman, it had already enjoyed a storied life before Nirvana brought it to the masses. Originally known as 'In the Pines', Cobain had been introduced to the song by Screaming Trees frontman Mark Lanegan, who'd invited Cobain to perform guitar on his recording of the song for his 1990 debut solo album, The Winding Sheet. That album would be a huge influence on Nirvana's approach to MTV Unplugged, with Lanegan creating a downbeat, but serenely beautiful mood, in contrast with the raucous garage punk of Screaming Trees.
For MTV Unplugged in New York, Nirvana deliver what has come by many to be seen as the definitive version of the song. Perhaps the impact is derived from knowing what comes next, but looking back now, it's still a startling moment. After a rambling story about label boss David Geffen not buying Cobain Lead Belly's original guitar, the twisted chords snake into view. A dark song at the best of times, in Cobain's hands, it seems positively evil. There's a tightly coiled sense of tension at the heart of the performance that's notably absent from the rest of MTV Unplugged in New York. For the most part, whether it be the covers, or the skip through their own songs, Nirvana sound relaxed, maybe even a little loose. Cobain jokes about messing songs up, and while there's occasionally a bit of slightly pointed banter aimed in the direction of Dave Grohl, the band sound like they're maybe enjoying themselves.
For 'Where did you Sleep Last Night', we're taken to somewhere else entirely, as if the amiable, good natured dude at the party has just stood up and announced that he'd committed a murder on the way here. The band are focussed, the feeling that there's a crowd watching fades away, leaving just these three individuals, locked together, with dire work to do. By the end of the song, Cobain cranks up the tension, screaming out the last verse, before leaving the final words hanging in the air, his voice cracking as he forces them into existence. It is, quite simply, the best vocal performance he ever committed to tape.
It would be the band's farewell, and as such, context has all but destroyed MTV Unplugged in New York as a regular album. It's almost impossible – still – to not find it emotionally draining, packed full of references to death and endings. At various points, Cobain sings that he doesn't have a gun, that he doesn't expect to die, that he'll go to a lake of fire and fry, he's going where the sun don't ever shine, and that he's a liar and a thief. The conventional line on the album is that Cobain was laying his soul bare for all to see, his pain and suffering infused to every note.
But what if that's not what was going on here? Avoiding sensationalism, there's not really any more or less misery and death on MTV Unplugged in New York than there is on any of the band's other releases. Cobain was inexorably drawn to the dark and ugly in his songs, and MTV Unplugged in New York reflects that. However, by turning down the guitars, adding cello (courtesy of Lori Goldston), Nirvana's music had never sounded lighter or prettier. Their debut album, 1989's Bleach is a pummelling headache, compared to this. In a realistic way, this collection finds Nirvana at their most palatable; an affable, likeable bunch of guys, singing some ironic songs about misery and frustration, in a gentle folk-rock style.


Cobain had long idolised R.E.M., and their Automatic for the People is perhaps the album most similar in tone to MTV Unplugged in New York. Both are records haunted by the spectre of death and cloaked in darkness, but they're still albums where streaks of light shine manage to break through. R.E.M. knew how to make this kind of pain relatable, sweetening the pill with gorgeous melody and arrangements, and Cobain does something similar on MTV Unplugged in New York, without neutering the power of his work. We'll never know what would have happened next, but there's enough here to suggest that Nirvana might have followed in R.E.M.'s footsteps and ditched the electric guitars for something more contemplative. And on the evidence of MTV Unplugged in New York, it might well have been something spectacular.
In the end, the album stands as a kind of full-stop to the history of Nirvana. A live album would follow, and eventually the archives would be plundered for a boxed set, but this is the last album that feels like it really belongs to the band. The legacy of Kurt Cobain was set in stone the moment he took his own life, and it's been hard to separate fact from fiction, reality from myth. But listening to records like this, we can hear him for what he really was; a young man with a singular vision, one which articulated a feeling for literally millions of people who weren't able to speak for themselves. Cobain raged against the 'Voice of a Generation' tag, but that's exactly what he was, whether he wanted it or not. And what a voice!
MTV Unplugged in New York is a special album, and 25 years isn't nearly enough to dilute its appeal. We'll never know, but maybe Kurt Cobain knew that when he was making it? The story goes that he had a few ideas on how he wanted the set designed. MTV were already none too pleased at the lack of 'big' singles in the set list, and now here was Cobain sticking his oar in with some unwanted suggestions. He wanted the set to be strewn with stargazer lilies and candles, with chandeliers illuminating the band.
"You mean like a funeral?" asked the producer.
To which Kurt Cobain replied, "Exactly. Like a funeral." Steven Rainey