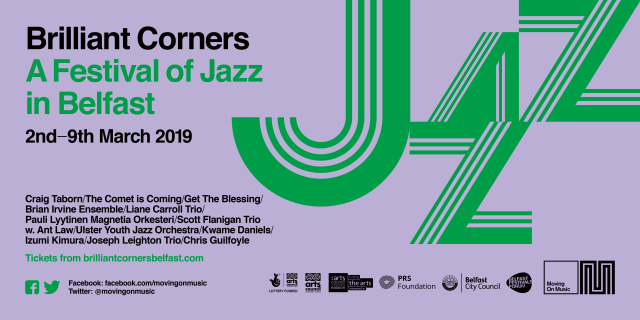 Now in its seventh year, the tastemakers at Moving On Music have announced the programme for their annual highlight – and the country's finest jazz festival – Brilliant Corners. The festival will take over various venues in Belfast across March 2-9, with a kickoff solo piano concert from Craig Taborn at SARC's Sonic Lab on Saturday, February 16.
As expected, it's a wonderfully diverse patchwork of jazz and first-rate sonic digression in the spirit of MOM's booking the year round. It's appropriate then, that the two first-night offerings on March 2 are the Ulster Youth Jazz Orchestra Shabaka Hutchings' unmissable apocalyptic synth-jazz project The Comet Is Coming, supported by Bounce Culture's Kwame Daniels, who'll perform a DJ set.
Also performing are Japan-born, Ireland-based improvisatory composer Izumi Kimura, Irish improvisors Scott Flanigan Trio & Ant Law – set to play traditional jazz alongside specially-commissioned work – the challenging, Radio 3 Jazz Award-winning contemporary leftfield Brian Irvine Ensemble, veteran singer/pianist/composer Liane Carroll, Finnish saxophonist Pauli Lyytinen's free jazz meets chamber music quartet Magnetia Orkesteri and the incredible fluidity of Derry-based jazz guitarist Joseph Leighton's trio. Proceedings will sall of which will be closed by space-electronica & jazz outfit Get The Blessing, who feature Portishead's rhythm section of Jim Barr & Clive Dreamer, alongside Jake McMurchie & Pete Judge on brass & electronics, with support from Chris Guilfoyle.
Tickets for individual events – as well as a full festival ticket for a mind-bogglingly affordable £45 – are available to buy here now.