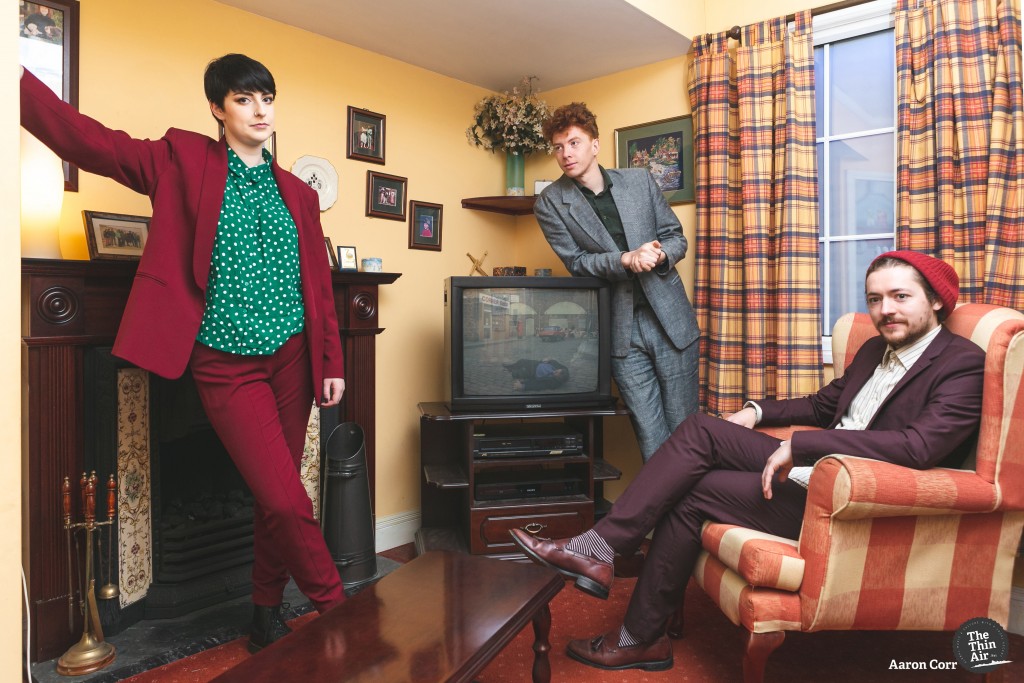 We continue 19 for '19 – our feature looking at nineteen Irish acts that we're convinced are going places in 2019 – with Dundalk lo-fi alt-rock three-piece Larry.
Photo by Aaron Corr
When you record an album with Steve Albini (Shellac/Rapeman /Big Black) you get a certain amount of bang for your buck – you get a solid ranking of all the vegetarian restaurants in Chicago. You get recommendations for who best to master your album, i.e. Bob Weston (Shellac). You get to see your music mixed, not only by a master engineer, but also by a World Series of Poker champion. But do you get any poker tips? "Christ no," Aoife Ward tells us, "He didn't even give us any music tips!"
The Larry origin story as casually spontaneous as you'll get, befitting their lo-fi alt-rock leanings. David Noonan comes over to Joey Edwards' house. Joey shows him some songs and David's in for drums. Aoife starts playing a bass that's in Joey's house, and the trio are soon playing their debut gig supporting Just Mustard in Dundalk's Spirit Store. The 'WAH' single follows. It's like that casual relationship that inadvertently mutates into monogamy – Joey's house has a lot to answer for.
Their 4-day session in Albini's Electrical Audio studio ("fierce easy going") was partly funded by a Spirit Store gig, a testament to Dundalk's artistic support network that Larry are quick to credit, observing that "playing music in a border town like we are you have to get heavily involved, and we do our own thing individually to add to the community and the culture."

Their as-yet-untitled debut album is due for a summer release on 12" vinyl through Pizza Pizza Records, with another single in the interim. Copious gigging aside, "they'll "play a lot of squash – if Aoife would get with the programme." So that's 2019 mapped out – a single, an album, a bunch of Shellac fans asking them questions about Steve & Bob, but, as David summarises, "the crux of it is: gigs and squash." Justin McDaid