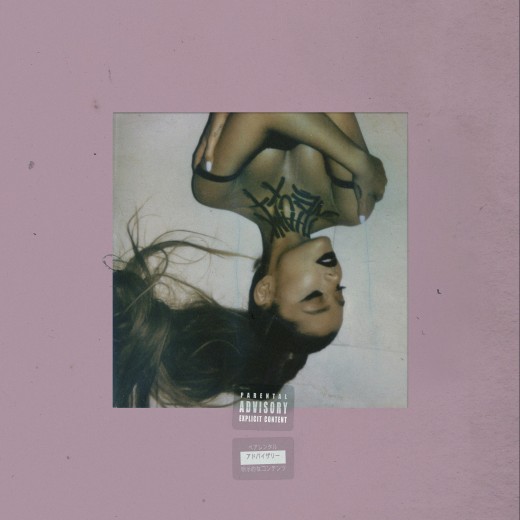 Ariana Grande's stratospheric rise to fame – with all its adoration, chaos, and residence at the top of the Billboard 100 – has been a tumultuous one. First breaking into the public sphere through virtue of a Nickelodeon show, everything about the Florida-born entertainer seemed innocent, childlike. The fact that her first scandal involved licking a donut speaks for itself. In the past two years however, the now 25- year-old has been forced to grow-up. And unlike many of her child-star peers, she has done it with a grace and defiance that has endeared her to the world and turned her into one of the most admirable pop stars currently working.
This is Grande's fifth studio album, and her second in sixth months – her fourth, Sweetener just won a Grammy. It deals with your regular pop themes – break-ups, hook-ups, fame and fortune – but for those of us familiar with the star's personal life, these songs are colored by depths most of us won't experience in a lifetime nevermind a year. From the fatal overdose of ex-boyfriend Mac Miller, to the break-up of a short lived engagement with Saturday Night Live's Pete Davidson to the lingering trauma of the tragic Manchester bomb attack at her concert in 2017, Grande has been through the ringer. It's unclear whether the popstar would have had any choice in the matter, but the public's fascination with and constant exposure to her life has, naturally enough, lead to clinical dissection of every track on thank u, next across the board.
Because the world believes itself to know so much about Grande's personal life, the songs here feel intimate and open. When she sings about not being able to fake another smile because she's "been through way too much" ('fake smile'), shopping with girlfriends as a form of therapy ('7 rings') or grieving for an ex while in a new relationship ('ghostin'),  they all have an extra level of intimacy thanks to the headlines we're all too familiar with. While the odd line like "I'm a girl with / A whole lot of baggage" risk feeling contrived, for the most part the songs feel utterly honest and real. That line is heard in 'ghostin'', a track that has been inspected line-by-line by fans and the media alike. It seems to be fairly obviously about her relationship with Davidson in the wake of Miller's, the song even has a tinge of Miller's '2009' if you're looking for it. Easily the most gut-wrenching on the album,  in her own words it's about "feeling badly for the person you're with because you love somebody else. Feeling badly because he can tell he can't compare". Her vocals are ethereal, angelic in a way that matches her description of Miller as an 'angel' throughout the record.
'Ghostin' is the only real indulgence to balladry. For the most part Grande sticks to the pop bangers that keep skyrocketing up the charts. Swedish superstar Max Martin has his hallmarks all over 'Bloodline', a full bop that has Ariana setting the score with her lover, "Don't want you in my bloodline, just wanna have a good time." Frankly, 'Bloodline' was snubbed in favour of closer 'Break Up With Your Girlfriend, I'm Bored' as Grande's latest single. Controversial in title alone, the lyrics are, well, rather bold ("Break up with your girlfriend / Yeah yeah 'cause I'm bored / You could hit it in the mornin' / Yeah, yeah, like it's yours").
So too has trap-tinged '7 Rings' courted controversy, which worships at the altar of capitalism according to Twitter. Playing on Rodgers and Hammerstein's "My Favorite Things," she's unapologetic about her wealth and materialism: "Whoever said money can't solve your problems / Must not have had enough money to solve 'em" she jibes. Despite the fact it's about buying Tiffany rings for your whole girl group it still feels relatable. Perhaps because it's the tenth track on the record, at this point we feel completely invested in and connected to Grande. She's cultivated something through her online presence and throughout thank u, next that makes us feel close to her. We get her. She gets us. Sure, she's one of the most famous people in the world today, but 'needy' sounds like any of us whose thoughts have been known to spiral in a one way text: "Sorry if I'm up and down a lot / Sorry that I think I'm not enough / And sorry if I say sorry way too much." We nod and sigh along to 'in my head' where she bemoans that the person she loves is just a glorified version she's created in her head ("Boy I invented you"), while 'NASA' is a Grande stamp of approval on #selfcare ("ain't nothing wrong with saying I need me time").
thank u, next keeps Ariana both relatable and otherworldly. She's adored, placed on a pedestal, at the pinnacle of pop, but despite all of this, we feel as though she's one of us. She might have infinitely more money than we do, but she's still tweeting sad shit on her Twitter late at night and subtweeting ex's. She is contradictory, and so is the record. It's both fragile  and empowering. It's confident and vulnerable. It's showy and honest. It's also, put simply, her best work to date. Nicole Glennon