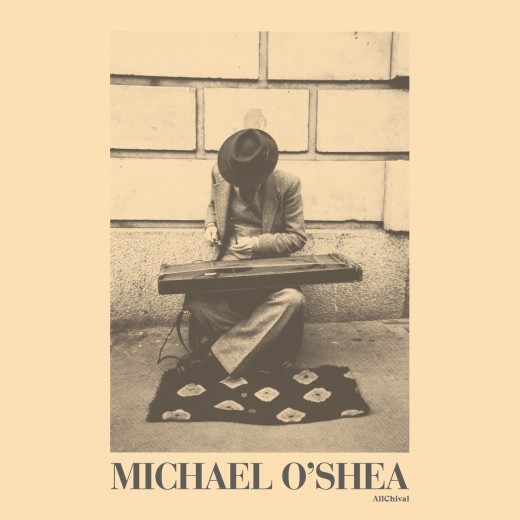 Look at any street corner in Galway, Dublin, Cork, London or New York and chances are, you'll be met with crooners, folksters, dancers, trad musicians and poets. Some of the world's best loved performers came to fruition through busking. B.B King was a busking youth before starting a career in recording and performing on stages worldwide. So too were Tracy Chapman, Glen Hansard and Laraaji. On a quieter end of the spectrum falls Michael O'Shea, the compelling Irish busker who travelled Europe, Africa and Asia, crafted his own instrument and whose singular contribution to recorded music has just been re-released by Dublin Label All City's AllChival.
O'Shea was born in Northern Ireland, raised south of the border and left in the 1970s to pursue his nomadic, music fuelled lifestyle. He began working in relief aid in Bangladesh in the mid '70s, where he picked up the sitar. A spell of busking in France with Algerian zelochord player Kris Hosylan Harp, inspired him to create an instrument that combined both the sitar and the zelochord. Thus, 'Mo Chara' was born.
'Mo Chara' meaning 'my friend' in Irish was the name O'Shea gave to his home made instrument. Fabricated from an old door he found in Germany and replicating sounds like those of the dulcimer, sitar and zelchord, the unique instrument combined O'Shea's interests in Irish folk tradition with the sounds of the world he had travelled.
It was in London, busking in Covent Garden where he later met Bruce Gilbert and Graham Lewis of post-punk band Wire. Intrigued by O'Shea's music and his unusual stringed instrument, Gilbert and Lewis invited him to record with them and thus, O'Shea's sole self-titled LP was recorded in one day two years later and was later released on Dome, Wire's experimental punk label in 1982.
Its avant-garde nature meant that the record was not mass-produced, but sought after by many due to its captivating sound. It became a scarce LP to come by. With AllChival's reissue, the alluring sound of O'Shea and 'Mo Chara', played with chopsticks and layered with effects, can now be re-visited and enjoyed all over again.
The result is a two side LP of ambient and utterly captivating instrumental music. The far flung experiences and influences of O'Shea's are instantly recognisable from the first resonating notes on the record. Side A is made of one 15 minute long track entitled 'No Journey's End', which forms the main fibre of the album. It sets the tone and demonstrates the range of sound O'Shea achieved from his personal instrument. Packed full of trills, vibrating, echoing effects and a type of percussion that arises from the rhythmic method with which O'Shea interacts with the instrument.
Side B has four shorter tracks – 'Kerry', 'Guitar No. 1', 'Voices' and 'Ánfa Dásachtach'. All of which embody the unique sound O'Shea conjured. It's bright and jangly at times, and in others is sombre and serious, rolling the listener deep into his stringed, masterful, ramblings.
This album is profound and absorbing in its many facets: Its nomadic, busking creator, his influences, travels and busking and of course, 'Mo Chara'. The sound O'Shea created, which has now been shared again is unique and provocative. It feels like a privilege to hear it as it finally reaches the wide audience it always deserved. Unfortunately, O'Shea never recorded music again, and his untimely death following a car accident in 1991 meant that his artistic travels ended all too soon. However, thanks to the ongoing and noble work of AllChival, the significance of O'Shea and 'Mo Chara' endures.