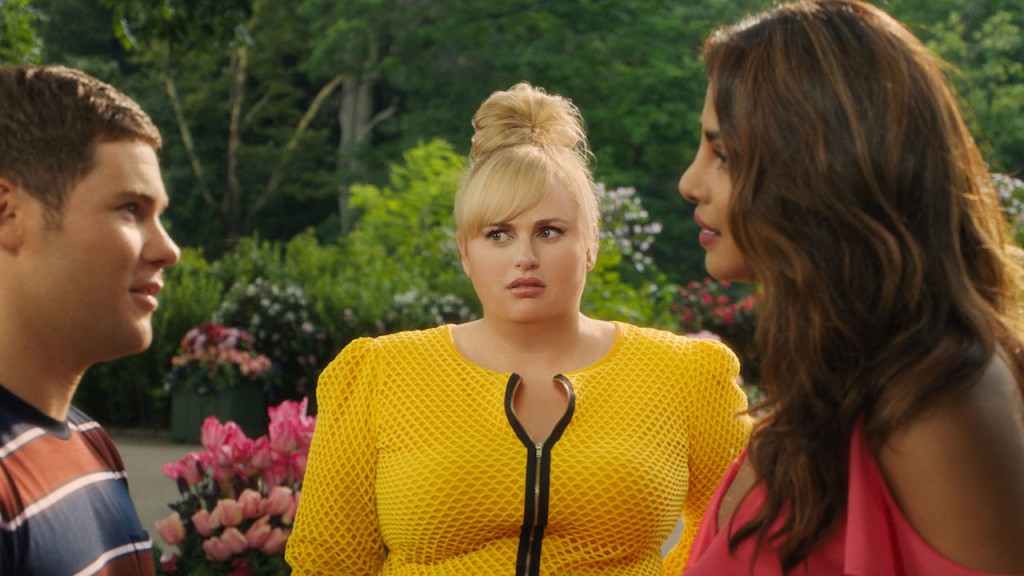 A young girl named Natalie watches Pretty Woman in an early 1990s sitting room. Her mother pours a glass of wine and warns that they don't make movies about girls like us.
Except Hollywood does. Isn't It Romantic is a romantic comedy disguised as a parody of the genre. The characters run through every convention of the sometimes unfairly maligned genre while proclaiming that they are not falling for its charms. You can guess what happens next.
Adult Natalie (Rebel Wilson) is disenchanted with idea of love and a cynic about romantic comedies. After a mugging, she wakes up in alternative New York soundtracked by Vanessa Carlton's 'A Thousand Miles'. Here, she is taken seriously by her colleagues while attractive billionaires pay attention to her. The pastel cupcake shops, hanging baskets and colossal apartments give it away. Natalie is trapped inside a PG-13 rom-com with dance montages, singing but no sex or swearing. To escape this hell, does she need to get billionaire Blake (Liam Helmsworth) to fall in love with her? Or is there than friendship in her relationship with Josh (Adam Devine)?
The swap from real New York to the glossy rom-com version is the high point of this film. Everything from how scenes are shot and edited to costume and set design changes. While it might protest that it has subversive edges, Isn't It Romantic is more of a love letter to rom-com heavy hitters over the last 40-odd years than a serious attempt to critique or parody the genre. At one point, Natalie emerges in a dress and hat similar to those worn by the Julia Roberts' character Vivian in Pretty Woman. A song montage can only be a homage to My Best Friend's Wedding. There's even an unfunny nod to the restaurant scene from When Harry Met Sally. For all its earlier snarkiness, this is a story that is enmeshed in the big moments from some of the best known rom-coms.
And maybe, that's why Isn't It Romantic ends up slightly hollow in its own right. There are some ideas, notably about the cost of unpaid emotional labour that women might be asked to perform in the workplace. Yet, this subversive tendency and more broadly, any complexity is ultimately put aside in favour of cliché, the most troubling of which has to be the problematic depiction of the gay best friend. Even at a lean 90 minutes, the runtime ends up feeling padded.
The performances are good. Rebel Wilson is likeable in the lead, but a lot of the cast aren't given very much to do here. Priyanka Chopra does fine work in the underdeveloped role of Isabella, the potential love rival while Betty Gilpin is scene-stealing as Natalie's best friend and assistant, Whitney. There's also a too brief Jennifer Saunders cameo.
While Isn't It Romantic got a cinematic release in the United States, here it's part of Netflix's film slate. With Set It Up and To All the Boys I've Loved Before, it appeared that the streaming giant might be able to kickstart a new wave of smart and warm romantic comedies. Isn't It Romantic might give cause to pause such hopes.
Of course, romantic comedy represents a fantasy, but film studios have proved themselves capable of producing films in this genre which reflect real life's joyful complexity and diversity. These are the films we need more of. Eimear Dodd
Isn't It Romantic is available to stream on Netflix.