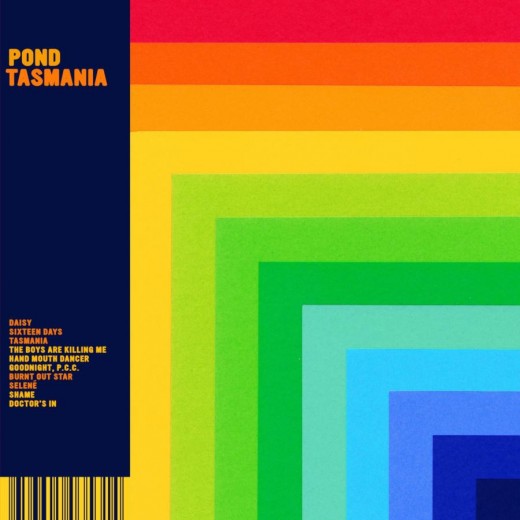 Perth- based psych-rock wild men Pond return with Tasmania, produced by Tame Impala frontman (and frequent Pond collaborator) Kevin Parker. While their overlapping membership and frequent collaborations with Parker's giants might frame them as a sort of 'little brother' band to Tame Impala, they're perhaps closer in spirit to fellow Aussies King Gizzard and The Lizard Wizard: prolific and seemingly existing in their own self-contained universe, they continue to grow from their garage beginnings to sounding fuller, more eclectic and more out there on each release.
Tasmania, Pond's first LP since 2017's well received The Weather, kicks off with the suitably out-there 'Daisy', who's whirling, 'A Day In The Life' style orchestral intro gives way to bouncing synth- funk with an absolutely killer chorus, before fading back into proggy weirdness before it's six minutes are out. Despite their continued prog influences, eighties pop is very much a touchstone on the record: the horny half-whisper that frontman Nick Allbrook affects on 'Sixteen Days' bears more than a passing resemblance to INXS's Michael Hutchence, while the track itself recalls the band's Kick heyday.
Parker was clearly enjoying himself behind the mixing desk on this one, throwing squanching synthesisers, roaring guitars and 808s into any space available, giving the record a loose playfulness. Sonically, it touches on many of the same areas that MGMT did on last year's comeback of sorts, Little Dark Age, flowing between jazz and John Hughes soundtracks in a manner that sounds both wholly familiar and entirely alien. Highlights abound on Tasmania: the swaggering march of 'The Boys Are Killing Me', the spaced odyssey of 'Goodnight, P.C.C.' and the rollicking, eight minute 'Burnt Out Star'.
The fun nature of the music is in stark contrast with much of the lyrical content, however. Many of the themes of the record were influenced by a conversation that Allbrook had in a bar with some environmental scientists, who told him that, within a hundred years, Tasmania would be the only inhabitable area of a country, and indeed planet, ravished by rising temperatures. This anxiety, and the shame that comes from being implicit in the destruction of our planet, is all over the lyrics of Tasmania, as typified in 'Burnt Out Star': "I might go and shack up in Tasmania/ Before the ozone goes and Paris burns/ And Australia/ Who knows?" It's the conflict here, between the bouncing, carefree tone of the music, and the ennui and environmental horror of the lyrics, that make Tasmania such a compelling listen.
Tasmania is another excellent addition to Pond's catalogue, consolidating their position of one of the finest, most forward-thinking bands in modern indie, and one seemingly disinterested in 'crossing over' into the mainstream. Their latest is a collection of early, post-apocalyptic summer anthems – given it's release in the most freakishly warm February week on record, it's strongly prescient: a record to enjoy with cans outside, then, while skirting the conversation away from how fucked we really are. Caolán Coleman