Live Reviews
Published on March 8th, 2019 | by Jack Rudden
0
RTÉ Choice Music Prize 2018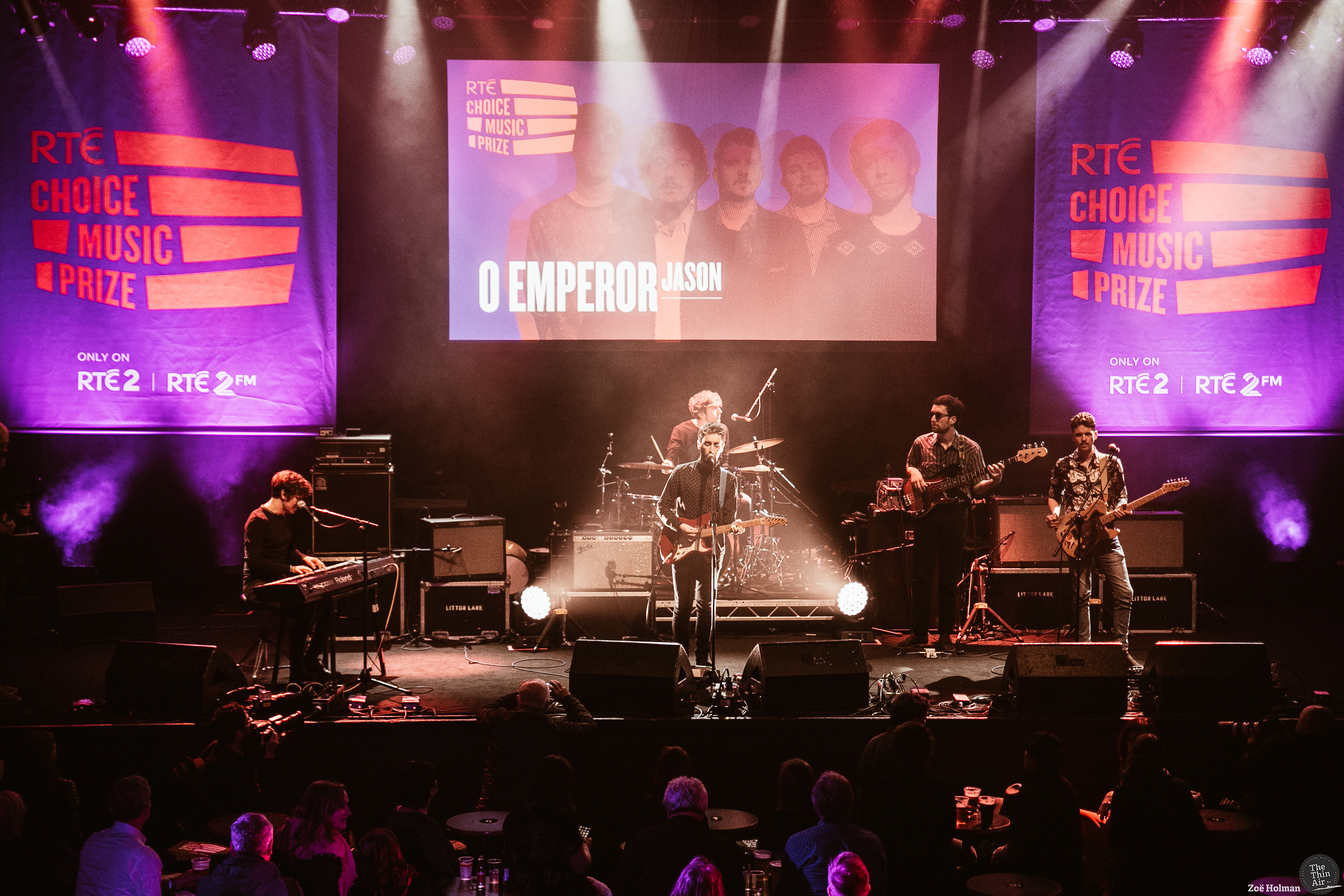 It's hard to convey the buzz in Vicar Street as the place starts filling up. You can't look anywhere without spotting a handful of familiar faces. From my vantage point. rappers Kojaque and Luka Palm can be seen relaxing on the right side of the balcony, while blogger Nialler9 sits further to my left. Anybody that is a somebody in the Irish music industry is present.
The show kicks off with a little introduction from presenter Eoghan McDermott. There's the usual spiel of "Are we doing well?… I said, 'Are we doing well?'" before he cracks on introducing the first act of the evening, O Emperor. McDermott reads a statement from the band, regarding their final album, Jason, and their recent disbandment.
"…we feel the project has come to a natural conclusion somehow. As a group of people, we all possess that permanent affliction of needing to make music or else go a bit insane, so there will be more music in other forms from other line-ups".
It's clear through this statement that there is no animosity between the members and this shows in their performance; they very clearly enjoy playing these improvised psychedelic jams together.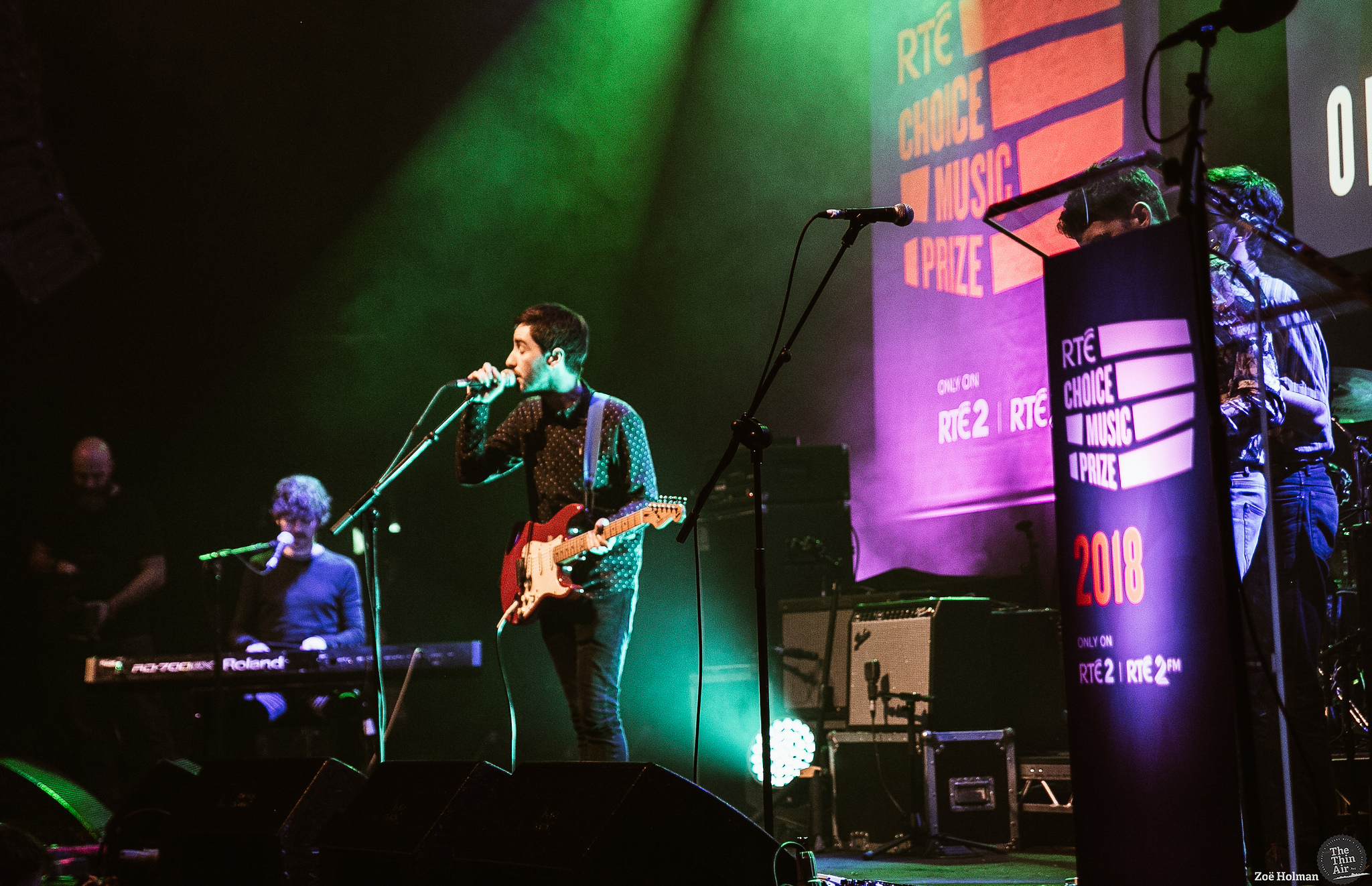 That being said, there is a subtle uneasiness to their performance. Perhaps it's the fact that this is their first performance together in months. Maybe it's the fact that this will probably be their final performance. It could also be the fact that the room is still half-empty.
One awkward interview and a sly dig from McDermott regarding empty goody bags later and we're on to the next act. In a spirit completely different to the previous act, Lisa O'Neill ushers the room into a silence that is almost reverent in nature. Her command of the room is utterly mesmerising and completely effortless. Both songs 'Violet Gibson' and 'Along The North Strand' leave the crowd in a daze, with the latter causing the guy sat next to me to tear up. A truly astonishing performance.
Next up is Wyvern Lingo, a band that in the last week has faced some rather unwarranted and distasteful criticism from journalist Ed Power. McDermott states that the band is comfortable with him discussing the shady criticisms that labelled them as "inherently evil" and launches into a short poem attacking the critic. He then gives the stage to the powerhouse that is "the fabulous and 'inherently evil' Wyvern Lingo".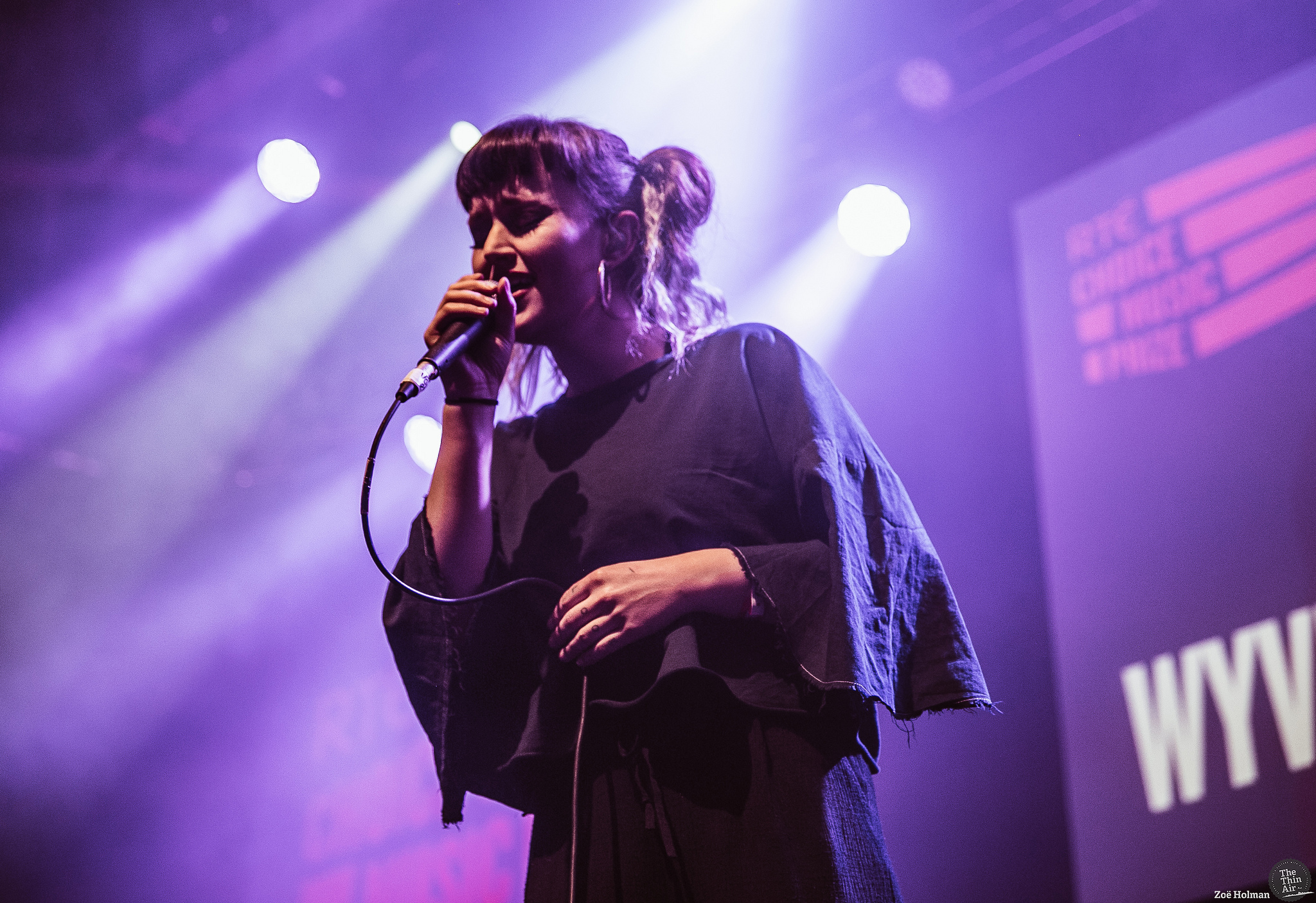 The performance begs many questions. How on earth can you call these girls evil? How can you possibly deny that these girls are beyond talented? They're ridiculously tight, they send a powerful message and their harmonies are to die for. Closing their set with 'I Love You Sadie', Wyvern Lingo well and truly put Power in his place.
Rejjie Snow would have been up next had he been present, instead we are treated to the music video for 'Egyptian Lover', from his latest release, 'Dear Annie'.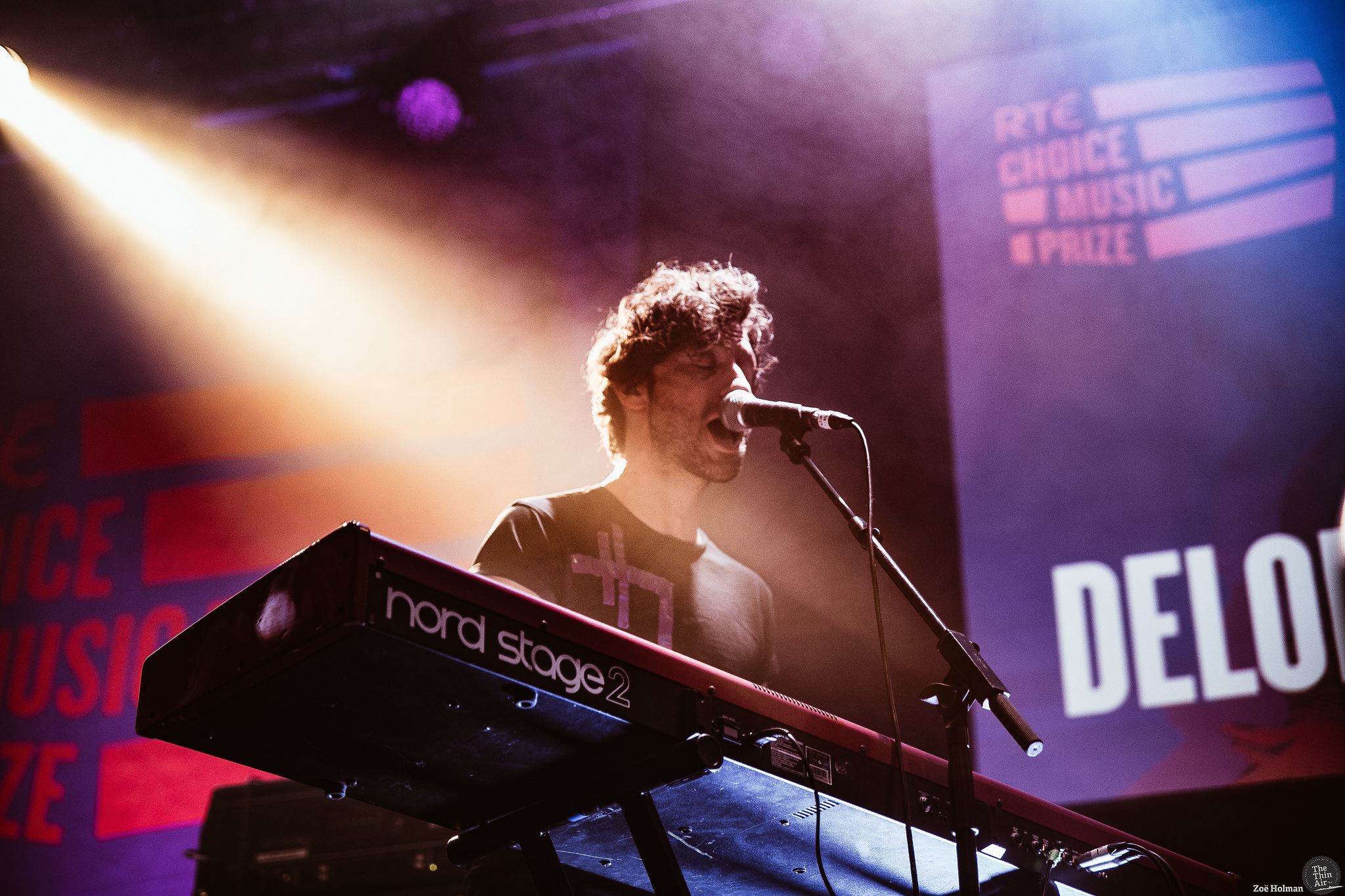 Up next is Irish music industry mainstays Delorentos (above). Having won the award in 2012 and being the most nominated band, they are no strangers to this stage. It is a bit of a shame to hear a constant chattering over their performance; the crowd don't seem in any way invested in the performance. It seems like a case of plenty going on onstage, but not a whole lot happening otherwise. A fair performance regardless.
With the end of Delorentos' performance we come to the first award of the night: Song of the Year, which Picture This take the prize for their song 'One Drink'. It's probably not the result that people wanted. In fact, there is a palpable awkwardness in the room as the crowd clap politely. The band are not there to collect the prize, so it's accepted by a representative from Universal. Moving on.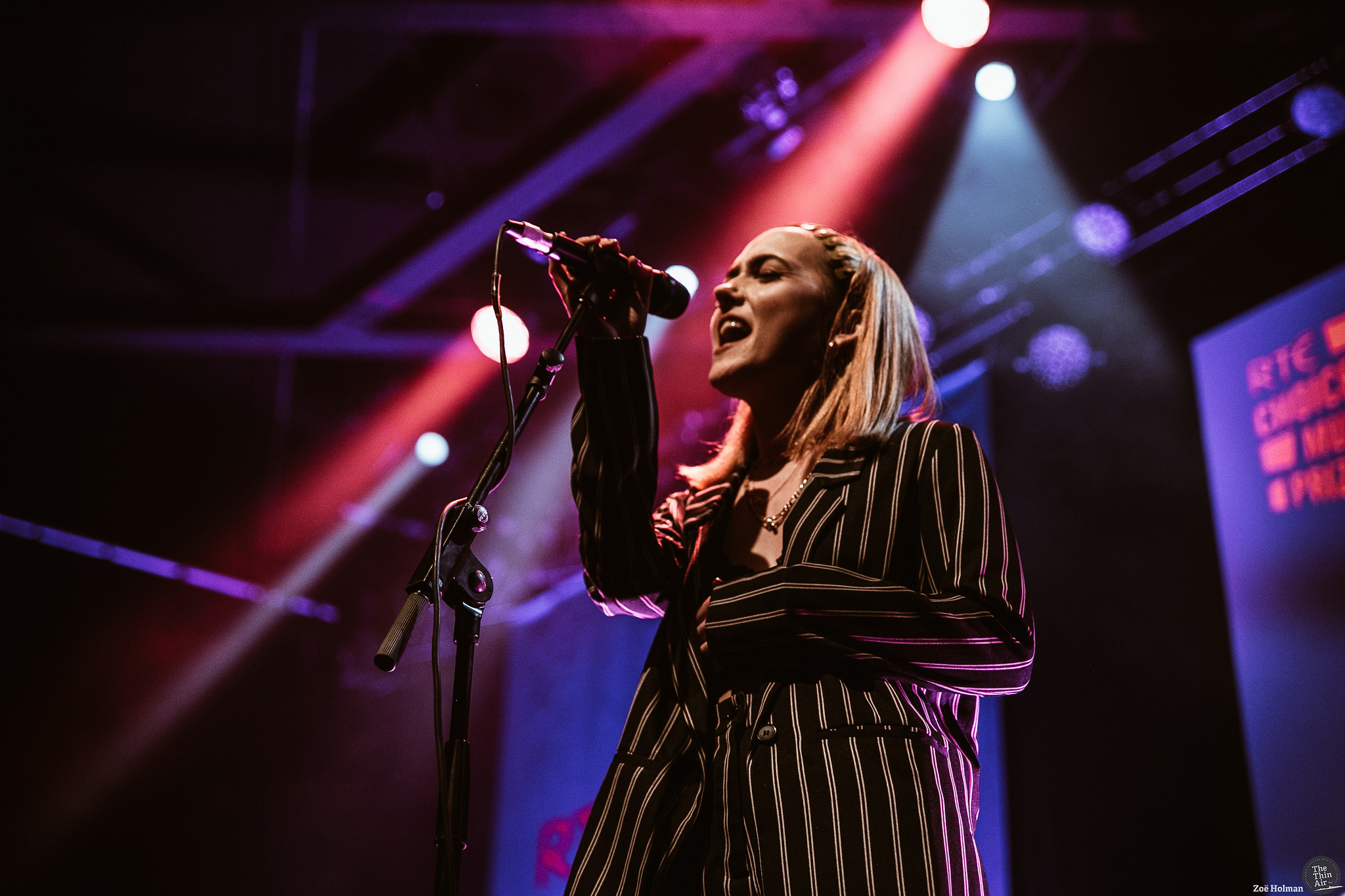 Following the aforementioned questionable win, Dundalk's Just Mustard take to the stage. The five-piece are a force to be reckoned with; they treat their instruments like weapons. Frontwoman KT Ball's (above) delicate vocals glide across the buzzsaw orchestra backing her, while guitarist Dave Noonan's grizzly screams easily pierce the wall of noise. Just Mustard are unbelievable band that has done nothing but gone from strength to strength over the last year. Watch these guys and listen to their album Wednesday.
Up next are Saint Sister, hitting the crowd with ground shattering sub frequencies, glittery harps and impeccable vocal harmonies. No one does multi-instrumentalism like these guys. Harps, synthesizers, drum machines and bass guitars, they cram them all into their three trip-hop infused tracks from their album Madrid.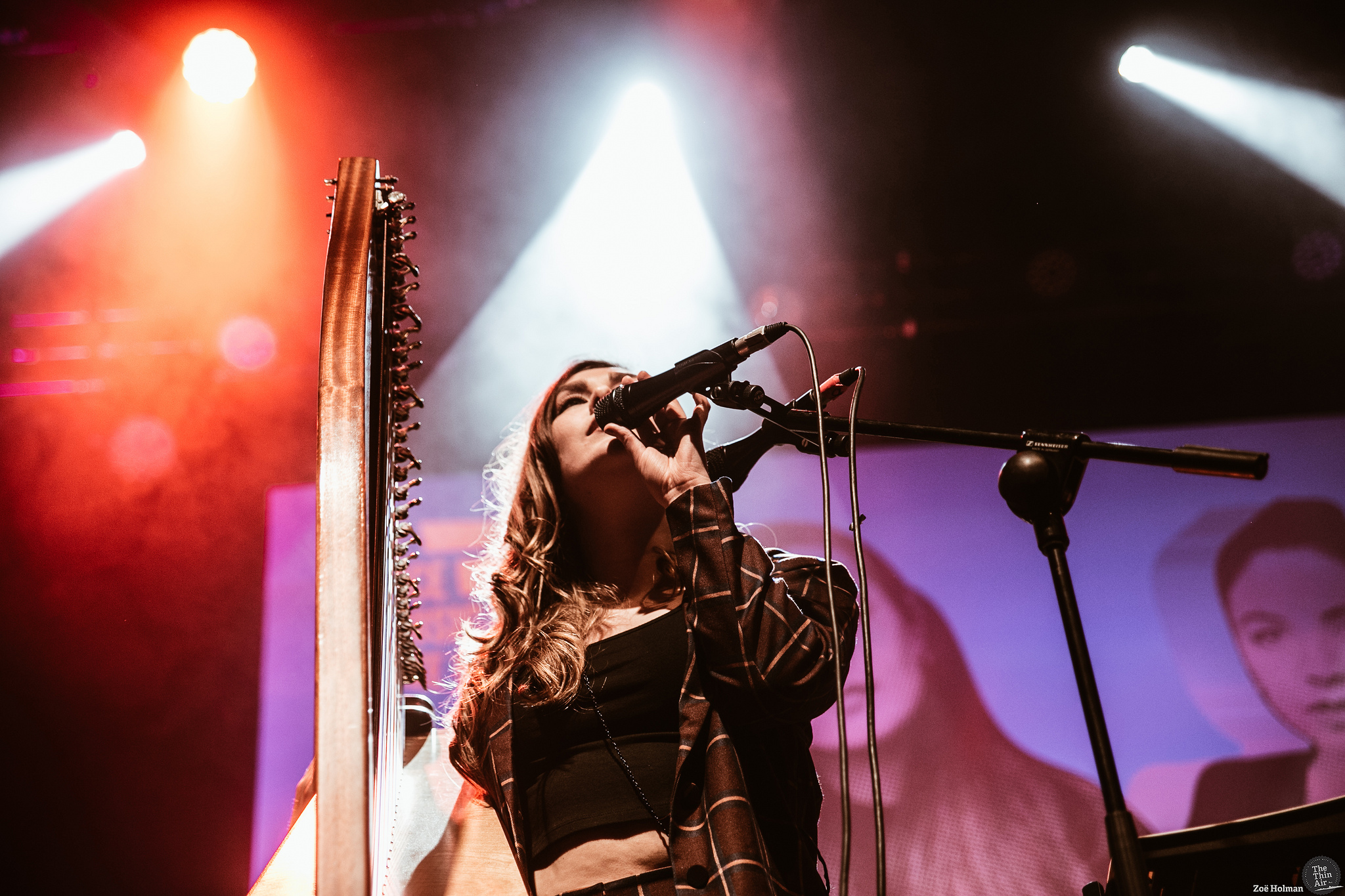 Conor O'Brien, the man behind Villagers, follows Lulling the crowd into a loving and silent embrace, O'Brien is the epitome of a flawless performer. Every lyric that floats from his mouth is both thoughtful and emotional. Every little vibrato is considered carefully and every single moment feels sincere and beautiful. In his follow up interview, O'Brien shares his thoughts on who he would like to see win, stating that he would like to see the prize go to a new, younger act.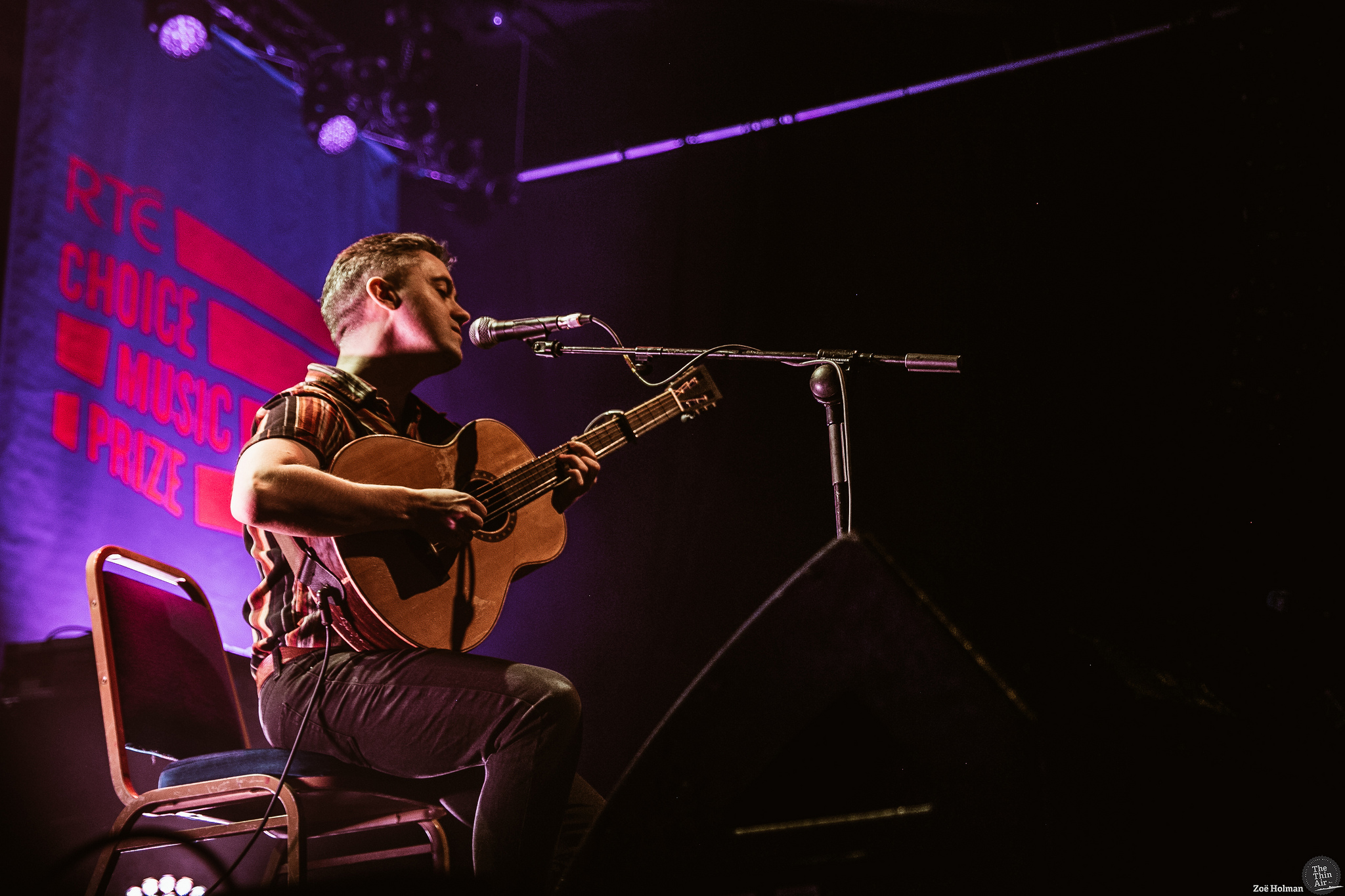 To say The Academic's performance is overkill is an understatement. As they begin blasting the crowd with overpowering lights and overly-cranked guitars, the seats around me begin to empty. My chest feels beat from this unpleasant audio assault and my retinas are sufficiently burnt.
The performance ends with a completely unwarranted fling of a guitar and we're not going to talk about the boys comparing themselves to The Beatles in their post-performance interview.
The final act before the announcement of Album of the Year is Kojaque (below), Dublin's answer to Mike Skinner, the King of Cabra and without a doubt this country's most talented lyricist. Taking to the stage with backing vocalist and DJ Kean Kavanagh, Kojaque opens up with 'White Noise', a spoken-word piece that has become an anthem for the young people of Ireland. The guy next to me leans in and says, "Can you believe this is being broadcast live?" bringing a new level of gravity to the performance. Kojaque also welcomes frequent collaborator Luka Palm to the stage for the track 'Politicksis'. It's great to see him bring Luka onstage. It's shows an awareness of Deli Daydreams' success being a shared and collaborative victory.
At last, the final award, the reason everyone is here; Album of the Year. As you would expect, the room is filled with palpable excitement. There are so many albums deserving of the award and for very different reasons. It's truly diverse selection of music.
Irish music veteran Ian Wilson takes to the stage for the announcement. He jokes about for a bit, giving a "Picture those, or Picture Them?" a slight dig and challenges any broadcaster in the country to claim "The golden age of Irish music is over". He's very clearly aware of how far we have come as a country, how diverse our culture is and how all these fantastic developments have been reflected in our incredible music scene.
After all this, Wilson announces the winner: O Emperor with Jason. There may have even been a sense of bewilderment in the air. Perhaps it's just that half of the crowd didn't even see their performance. Even O Emperor seem surprised and uncertain about the whole thing. The 10,000 Euro goes to the band that no longer exists. Jack Rudden
Photos by Zoe Holman