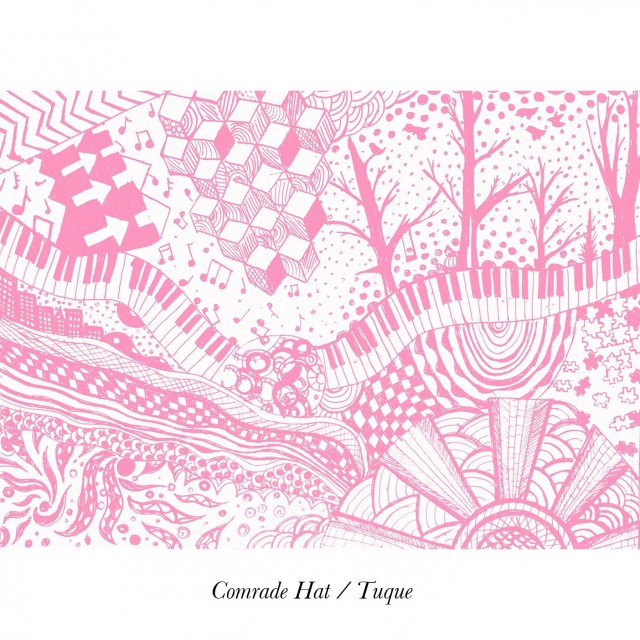 Derry-based experimental pop auteur Neil Burns' Comrade Hat's latest EP, Tuque, is set for release on May 10, but we're pleased to say we have an exclusive premiere streaming a week in advance. Following a string of EPs – including his series of Winter EPs – production credits, and a high profile collaboration with Phil Kieran and the Ulster Orchestra at Celtronic 2018, Burns needed a change. In Autumn of 2018, he relocated to Toronto with some musician friends for a recharge that ultimately led to the creation of Tuque, a complete work that spans post-breakup what's-it-all-about soul-searching to geopolitical observations in under 15 minutes, with cameos from cult musical figures of the area, like cult guitarist Thom Gill (Knower, Martha Wainwright, Chaka Khan) and saxophonist & composer Daniel Pencer.
Delivering on the promise of the stripped-back Scott Walker inclinations of lead single 'Moose', Tuque once more sees Comrade Hat in that discomfort zone only he occupies, reclining in a deckchair on an empty, snow-covered beach somewhere. Blending a touch of schmaltz with self-awareness as only he does, it's a clearly isolated release that never feels too unwelcoming. We were curious about how it came to light, so Stevie Lennox had a quick chat to Neil Burns about the release.
Tuque was largely recorded in Canada – what brought you over there in the first place?
For personal and creative reasons I needed to shake off some dust and get out of my comfort zone. I had been to Canada a few times for different things and was intrigued enough by Toronto's musical scene to take a deeper look. While I feel like I only scratched the surface, I was pretty inspired by a lot of what I saw and people I met. I wrote and recorded most of the EP in situ, begging, borrowing and renting as needed to get the job done. Necessity, invention and all that. You can hear a few passing trams on the EP if you listen closely.
It was a relatively solitary time, though I was blessed to be in a house of musician friends who had a plethora of instruments including a piano and synths (much gratitude to Kelsey and James), so I was able to do a lot of writing, practicing and recording. I was also incredibly fortunate to cross paths with some amazing musicians, especially cult guitarist/songwriter Thom Gill – whose work I'd been a fan of for years – and free-improvising saxophonist/composer Dan Pencer. I was thrilled to get to collaborate with both of them; they are highly accomplished and unique musicians whose nuanced contributions add so much depth to the songs.
One of the many things that sets Comrade Hat aside from most of your peers is the lounge streak that underpins much of your material. What is it about that sound that appeals to you? 
Lately, I've been thinking about how the lounge thing came to be…I've always gravitated towards the sound, going way back. I fought it at times, but eventually embraced it, certainly by the time I released 'Old Amsterdam'. It's slightly mysterious even to me. At the core I think it's because as well as being a (mostly vintage) pop enthusiast, I care a lot about the nuts and bolts of composition: voice leading, melody, harmony.
I'm an admirer of jazz standards, because of how well crafted they are, as well as artists who reach beyond the typical musical vocabulary of pop in their songwriting, from Donald Fagen to Antonio Carlos Jobim, Paddy McAloon or today, the likes of Ryan Power and Thom Gill, who I'm over the moon to have colaborated with on this EP). There's a sweet spot for me there in combining the formal simplicity and elegance of well crafted songs with the subtlety and potential of jazz and Classical-influenced harmony. Songs are like puzzles for me. I'm always trying to cram in as many layers as I can without sacrificing overall intelligibility. I also just like 'smooth' sounds, they can be used very subversively, I think.
You've a habit of releasing Christmas EPs, and while Tuque isn't that, it retains the spectral charm of that atmosphere in terms of melodic choices and composition. How did that climate affect your writing process?
Strangely enough, it was still quite summery when I got there  in late September, but I got quite autumnal by the end and I think that certainly comes across. The feeling I get from it is one of being lost in a big city, a strange new place. My room looked out onto a leafy suburban street, with trams rattling past. I'm a transport nerd so I found it oddly comforting. My room was thoughtfully furnished with a keyboard – classic 'bedroom record' scenario really, but transplanted somewhere unfamiliar. The sound has a lot to do with the way it was recorded, my own setup was extremely basic. I rented a mic and interface, though I was blessed with access to nice synths.
Apart from a few overdubs I resisted re-recording stuff when I got home, I felt the original recordings had a certain atmosphere. It's resourceful but also has a meditative quality because it comes from the freedom of not having responsibilities and also having time for contemplation. 'The Heart of the Mystery' is an attempt to set the scene in that regard. As the EP progresses, you can tell I got bored of the introspection and started looking to my environment for inspiration. I actually quite enjoy having a story or topic to write about – it focuses your energies. I think that's part of the appeal of writing Christmas-themed records, in fact. It's the challenge of working within limitations, to a deadline. In spirit, Tuque is more like one of my Winter records in that it's quite spontaneous and a product of its environment.
Aside from your forthcoming Irish tour, what's in store for Comrade Hat?
An album is the next plan. I'd like it to be more of a 'band' record, with a live feel. I suppose the experience gave me a taste for collaboration, and reminded me of how many great musicians we have here
Tuque is out next Friday, May 10. Stream it below:
Catch Comrade Hat on their upcoming co-headline Irish tour with Queen Bonobo:
May 10 – Cultúrlann Uí Chánáin, Derry – Queen Bonobo Album Launch
May 18 – Thomas House, Dublin
May 24 – Ulster Sports Bar, Belfast
June 1 – Vault Fringe Festival, Belfast
June 8 – The Underground, Draperstown