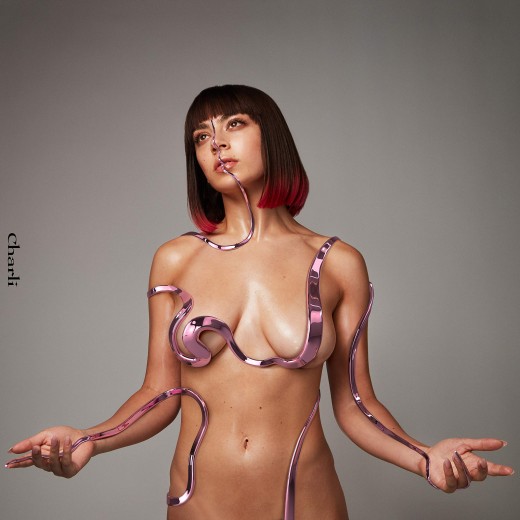 Charli XCX has become a pop touchstone, and the woman everyone is clamouring to collaborate with. In the last two years alone, she has worked with BTS, Diplo, Cardi B, Clean Bandit, and Taylor Swift – not to mention the artists she collaborated with on 2017's Pop 2. Charli XCX is the benchmark of the late 2010's pop; heavily influenced by contemporary dance music and produced in tandem with PC Music, it's messy, fun, outrageous, and appropriately melancholic. Pop 2 was, rightfully, critically acclaimed. How does Charli compete?
On collaborations alone, Charli is standout. The release of the album was preceded by multiple singles, featuring artists like Christine and the Queens, Haim, and Lizzo. The collaborations were released accompanied by identicically-styled artwork featuring the star and her guests artist draped in metallic decorations. These collaborations dropped so fast that it wouldn't have been surprising if Charli featured every woman in pop music – and it almost does. Unlike other collabs, though, the tracks on Charli don't rely on the novelty of merely having two recognisable artists working together. Instead, they allow the respective artists to thrive in one  another's company.
Charli is a dense album, with a lot to be digested on your first listen. The first half of the album is feature-heavy, with tracks like 'Gone' (with Christine and the Queens), 'Cross You Out' (with Sky Ferreira), and 'Blame It On Your Love' (with Lizzo) dominating. In her writing and production, Charli manages to navigate the tricky, and well-trodden, path of cohabiting powerhouse artists without ever allowing their respective styles to clash uncomfortably. It all sounds totally natural and right.
Unlike Pop 2, however, Charli does still allow for towering moments without guest features. These are the moments where it feels like Charli is at her most genuine and honest, a throwback to earlier releases like True Romance. 'Silver Cross' and 'White Mercedes' are the stand-out tracks in this regard, the latter being a pared-back love song, and probably the closest to a ballad that we'll ever hear from Charli. 'Silver Cross' fits more with the expected PC, hyper-pop sound associated with Charli, but lyrically the track is emotional and genuine, the chorus ringing out, "If your eyes are sad, it makes me sad too / you got me so overprotective, it's true / Feel like I would jump off buildings for you.'
There were high expectations on Charli XCX with this release, and the album meets these expectations. At some points, it even exceeds them. Two of the last tracks  – 'Shake It' (feat. Big Freedia, and long-term collaborators Cupcakke, Brooke Candy, and Pablo Vittar), and '2099' (with Troye Sivan – his second feature on the album after '1999'), are the most experimental tracks on display, and in a way, feel like Charli XCX returning to her warehouse roots, with heavy techno-influenced production and just a hint of that trademark messiness. 
With Charli, Charli XCX proves what a lot of people already knew – she is one of pop's most crucial figures. It's not a leap to say that her PC and '90s influenced sound has trickled into pop music as a whole, or at least inspired other artists in creating the same hyper, slick and heavily-produced pop. Charli was an album plagued by delays, and listening to it now, it was worth the wait. Aoife O'Donoghue