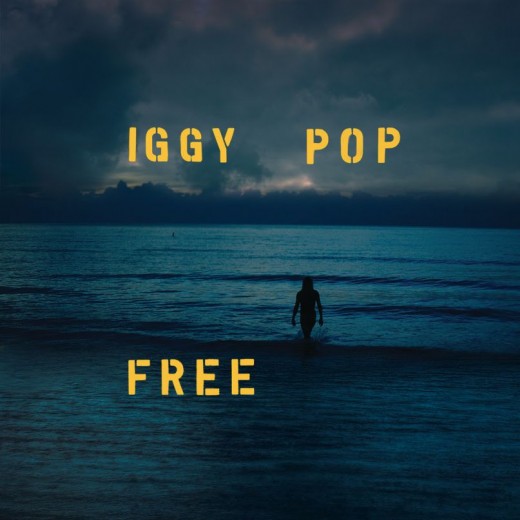 At the end of 2016's Post Pop Depression, his finest work since the 1970s, Iggy Pop tells us he's going to Paraguay – to where "there's not so much fucking knowledge", "people are still human beings", and he can "heal" himself, sick of political fearmongering, internet commentators, and cheating executives. Some took the promise of his disappearance – if not his mythical Paraguay – seriously, wondering if this was the last we'd hear from the Stooges frontman, who has now been releasing records for a half-century. Pop seems to have wondered the same himself, telling the New Yorker recently that he'd felt burnt out by the end of the album's supporting tour; with age, his intense onstage antics were taking a serious physical toll.
Pop has returned, however, and resumed the exploratory approach that has defined the last decade or so of his career. While Depression and the Stooges' second post-reunion album, 2013's Ready to Die, affirmed Pop's ongoing passion for heavy guitars and crude rhythm, his recent work has also pursued rather unexpected tangents. 2009's Préliminaires and 2012's Après found unlikely inspiration in American jazz standards, French chanson, bossa nova, and Michel Houellebecq's fiction; Teatime Dub Encounters, a 2018 EP with Underworld, set Pop amid the duo's progressive house and techno soundscapes. On Free, his eighteenth album, Pop continues to dabble in jazz and finds fresh interest in ambient electronics, with unflattering results.
It's been argued by Pop's harshest critics that he's only ever been as good as his collaborators – the various bandmates (Ron and Scott Asheton, James Williamson) and well-known producers (David Bowie, John Cale, Don Was, etc.) who have drifted in and out of his long career – and that the man himself, as striking as his stage presence and best lyrics can be, is little more than an unthinking dilettante, ready to be remodelled by whoever approaches him next. This stance neglects the extent to which Pop influences proceedings, however; Pop's hollering voice, idiosyncratic street poetry, and powerful physicality propelled the making of his greatest works, even as he's reimagined as an uncaged animal by Williamson or a Dostoyevsky character by Bowie.
Here, however, with the reins taken by trumpeter Leron Thomas and guitarist and filmmaker Sarah Lipstate (aka Noveller), the limitations of this approach are exposed – especially as Pop is rarely as creatively disengaged as he is through most of this record, only co-writing two of its tracks. In the liner notes, Pop tells us that the album is an attempt to escape "the effluent of [his] own mind and problems, in favour of trying to interpret the poetry of others". Accordingly, Thomas assumes most of the writing duties, and the original songs are accompanied by Pop's reading of two poems: Lou Reed's 'We Are the People', dating from the early '70s, and Dylan Thomas's 'Do Not Go Gentle into That Good Night' (read as earnestly as one might imagine it'd be, unfortunately). The major problem here is that unlike Williamson or Bowie, Thomas and Lipstate seem to have no idea what to do with Pop – how to effectively couch his performance in something as clever or unusual as he is.
The title track, the record's first, introduces the listener to three of the album's recurring features: thickly applied layers of keyboard (resembling dated New Age more than anything in Brian Eno's ambient playbook), meandering trumpet accompanied by echoing, high-pitched stabs of the same instrument ringing above it in the mix, and Pop growling something silly while every so often the final word in a phrase is forced through a reverberating vocal filter. The direction baffles; where he managed to be both confident and reflective on Depression, here Pop sounds tired and lost.
The only highlights are the two tracks with Pop's own lyrical contributions, 'Loves Missing' and 'The Dawn'. The first features a satisfying crescendo, with Pop's vocal rising to a yelp as the music threatens to overpower him; though the effects of ageing on his voice are evident, he's lost little of his emotive power, and it's thrilling to hear on an album otherwise crooned or spoken. 'The Dawn', easily the record's most introspective track, might have been a roaring success in another setting; the addition of dissonant synth noise among Lipstate's washes of keyboard creates a nervous atmosphere, and Pop's lyric picks up the late-night anxieties of his last record where they left off: "Love and sex are gonna occur to you / And neither one will solve the darkness". What's apparent in such moments is that Pop's creative engagement pushes his collaborators to create something befitting his presence.
It's a pity that these songs are trapped on either end of Thomas's wholly uninspired material, where at times Pop's droll performances approach high camp. On the single 'James Bond', a surf riff leads Thomas's frankly awful lyrics nowhere, failing to even inspire appreciation as a novelty song due to its boring, repetitive structure. 'Dirty Sanchez', meanwhile, features clunky line after clunky line, delivered in a bratty sneer that might be appealing were it not for the irritating call-and-response (or perhaps more accurately, "human microphone") vocal arrangement. At times, as on 'Glow in the Dark', lyrics fall in and out of overused metrical schemes, with many lines not scanning at all; these are sketches of songs, or doodles in lieu of sketches.
It's the performance of Reed's poem that's most disconcerting, though. Where it should be rousing, with Reed's words evoking his own dark vision of '60s people-power activism, or at least touching – with one iconic agitator at the edges of rock's mainstream paying tribute to another – the track is instead MOR nothingness, resembling Reed's Tai Chi-inspired Hudson River Wind Meditations more than any of the work that made him worthy of idolatry.
In that recent New Yorker profile, Pop is defiant about his place as a performer in this late period of his career, seemingly vowing to work as long as his body allows it. His scars remind us of the visceral solutions Pop sought in response to the numbing effects of postwar American conformity: with the violent, Dionysian theatre of his greatest performances, his grotesque decadence in the midst of counter-cultural experimentation and political tumult, and his flippancy regarding personal degradation and harm, Pop was the nightmare-come-real of suburbanites who had only recently come to terms with Elvis Presley's hips and "reefer madness". It wouldn't be reasonable, of course, to expect the same ferocious energy as he approaches his mid-seventies – but when he says, "Don't tell me that I can't strip off my shirt and go make a big, primitive noise", I wish he would. Seán Kennedy