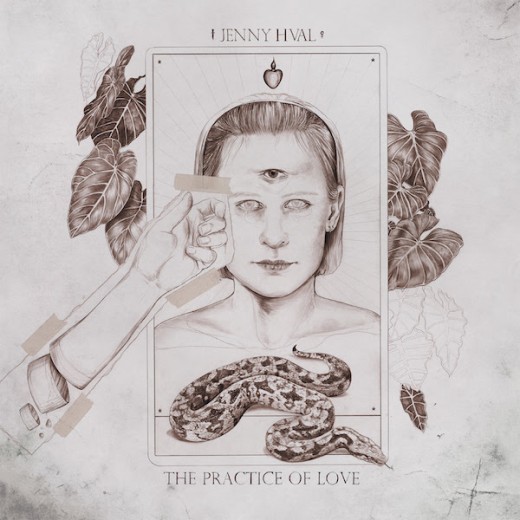 On the 13th of August, Jenny Hval shared an image of herself on twitter, with the accompanying caption; "a new song is out today – High Alice. This one is a labyrinth. Link on the internet. Suggested reading list: Clarice Lispector." 
Lispector was a surrealist, mystical Brazilian writer; broadly speaking, her work centres around women suspended in a moment of spiritual or creative crisis, often on the precipice of revelation. Lispector has a knack for warping the lens through which we view everyday objects – a flower, for example, or an insect – so that what is familiar is curdled into something strange and alienating, something surreal enough to trigger in both her protagonists and her readers a kind of existential questioning, sometimes even panic. 
This, surely, is a device adopted – inherited? – by Jenny Hval, who uses her songs to masterfully reconfigure everyday experience in a way that reflects the particular conditions of crisis that face our present Western moment. Like Lispector, Hval uses dissociative, surrealist tendencies to explore the connections between life, desire, art and the strange and elusive nature of creativity. Hval makes us reassess the habits and practices we take for granted as "normal" under late-Capitalism and in doing so, her work creates a tense sense of alienation, of alienation, of the fantastical, which amounts, ultimately, in a refusal to accept contemporary western structures (of power, of economics, of prescribed sexuality) as our only possible reality. 
Across all of her records, Hval seems to take cue from the oft-quoted claim popularised by Mark Fisher, that it's "easier to imagine the end of the world than it is to imagine the end of Capitalism". On 2016's Blood Bitch Hval proposes a realm of post-apocalyptic chaos, a divine-monstrous feminine, celebrations of carnality, desire and menstrual blood. She gleefully undermines Capitalist realism ("it works like unrequited love") to imagine a world that is fantastical, erotic, queer, multi-faceted and true.
The Practice of Love, then, marks a swerve in Hval's world-making. Here, Hval incorporates song, provocative spoken word and '90s electronic trance music to propose a different kind of post-Capitalist Utopia –  ands far as Utopian electronic music imaginings go, it's a welcome counter to the neo-Futurist fascism of recent Grimes releases.
On opening track 'Lions' Hval implores us to "look at the trees […] study the raindrops on the leaves, study the ants on the ground" and to ask ourselves "where is God? This place doesn't know, this place doesn't care about the holy scriptures". In her trademark, alluring sing-speak Hval describes a naturalistic paradise, an alternative to the impositions of patriarchy, of religion, of heteronormativity, "this is a no-man's land' she sings, "this is a no-gods land"'. Hval's Edenic world is pagan, wilfully chaotic, even mystic.
 The album's artwork seems to reaffirm this, featuring a line drawing of what looks like a tarot card framed by leaves, with the mystic-kitsch symbolism of a coiling serpent to the fore, and a portrait of Hval herself sporting a third eye on her forehead. On 'High Alice', Hval again evokes a kind of queering of the natural world, reimagining Alice's descent into Wonderland, imploring "let her sketch out her rabbit hole/ her pleasure dome […] through centuries of art" before refraining a line that might be the crux of the album, "I want something better, we all want something better."
The Practice of Love features a host of collaborators. Vivian Wang, Laura Jean Englert, andall contribute multiple times across the albums eight tracks. One of the album's most provocative moments is 'Accident', which features Laura Jean, in which Hval explores questions of motherhood and pokes at the way society regards childless women approaching middle age; ""it rings a hollow tone, childless / no longer a mystery of life […] she is an accident / a curious androgyne […] flesh in dissent." 
The title track brings Hval's incorporation of spoken word to the fore. A mesh of voices, it's essentially a recording of conversations between Hval and her collaborators musing on everything from love and language – "the word love comes in the way of love […] it makes me want to say sorry […] maybe sorry is the closest I ever got to expressing love"-  to motherhood, childlessness and survival; "as someone in their late thirties who doesn't have a child, I have to accept that I'm part of this human eco-system, but I'm not the princess." The voices are layered atop one another, drifting in and out of legibility.
Perhaps one of the most utopian aspects of The Practice of Love is the way in which it celebrates the distinct magic that happens when women come together to make something, this feels inherently like a way recording artists might begin to undermine Capitalism. By decentering the importance of a single voice, the work of Hval and her collaborators makes space for multivalent possibilities, a refute to the strict individualistic turn essential to Populism, and to the corporate instrumentalization of art and music as commodity objects. In the artist statement that accompanied the video for 'Accident' made by Hval and Zia Anger, they write "our collaboration validates each other's right to breathe, to live, to speak. It's the closest we get to magic." Hval demonstrates that something very special happens when women create together – it's one of our most radical and vital forms of resistance. 
Few artists have so adequately explored and diagnosed the western woman's contemporary condition to the same depth as Hval, the surreal existential weirdness of being a person with a body, with a sexuality, with something as irrational as feelings in the face of the rapid resurgence of Fascism and impending climate apocalypse. The Practice of Love feels very much a document of our current moment, but its mysticism, its celebration of the natural world and the feminine seems to exist outside any particular time. It's a heavily intellectual record, but it also allows space for a deepening of the mystery. On 'Accident' Hval makes reference to Lispector's 1977 novel The Hour of the Star. There's a moment near the beginning of the novel in which Lispector reveals the backbone of her craft; "so long as I have questions to which there are no answers, I shall go on writing." Like Lispector, Hval isn't too concerned with offering any answers, The Practice of Love, like all of the best art, simply complicates the questions. Maija Makela