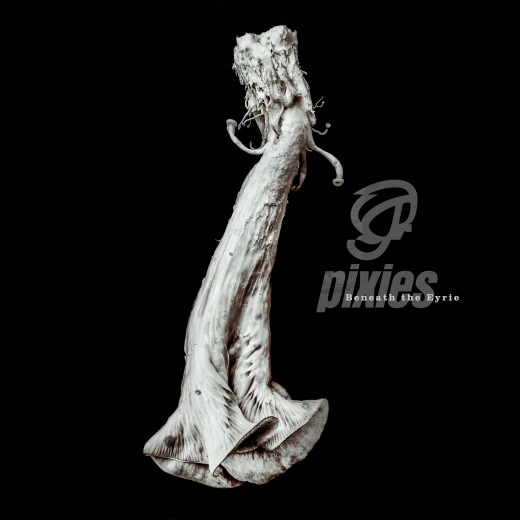 Complaints about Pixies' latter-day output – that is, their two LPs of post-reunion material, 2014's Indie Cindy and 2016's Head Carrier – have been plentiful, and loud: it's not the same without Kim Deal, whose gifts for odd yet propulsive rhythm and sense of unnerving harmony had contributed so much to their sound before she left the band in 2013; it recalls too often Black Francis AKA Charles Thompson's solo work, lacking the demented energy that defined their early material; the biblical, literary, and cinematic references, once deployed wittily, now sound laboured or even self-parodic.
The criticism hasn't been entirely unfounded. The urgency that infused their best work is arguably only heard in snatches on the recent records, and it's difficult not to be cynical about their motivations when they've been hitting the nostalgia circuit as hard as they have for fifteen years; why bother with the new work if one feels it's only being released to justify continued touring? Consequently, it seems as though the band's near-mythical status – which benefited hugely from their premature disappearance in 1993 and subsequent hiatus until 2004 – has been damaged somewhat.
Beneath the Eyrie, their seventh full-length, has arrived with some built-in mythology. Interviews have focused on the importance of their retreat to upstate New York, to a former-church-now-studio set within a forest, and the location's evocation of the strange and supernatural (former clients of the studio include the National and the B-52's). Thompson has spoken of the effect the environment had on his writing, citing the band's isolation and a resultant sense of the gothic as influences on the new songs – most evident in his lyrics, which at times recall stories by Irving or Poe in their allusions to nineteenth-century folk tales and the north-eastern states' austere Americana.
Whatever the extent of their surroundings' influence, the change of scenery seems to have done them some good; it's the sharpest they've sounded on any of their post-reunion material, and the most whole. Paz Lenchantin finally sounds like a member of the band, as opposed to a session-player whose sensibilities must bend completely to the group's (or, specifically, the singer's). Here, for the first time, her efforts sound like her own contributions, not merely impressions of what Deal might have done had she been present. Lenchantin co-writes three tracks (including the single 'Graveyard Hill'), singing lead on one, and though echoes of Deal's thudding bass and spectral vocals are still here, there's little sense anymore that Lenchantin is merely a stop-gap replacement.
Throughout, Tom Dalgety's production is, as on Head Carrier, pleasingly unfussy. But where that record was almost grungy at times, here the band are captured sounding crisp and focused. The first track, 'In the Arms of Mrs Mark of Cain', introduces minor keys and hanging guitar lines that feature prominently on the rest of the album, and nods subtly to the Latin influence that's been present in the group's work since their earliest releases. Lyrically, while biblical allusions are to be expected on any Pixies record, there's a refreshing directness to Thompson's approach (a precious 'able'/'Abel' pun aside).
Elsewhere, as on 'Catfish Kate' and 'St. Nazaire', Thompson's engagement with American gothic is more evident; he relishes delivering tall tales about murdered mountain women and selkie brides, and it's on these tracks that his growls, mutterings, and yowls are deployed most effectively. The band are lively, in a manner that sounds unforced compared to their last two releases, as though they've been reinvigorated by north-eastern severity. If there's ever a Pixies record to play around a campfire, it's this one – and it's all the better for this atmosphere.
While there's little in the way of fresh ideas on Joey Santiago's end, his work is almost uniformly strong – plenty eccentric, his off-kilter interpretation of rock and roll riffing can still thrill (see: the powerful stabs of noise that punctuate the chorus of 'Silver Bullet'). David Lovering's drumming, meanwhile, is as deceptively steady as ever, introducing odd structural changes with ease and agility. There's no new ground being broken here, but the group sound appealingly energised.
It's a coincidence that I find myself listening to the record's final track, 'Death Horizon', on the same week worldwide protests have been organised to highlight governmental inaction regarding climate change. The acoustic-driven song, which appears thirty years after Doolittle's similarly eco-conscious 'Monkey Gone to Heaven', finds Thompson delivering a sci-fi lullaby for Earth as it spins closer to the sun (and certain destruction). The voice we hear isn't too anxious; he's relaxing on a beach in Waikiki, resigned to the inevitable and awaiting his death with drink in hand. The sturm und drang of the earlier song is forgotten; there's no use fighting now, Thompson suggests, so let's ride it out with tranquilising liquids and a seaside view. The lethargy is surely facetious, but it's oddly satisfying to hear Thompson at peace with something; it just so happens to be the end of civilization – our very tallest tale, our scariest campfire story. Seán Kennedy