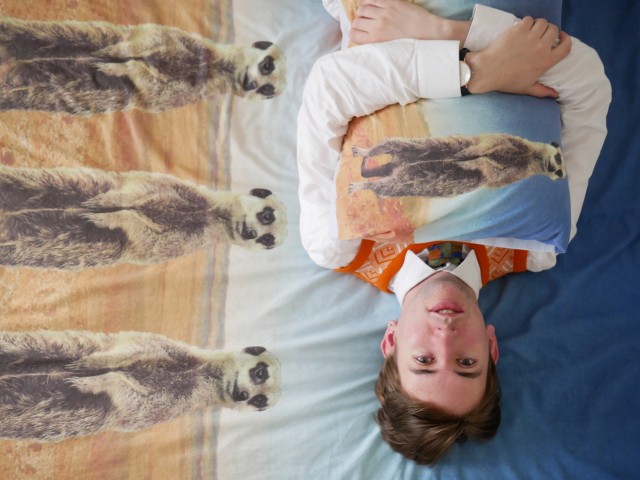 When Jake Regan's debut single 'Over It' came out, we said he'd "instantly staked his claim as one of the country's most promising and distinctive songwriting voices", and new double A-side 'Unfair / Stay' compounds that fact – with the former's video out today. It's a perfect 3 minute, scuzzed-out power-pop song about the would-be artist's reality crash-landing that deftly navigates the tightrope between sincere & pointedly self-aware. Based on the oh-so-relatable D.I.Y. artist's perspective, Regan tells us more:
"The song came from frustration at the stratospheric recent success of the Fontaines, and the weird flurry of identical bands that followed them. There are so many angry young men around who seem to have nothing much to be particularly angry about. I started writing the song thinking about that, and very quickly realised that I was doing the exact same thing. So I suppose it's important to recognise a bit of humour, too. The last thing I want to do is take myself too seriously."
Both songs were recorded with Christopher Barry in Ailfionn Studios, with Regan performing all parts. Featuring the merciless taunting of Shrug Life frontman & TTA Podcast host Danny Carroll – amongst some other scene cameos –  the video was conceived of & directed by filmmaker Liam Farrell.
"He wanted to go for a 70s-style British sitcom, with the grainy VHS look, sort of in the vein of The Odd Couple or something. We originally wanted to be more obtuse and have a villain character directly based on a Fontaines member, who consistently gets rewarded for his shitty behaviour, with me seething in the sidelines. But we decided on going for something more overtly comedic, and when we saw Danny Carroll in his big suit we thought he would be perfect for the mischievous housemate who keeps terrorising me throughout the video. Liam wanted it to be really hammy and silly, which I thought was a nice change of tone from the usual video pitch."
Jake Regan & The Loverboys hold
the single launch
 for 'Unfair / Stay' at Anseo, Dublin this Saturday, September 28, with support from Echo's Bones & Pier. Stream & buy it on
Bandcamp
 today, and enjoy the video below: