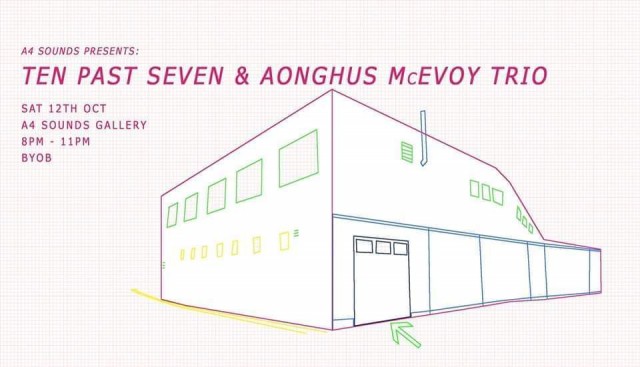 Sometimes-slinking, sometimes-monolithic, always-dynamic Kerry instrumental trio Ten Past Seven play their first Dublin headline show in a number of years with a performance at gig & art space A4 Sounds this Saturday, October 12. They've just recorded their new album at Dublin's Guerrilla Studios, set for release in 2010, ten years after their last album, Bothar Buí, which featured an appearance from Katie Kim, and remixes by Kevin Blake, Toby Kaar, Molotov Ape & Laura Sheeran.
Sharing the bill is Woven Skull member, composer & guitar explorer Aonghus McEvoy's trio. Expect hypnotic, deconstructed music rooted in blues, jazz, and the underbelly of primitivism. Have a listen to his work on Bandcamp.
A4 Sounds, located at St. Joseph's Parade, just off Upper Dorset Street, is a not-for-profit socially engaged organisation, aiming to support Irish artists professionally. A key priority of their musical collaborations is to help shift the cultural norm of undervaluing the work of musicians by providing a fair wage, and as a result, tickets are on a three-tiered system. For those in a more comfortable position, love the arts & wish to subsidise participation of others, they can 'Pay it Forward' for €20, with regular tickets priced €15 and 'Feeling the Pinch' available only online in limited numbers, priced €10.
Tickets are available from Eventbrite, priced from €10-€20. Doors open at 8pm, and it's a BYOB show.