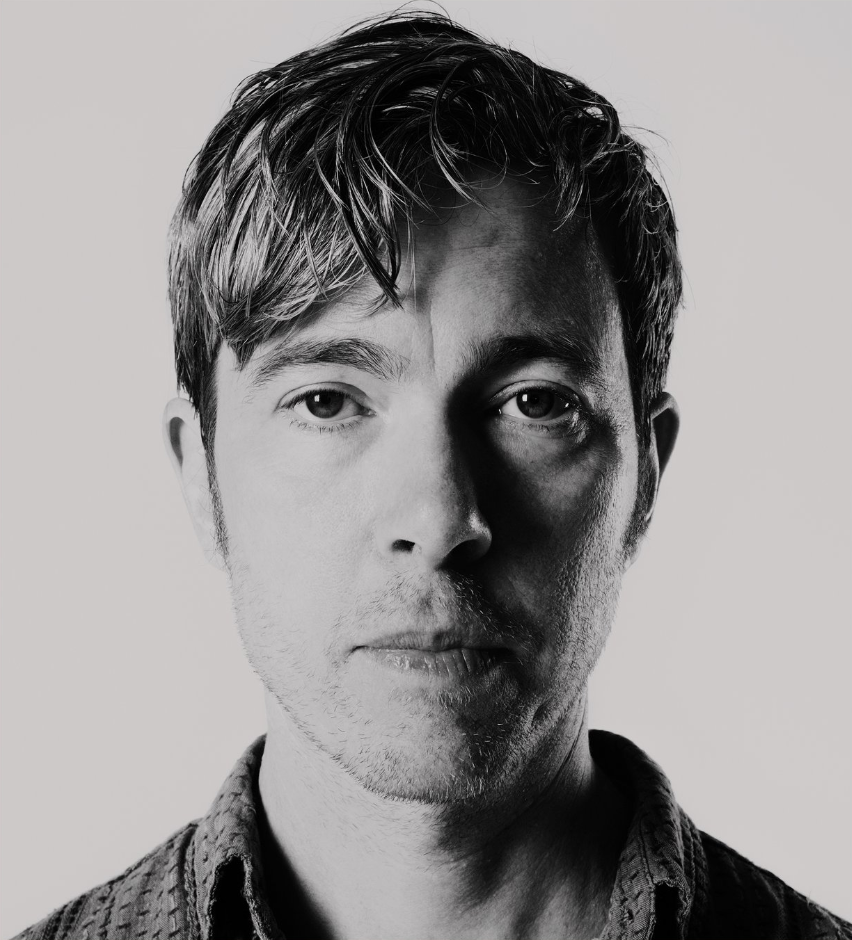 I found myself in the smoothest taxi ride I've ever fell upon, gliding from leafy Portobello to its friendly neighbour Mr. Vicar Street on a light mellow Sunday evening to witness my first ever Bill Callahan show, having been a long time fan of his work. It was pleasant from the off as I took the role of reviewer and made immediate conversation with fans of all kinds outside, soaking up all their knowledge like a musical magnetic sponge. There was Ben all the way from the USA who raved about the crazy support band Dallas Acid, whom he enthusiastically described as "… a mysterious frontwoman who barely looked eighteen surrounded by old wizards playing tripped out synth." He was giddy about how great they were. I'd just missed them but heard mixed reports, particularly from my friend John, who proclaimed his hatred for them minutes later to my amusement.
I made my way inside to the bar where this polite English man skipped me to order two pints of Guinness only to realise that he'd jumped ahead of me. I didn't mind at all but appreciated his apology nonetheless as I was getting the exact same order. He filled me in on the night and mentioned he'd seen Bill on a number of occasions and he was curious to see if his newfound happiness and recent marriage would affect the gig. I propped my pint on a perfectly-placed self and settled in for the fully-seated show, absorbing all in front of me. Guinness in a plastic pint glass in a venue should not taste this good, but it did surprisingly.
The crowd appear to be somewhere between the thirties to fifties so I'm feeling almost young, for once. Lights go down and on come four unassuming, shirt-clad gentlemen. There's drums, electric double bass, a Gibson SG and a simple semi classical acoustic and a cavernous voice of melting hot lava. It's clear who the leader is from seconds in, with Callahan oozing charisma on Johnny Cash levels. There's a quick tune up, an audience assessment and they're off. Set opener 'Angela' immediately locks everyone in. Sparse but beautifully plucked out acoustics carpet ride below a huge and deeply coarse chamber of vocal poetry billowing out "Angela, oh Angela, like motel curtains, we never really met" and we soon find ourselves treated to lines like this, knitted into all his songs throughout the night. You can hear more pin dropping than three years worth of google map searches. Matt Kinsey flies us high on the sweetness of 747 as he places a toy airplane to his guitar neck pickup, allowing the built in take-off sound effect blast through the speakers. Next, Bill has you quickly boarding a train with a fitting Silver Jews cover of  'Trains Across the Sea'.
'The Ballad of the Hulk' played to a green lit stage was a particularly rare spectacle. Bill quickly informs us that he shares the same tailor as Bruce Banner. 'Let's Move to the Country' airs out some Smog classics as the crowd are getting a little bit brave now and a heckle of Drover rings out in a thick Cork accent. 'Too Many Birds' was one of my personal highlights as I've had it on repeat for months. Bill has a real knack for simple musical repetition but making it so so infectiously warm and immersive. He recalls playing Vicar Street before based on the "purple tote seats" and apologises for whatever may have happened that night. "When I play here again in ten years I'll apologise for tonight too."
The between-song banter was nice and light and welcomed. He jokes that his real name is O'Reilly. Sorry, Bill, but your a long way off yet. He's enjoying the room and the night, as are his fellow musicians, particularly the double bassist who was drafted into roadie duties when Bill's mic stand started rebelling against him. 'Drover' came blasting out of the turnstiles towards the end of the set and I thought it was going to get a standing ovation in itself. A pulsing kick drum sample guides along a potent and powerful country anthem. It's one song I'll go back to a lot more now after witnessing how good it is live. 'Jim Cain' kept the mood high with its lullaby like melody and creamy electric guitar line.
Callahan and co. were joined by support act Dallas Acid for 'The Beast'. This was a pointless exercise as the support band banged on a gong and played synth with an inaudible impact and brought about as much energy as a sloth on a bag of valium. I now see what my friend John meant earlier. The encore ended proceedings with another Smog song 'Rock Bottom Riser', bringing everything down to a close. Bill's last line on the night was "check your watches, we have no more time" referring to the strict 11 o'clock curfew. I somehow felt it was poetic but maybe everything that comes from him has that effect. Podge McNamee