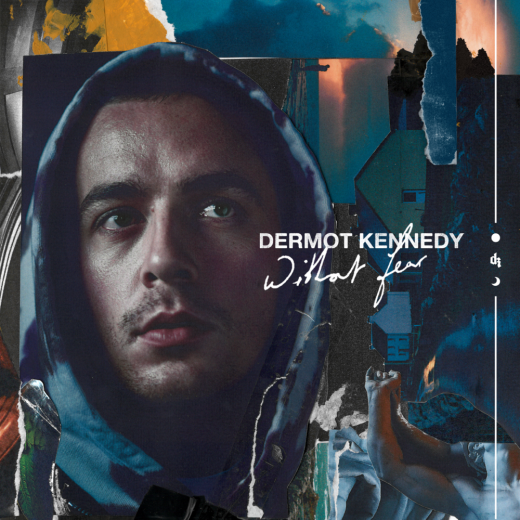 As Dublin's Dermot Kennedy releases his debut album, Without Fear, it's odd to think he's already been performing to packed-out audiences for two years. For an artist who recently sold out the 5,000-capacity Brixton Academy in London without even having a UK single, and who has collaborated with regular Kanye West producer Mike Dean, you'd almost be forgiven for thinking of an album as an unnecessary afterthought.
Nevertheless, Without Fear, released on UK major Island, puts Kennedy's towering voice on full display with a collection of deeply personal, hip hop-infused pop songs ruminating on heartbreak, hope and healing.
While it may be tempting to lump the 27-year-old in with other soulful, brooding white men in pop (see recent examples like Tom Walker, Lewis Capaldi et al), in interviews Kennedy has branded the inevitable Ed Sheeran comparisons "lazy". Thankfully, the album eschews such comparisons for the most part. 'Lost' sees the artist toil over the realisation that there is often no quick fix for pain, other than to push through it  ("There can't be solace every time you cry"), while in 'All My Friends' he asks a former lover: "Promise you'll smile off a memory".
Hit single 'Power over Me' is anthemic as ever, while the Mike-Dean-produced 'Moments Passed' shows Kennedy at his most desperate, asking whether his love ever meant anything; it's a blistering track powered by emotion, swelling synths and cascading drum machines, casting aside the poppier hooks relied on elsewhere on the album.
Kennedy doesn't entirely escape the typical singer-songwriter tropes, though; Recurring images of nature, the sea, the moon, birds, the Devil etc are straight out of the tortured folk star playbook, and his sharp-edged tones will grate on some over the course of a 50-minute album. Furthermore, almost half the album's 13 tracks have been released in some form previously; 'An Evening I Will Not Forget', a song which first surfaced online in 2014, appears almost exactly as its earlier incarnations, albeit with a production spruce-up. It's nonetheless an affecting opener, recalling past summer memories and the falling apart of a relationship. Using old songs is not a bad thing, but it's something which might leave long-time fans of Kennedy feeling short-changed.
A former Grafton Street busker who also studied classical music at Maynooth University, Kennedy's craft is demonstrably well honed, even at this early stage. The songs hit hard, both through the ferocious vocal delivery and the repeated opening of old wounds, obsessively replaying specific moments in a relationship – conversations about the future, breaking up, making up, good times and arguments. Kennedy has himself questioned the healthiness in expressing such dark experiences nightly on-stage, and it's easy to see why; Without Fear plays out like the repeated scratching of a scab, each time resulting in fresh bleeding, altering the healing process.
The album is hung on such intense emotion that when the closing title track arrives, it's a welcome respite from the raw emotion of the last 45 minutes, Kennedy reigning in the vocals as strings soar behind. Elsewhere, stripped-back piano ballad 'Rome' sees Kennedy test his vocal capabilities and sing "Your soul is yours, but I'll help it move if I can", while 'Redemption' with its chopped-up production work is the closest he gets to his hero Justin Vernon's technical wizardry.
Overall, Without Fear is a strong record which often enough evades the usual pitfalls of conventional folk pop, and it will likely be a commercial success. Yet it is hard to escape the sense that Kennedy could have gone further; he has spoken openly about his love for hip hop, and he clearly has a taste for stylistic elements outside of the wider pop sphere. If he can further explore some of the elements glimpsed on this, a solid debut, even more exciting records may await. Ryan O'Neill