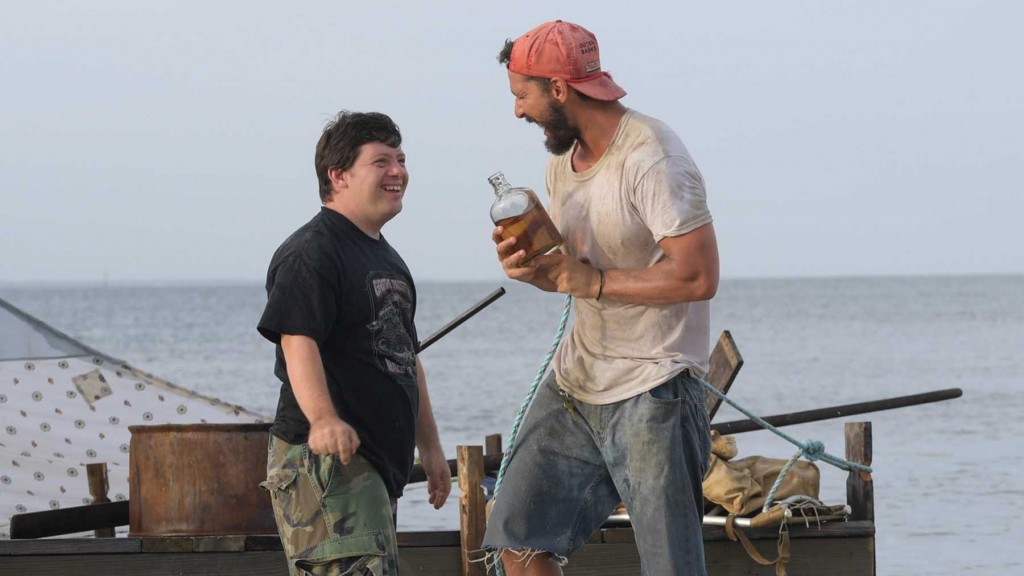 "Yeah you're gonna die, it's a matter of time. That ain't the question; question is if they have good stories to tell about you when you're gone," opines Tyler (Shia LaBeouf). The hot-headed, low-rung outlaw on the run (he torched a rival crab trawler's gear), is giving life lessons to his accidental travelling companion, Zak (Zack Gottsagen), a 22 year-old with Down's Syndrome making his own escape. The Peanut Butter Falcon, the first feature from American writers and directors Tyler Nilson and Michael Schwartz, is an open-hearted yarn about good stories and good times, a rough-it-out best-pals adventure that moves with leisurely charm.
Tyler is Zak's guide, road buddy and wrestling trainer. The two share a willingness to embrace stories, and the self-conscious adventuring that comes from finding yourself thrown into one. Zak, having digested cheesy wrestling videotapes of Thomas Haden Church's bandanna-topped grappler "The Salt Water Redneck", is on the trek to the Redneck's wrestling school, where, he fantasises, he will learn the secret moves, "hang with dudes" and, goes the subtext, find a replacement for the biological family that abandoned him. Zak's greased-up midnight escape from a state-mandated retirement home, assisted by a twinkly Bruce Dern, has concerned care worker Eleanor (Dakota Fanning) on his tail.
Florida-bound Tyler is more versed in the rustic, loose survival beats of life on the swampy lamb, and less dreamy than this serendipitous surrogate brother, but they're (often literally) in the same boat. He's got his own family trauma—gentle guilt over his dead brother, played by Jon Bernthal in smooth, dialogue-free flashbacks— and his own pursuers, John Hawkes seeking a pound of flesh for Tyler's spiteful arson. Zak is entranced by VHS technicolour but Tyler imagines their journey as a piece of classic Americana pluck. Maybe Zak's not alone, he tells the eager, enquiring Eleanor. Maybe he's doing some "Mark Twain shit".
Nilson grew up in North Carolina, and banked seafaring time before his film career, helping indue the film with genuine, non-patronising affection for the the swampy South, and the hard-up, tough people who live there. It's a land of tall grass, unlabelled jugs of brown booze, lunch plucked from the river, secret handshakes and conversations by the fire, set to a score of bluegrass strings and Gospel bursts.
The film represents a minor expansion of the lead roles available to performers with Down's. Like 2016 Irish indie Sanctuary, born out of Galway theatre and performed by actors with intellectual disabilities, The Peanut Butter Falcon is about a breakout. BBC NI drama Ups and Downs, broadcast in April this year, was structurally similar, starring Belfast's James Martin as a young man with Down's who tricks his sister into a road trip.
Sanctuary was more geographically and aesthetically limited, and more tonally absolute. Legal questions around responsibility and consent; then cheesy comedy. Ultimately, its skipping-school joys couldn't survive bureaucratic realities. Falcon is lighter and more forgiving, with a higher tolerance for wish-fulfilment. Sanctuary wanted us to question our assumptions about "normal", and show difference as an experienced reality. Falcon acknowledges Zak's struggles, but outsider status is divvied up between its leads, his condition comparable to Tyler's burnt bridges and out-of-place sensitivity, and, eventually, and less convincingly, Eleanor's exotic, educated polish.
Here, Johnson taps into some of that ease of presence that crackled in Luca Guadagnino's A Bigger Splash, her maternal finger-wagging inevitably dissolving in the face of Tyler's good-time charm. LaBeouf, always best when he can be a little silly, is a winning foil to Gottsagen's intransigent solidity; wiry, broody, impulsive, with just the right amount of performative enthusiasm. Even when Falcon starts cutting corners, the cast make it hard to care.
The Peanut Butter Falcon is showing at Queen's Film Theatre, Belfast and Cineworld Cinema Dublin from October 25th.