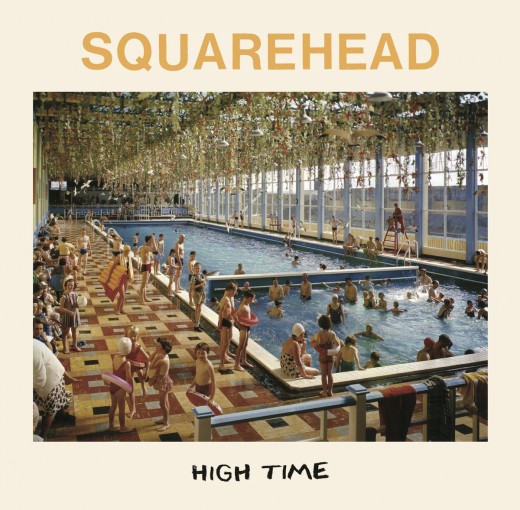 It's odd that so many of Ireland's best and much missed bands have chosen the exact same time to make a comeback. Girl Band's triumphant return four years after their debut and two years after their last live appearance may be the most notable, but forthcoming third albums from early 2010s Richter Collective stalwarts BATS and Jogging should be just as vital. Squarehead, meanwhile, don't feel like they've ever really been away. Live shows have continued sporadically and new singles have slowly slipped out over the past two years, but it's been a whole six since the band's last full length, Respect. 
Previously fairly prolific – Respect followed 2011 debut Yeah Nothing and a 2012 split LP with So Cow – such a gap is uncharacteristic, but the Dublin trio have taken a well-deserved mental health break and have taken their time in slowly crafting a new album, ruthlessly scrapping any material that doesn't feel up to standard. And it shows, as the appropriately titled High Time goes above and beyond previous work. 
The band are developing something of a trend of never quite making the same album twice – Yeah Nothing was full of garage-surf guitars and sun-kissed 60s pop harmonies, while Respect tended largely towards a harder edged punk sound more in the vein of Cloud Nothings as they discovered the location of their distortion pedals. This time out they've found something of a midpoint between those two, but there's also a greater depth and maturity on show than ever, the record stuffed full of lush jangling guitar tones and graced with an extra layer of interstellar synths added by Ruadhan O'Meara of No Spill Blood and Magic Pockets.
Past singles 'Waves' and 'Always On' sound stronger within the album than in isolation, and both reveal themselves to be highlights immediately. 'Los Paradiso' meanwhile revisits the tropical sounds of Yeah Nothing, utilising the strength of Roy Duffy's voice on its absolutely infectious melody, and even fitting in a brief bongo riff to accompany its 'Take Me to the River'-referencing third verse. 'Crossover' on the other hand sees Duffy revive the strained throaty vocal he utilised across the harder moments of Respect, an effective foil to his usually smooth and melodic tones, and well matched to the track's thick rumbling bass.
A band that once personified the sound of youthful summers, this is instead a record dripping in the wistfulness of early autumn, particularly on tracks like 'Name and Number' or melancholic opener 'CDHR'. The title of 'After the Sun' seems to echo this change, although it's actually one of the album's brightest and most energetic tracks, even if its chorus of "I was just 25, now I'm gonna die" might suggest otherwise.
While Squarehead have long been favourites on the Irish scene, High Time, easily their strongest and most consistent work to date, only cements the fact that they deserve a far wider reach beyond these shores. The album has plenty in common with the current crop of Sub Pop bands like Rolling Blackouts Coastal Fever or past tourmates Frankie Cosmos, but with Galway's Strange Brew label going from strength to strength lately, it's a more than adequate home for now. Cathal McBride