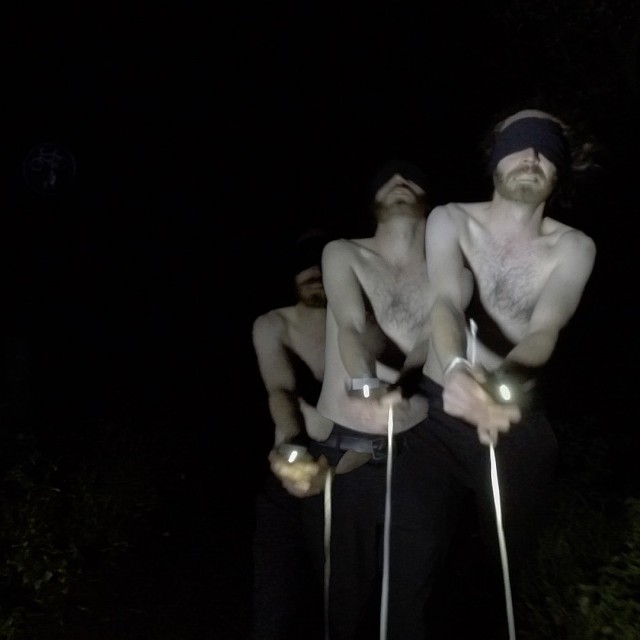 The latest thing to emerge from the mind of idiosyncratic polymath Arthuritis is an avant-pop fever dream. The glitchy 'Condo' – the sound of a brain puttering out before completing a factory reset – is as decidedly nausea-inducing as its uncanny accompanying video, masterfully shot & edited in three hours by CLAP Media's Colm Walsh; recalling Twin Peaks: The Return, three selves are dragged down a cold, dark back-path adorned only by barriers and wet grass.
It's a perfect example of Arty's latest approach, which explores the relationship between rhythm & time. He tells us: "One of the main things that influenced it was I looked at a lot of the artists that I love and found common ground between the ones that really hit me – Sun Araw, Captain Beefheart, Aphex Twin, Dirty Beaches. They change the way I perceive time, they can stretch 2 minutes 30 seconds to feeling like 6 or 7 minutes or the reverse. I suppose I endeavoured to figure out why and I think it is because the musical timing is usually complicated and shifting, or heavy-laden with polyrhythms. That seems to be why time passes so slowly or quickly while listening I think. So I experimented with the idea."
Lyrically, it's sparing. Based around a couple of broad, pseudo-philosophical business platitudes, it comes from a place of intense distaste "for corporate business, capitalism and other things of that ilk, but also about my place in it." 'We can speak freely in my condo' is taken from a presumable Mad Men scene, when, "one bastard says it to another bastard before they do something dodgy probably."
'Condo' is taken from Arthuritis' forthcoming new album, ORNAMENT OF THE WORLD.