From the moment it was announced last month, it was clear that Goodbye Quiet Arch was never going to be your everyday swansong. Too monumental to call a gig; much too highly-charged to truly deem a farewell (Quiet Arch suddenly ceasing to exist? Not a hope.) In truth, it all felt a little unknowable. Momentous, yes, but also laced with the strong hint of something yet to emerge.
This morning, suspicions and worst fears lodged in the back of one's mind were sadly confirmed. Lyndon Stephens was gone. With all the heaviness of Bowie and Blackstar, the timing was heavy but, in its own way, strangely fitting. A final little wink before the curtain comes down. Bowie, Lyndon and other rarest of shooting stars like them: these are losses that can take months to even come close to computing. That indispensable presence and voice and spirit and vision – all of a sudden, Lyndon was no longer around to make it all happen.
It's not possible to overstate the extent to which Lyndon made an imprint on not only the landscape of music here, but also its mentality. How one man could be held in such high regard by so many people, is nigh on incomprehensible. But Lyndon truly was an exception to the rule. You just knew it – there was absolutely no hint of mystery to it. One encounter – one winding conversation laced with tangents and flares of frankness, ambition, kindness and resolve in equal measure – was all it usually took. Lyndon could take you into his world like no other.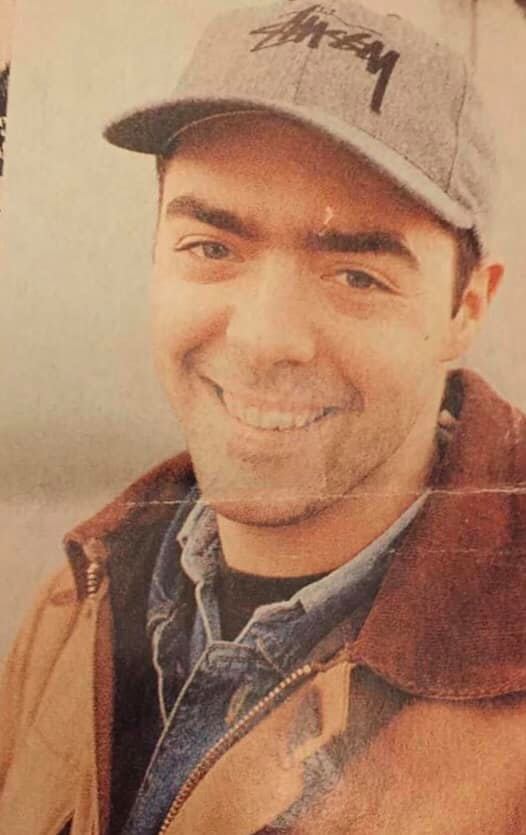 Endeavouring to write about the performances tonight feels innately futile but, once you take a step back, it's clear that it's what fundamentally matters, when all is said and done. Lyndon's untold belief and investment in each of tonight's artists feels, in itself, much bigger than us all. Though it helps, one needn't even be a fan of a single act for that fact to register loud and clear. In his absence this evening, the extent to which he has irrevocably galvanised and help shape these performers – both as people and professional musicians – is laid bare. It hangs heavy in the air from the moment the room starts to fill out: every sunken glance and drawn-out hug and cautious "Yeo!" and quiet sigh and tripped-out, close-eyed sway articulates as much. Indeed, whether one knew him or not, by simply being here, the mark of Lyndon's work – and by Yahweh, was it work – looms large. It's impossible to ignore.

Talking someone up in death can often feel insincere, no matter how meant. In the case of Lyndon, besides the fact that he would no doubt be telling me and everyone else to "wise up" with a trademark cackle and rub of the beard, it feels not only entirely natural but completely necessary. It's something that tonight's host, the writer and broadcaster Stuart Bailie, takes to with ease and surefire poetic poise. A good friend of Stephens', Bailie – who penned this wonderful piece on the already sadly-missed label boss last month – introduces each act, from Laytha to closers Ryan Vail and Elma Orkestra, via bursts of insight and reminiscence that puts the one-off story and journey of the Belfast boy firmly centre-stage.
Following a typically inspired, full-band set from Stevie Scullion aka Malojian, which doubles up as a reminder of just how masterful Scullion is at wielding subtlety, Ciaran Lavery (below) delivers a resounding performance. Hands down one of Lyndon's true success stories (one glance at his Spotify profile tells you all you need to know) Lavery's set is rapt from beginning to end. A uniquely disarming presence, not shackled to his acoustic guitar like the age-old singer-songwriter mantle might seek to suggest, Lavery sets a tone, in both song and reflection, that sits somewhere between sentimental and unashamedly celebratory.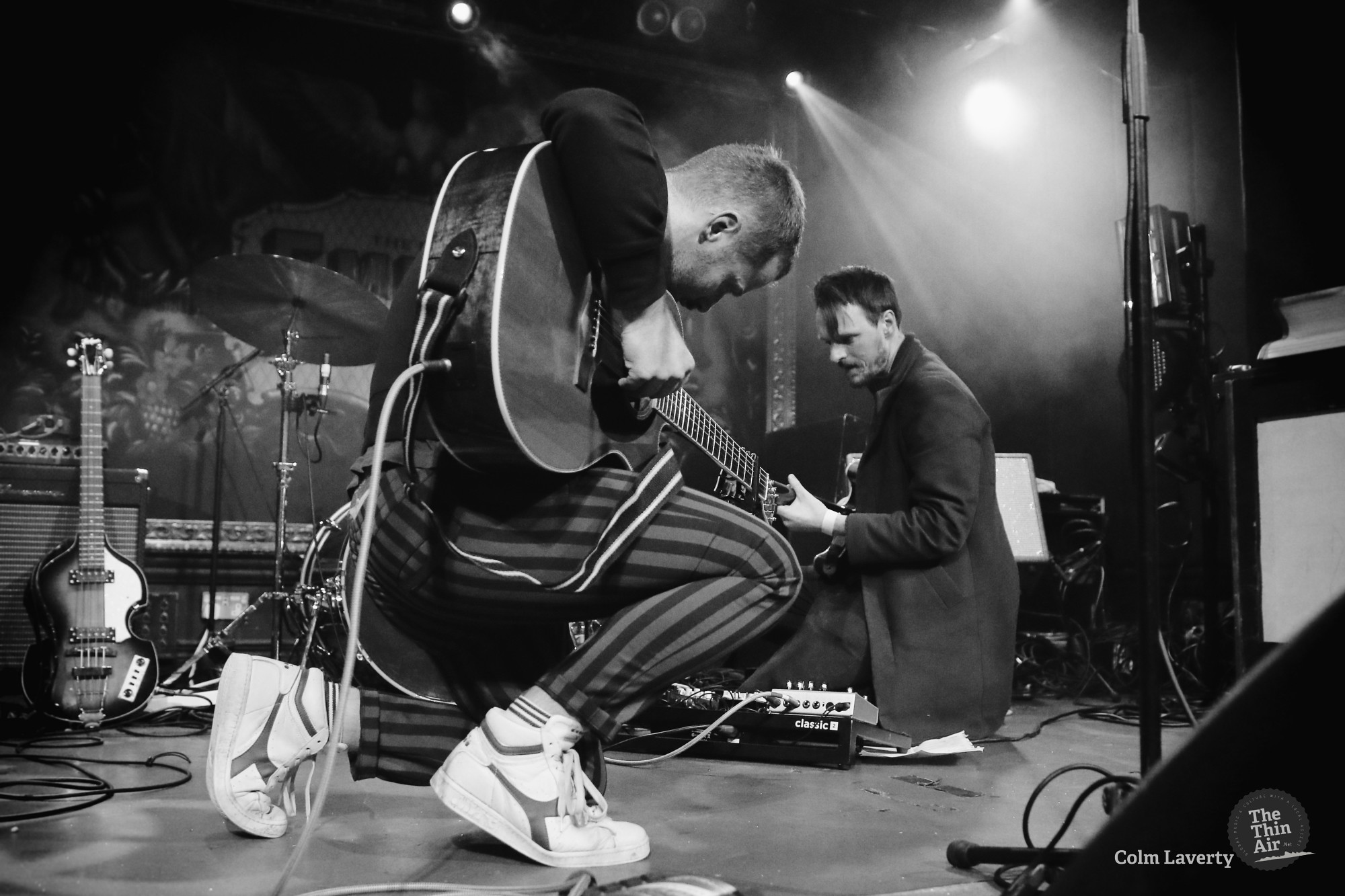 From one homegrown globetrotting sensation to another, Joshua Burnside's full-band set ups the ante and then some. Joined by a formidable cast of familiar faces, including his brother and long-term sonic conspirator Connor on drums, Burnside (below) is on remarkable form. Largely drawing from his 2017 Northern Ireland Music Prize-winning debut album, Ephrata, the songsmith's winding and wonderfully heartfelt odes to becoming tap into the incommunicable essence of the night with power and ease and pure, forward-moving intent. With Burnside letting the crowd know just how much Lyndon meant to him, long-time followers can't help but consider just how far the Belfast-based musician has come since joining the Quiet Arch family.
But Goodbye Quiet Arch could only wrap up in one way: a full-blown AV show from Ryan Vail and Elma Orkestra. Performing several peaks from their NI Prize-winning collaborative album, Borders, the pair go above and beyond to deliver a set that is nothing short of a transformative overture to everything Lyndon so effortlessly represented. From the sublime 'Colours' to the propulsive ambient electro of closer 'Arrival', it's a set that runs the gamut from pin-drop meditation to fist-clenched, bass-laden heft. With Ryan Vail visibly choking up reflecting upon working with his former boss (they were, after all, partners in crime longer than anyone else on the Quiet Arch roster) the consensus and collective sense of keening spikes.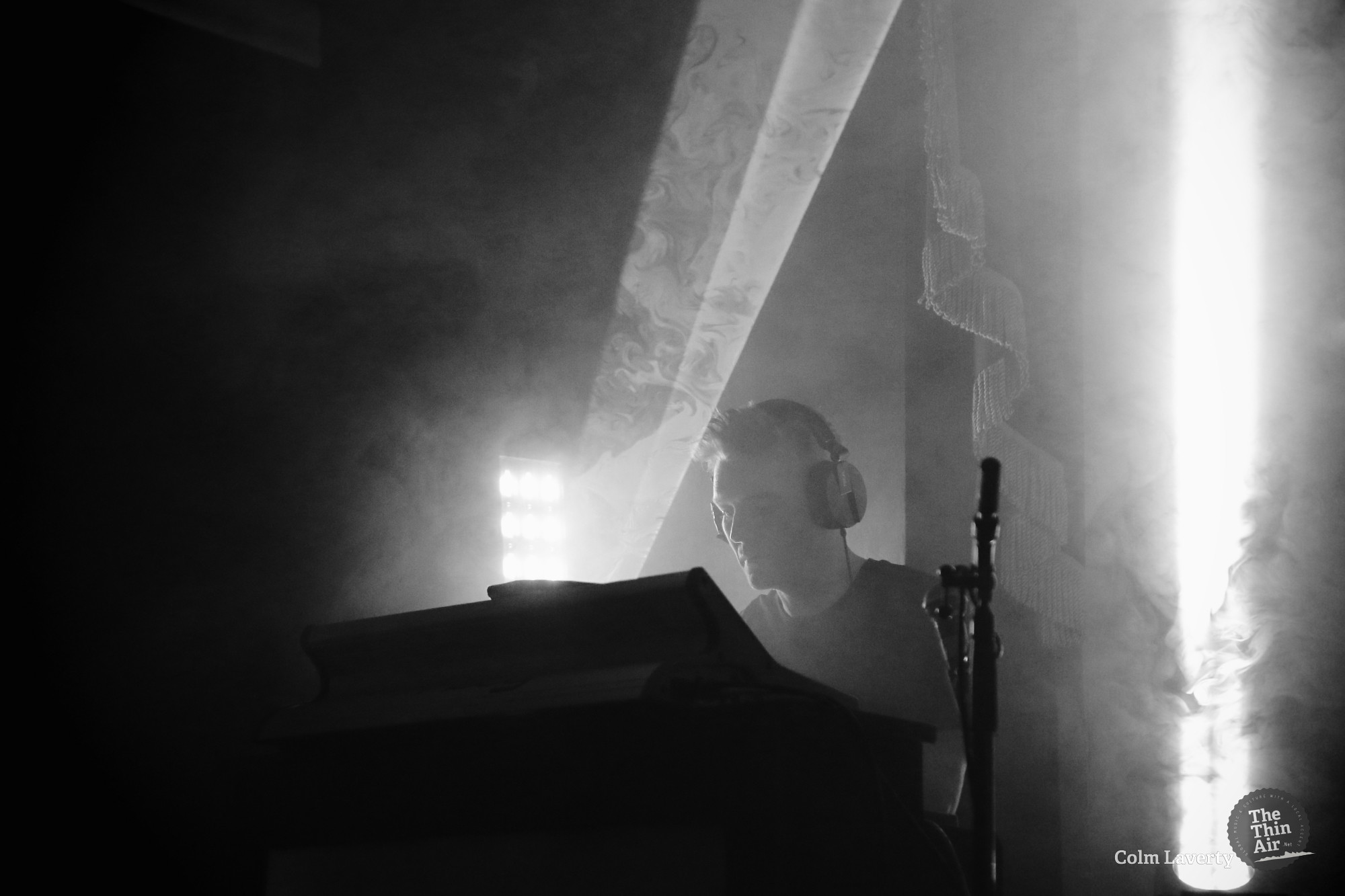 Nipping downstairs to catch up with friends and associates, old and new, a single thought protrudes at the forefront of one's mind. Yes, Lyndon could take you into his world like no other, but the kicker was this: the world in question was the world containing him, you, me – all of us together. It was never hubris or self-aggrandising or inward-looking. A master orator with no time for airs and graces, a rare wiseman without the faintest whiff of elitism to his name or nature, Lyndon naturally eclipsed so many like him simply by being himself – that is, a remarkably generous and determined music fanatic who was, above all else, fully invested in the bigger picture. The actual health of the scene. The incalculable connections forged and reinforced. The expansion of infrastructure and dreams. The breathless idealism, bolstered by purest pragmatism and a work ethic that has long been legendary. A spirit and conviction and insight and purest depth of knowledge that transcends bullshit and second-guessing or working only to the creak of kneejerk competitiveness. A love of the impossible, a creed of close-knit community framed by the global stage, a core, profoundly contagious foundation of goodwill, vision and doing. Lyndon Stephens was a doer. Tonight, he packed out the Empire Music Hall with people who couldn't doubt that if they tried.
When the last word is said and the final note rings out, the reason any of us – musicians, music writers, managers and far beyond – enter this industry is ultimately underlined by a primal desire to simultaneously stand out and belong. That Lyndon made so many recognise that that was not only fundamentally possible but also something to strive for is full, Technicolour testament to his impact. Without spelling it out for you, he made it patently clear: you could, should and will do it, first simply by wanting to and secondly, by realising you cannot ever go it on your own. Tonight offered full confirmation of that.

It seems to me that we can all honour the memory of Lyndon Stephens by doing one very simple thing: looking forward. Simple in theory, tricky in practice. If you know anyone who did it better than he, without indulging in self-interest or entertaining lazy notions of hierarchy or upmanship, please send them my way. In the meantime, let's get to work – for Lyndon, for Quiet Arch, for ourselves, for the scene, for all the lessons learnt from past, for Lisa and for all the impossible things that we have yet to do. Brian Coney

Photos by Colm Laverty