Reviews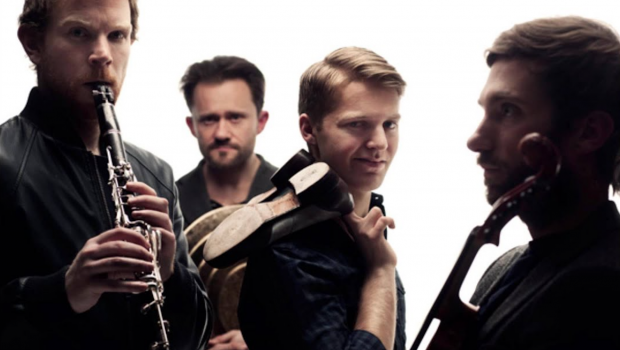 Published on January 17th, 2020 | by Ian Patterson
0
This Is How We Fly @ Solstice Arts Centre, Navan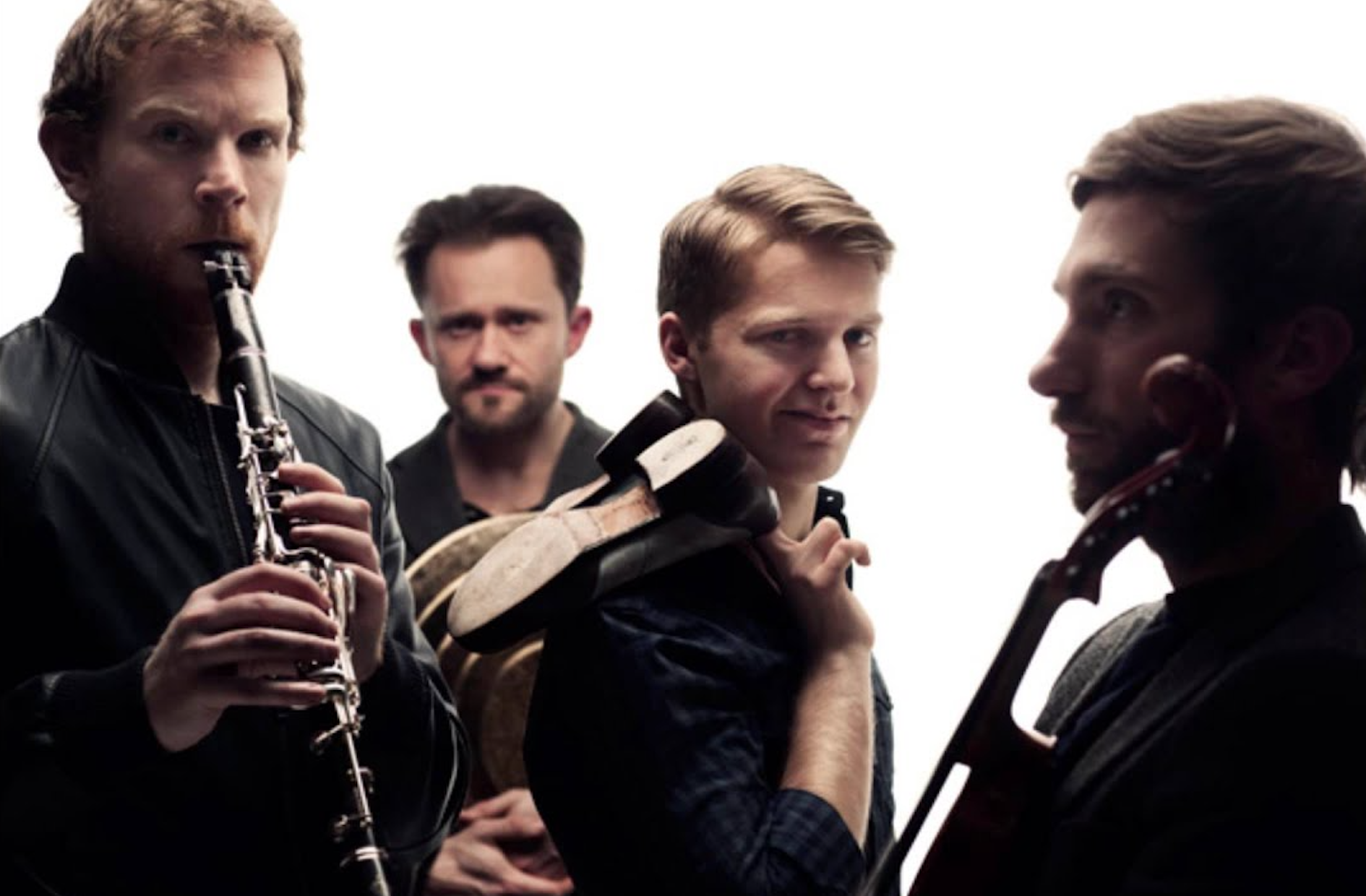 The setting is unusual for This is How We Fly's gig at Navan's Solstice Arts Centre. It isn't the circle of chairs, perhaps forty, that surround the musicians. In-the-round-concerts, after all, are not uncommon. It's the fact that the audience is on the stage with the musicians. Through a gap in the curtain the empty theatre is discernible. It feels like a private party.
TIHWF was brought together by fiddler Caoimhín Ó Raghallaigh, in what all thought would be a one-off gig at the 2010 Dublin Fringe festival. Swiftly approaching its first decade together, the simpatico between Ó Raghallaigh, reeds player/electronic musician Seán Mac Erlaine, American percussive dancer Nic Gareiss and Swedish drummer Petter Berndalen is, by now, is deeply entrenched.
Their music, however, isn't easy to define. 'Contemporary folk' will suffice for the subtle blend of Irish and Swedish traditional music, Appalachian dance, jazz and electronica that seduces audiences everywhere.
This performance is the third in TIHWF's Solstice Arts Centre residency, which began in October 2018. It has challenged the musicians, individually and collectively, to perform new music and to embrace collaboration.
This evening, TIHWF is joined by sean-nós singer Iarla Ó Lionáird, renewing his musical acquaintance with The Gloaming bandmate Ó Raghallaigh. There are two other additions to TIHWF's armoury this evening. Firstly, Mac Erlaine's Wurlitzer, circa 1972 – a time-warp of a beast. Secondly, and more striking still, is Berndalen's brand new drum kit, fashioned from fumed oak wood by local furniture maker John Lee. Both sound great, but only one could be described as a beautiful objet d'art.
Electronic drone and plaintive hardanger fiddle underpin Ó Lionáird's haunting vocals on the set opener, "The River".  The most arresting exchange, however, is the animated dialogue between Berndalen and Gareiss, who mirror each other's rhtyhms. A wooden board is the dancer's personal stage, his movements like an improvised ballet – joyous and graceful.
A sprinkling of fine sand on the wooden board brings another percussive dimension to Gareiss' tap-cum-shuffle dance on the next number, a spare meditation featuring soprano clarinet and fiddle. The contrast between rhythmic propulsion and minimalist melodic lines creates a tension in the music that is hypnotic.
Beginning with Gareiss, each of the musicians offers a solo spot. The dancer demonstrates the fruits of eight months in Scotland working with Scottish step dancers. His exhilarating rhythms convey a strathspey inspired by the late Donegal fiddler Tommy Peoples, followed by "Jenny Dang The Weaver". The musical accompaniment is in his head.
More sedate by comparison is Ó Lionáird's rendition, sung in both Gaelic and English, of "I'm Weary of Lying Alone", a tune written by his great-aunt Elizabeth Cronin. Ó Lionáird describes how Cronin was recorded by the legendary ethnomusicologist Alan Lomax, when he visited Ireland in 1951. Working the bellows of  a shruti box – an instrument common to Indian classical music – the singer creates a drone, on this melancholy ballad. Ó Lionáird is then joined by the ensemble on a buoyant Gaelic-sung tune, which sees Gareiss combine wooden board and a number of percussive metal plates lying adjacent.
Mac Erlaine conjures dreamy soundscapes on soprano clarinet and Wurlitzer – initially veering a little too closely, by his own admission, to the melody from "Chariots of Fire" . In turn, the audience is treated to a brief though lively drum solo from Berndalen. This is his first performance with the new drum set, and he is clearly enjoying exploring its possibilities.
The poetry of Séamas Dall Mac Curta [1650-1732] inspires the next tune – "The Grand Blackbird". Drone and deft musical embellishments accompany Ó Lionáird on another haunting ballad that draws the listener in. An instrumental coda sees Gareiss spin more of his own magic – the dancer's leaps, skips and arm movements through the air every bit as majestic as his footwork.
Ó Raghallaigh's unaccompanied spot sees the fiddler slowly weave a tapestry of finely layered drone, rhythmic pulse as faint as mist, pizzicato twinkling like chimes in a breeze, and just the hint of an air – appearing and fading like a ghostly apparition. Via subtle Wurlitzer daubs, Ó Raghallaigh's  ethereal piece segues into "Lullaby", a warming ballad, steered by Ó Lionáird, that brings all five elements together in softly spun harmony.
A standing ovation ensues. There's no encore, for as Ó Raghallaigh tells the audience, there is no more new material. TIHWF could, of course,  dust off an old tune, but for tonight at least, there is no looking back. The audience then enters the musicians' space to study the fumed oak wood drums, to shuffle on the wooden dance board, to chat with the musicians, and perhaps, or so it seems, to get closer to the source of the music. Ian Patterson