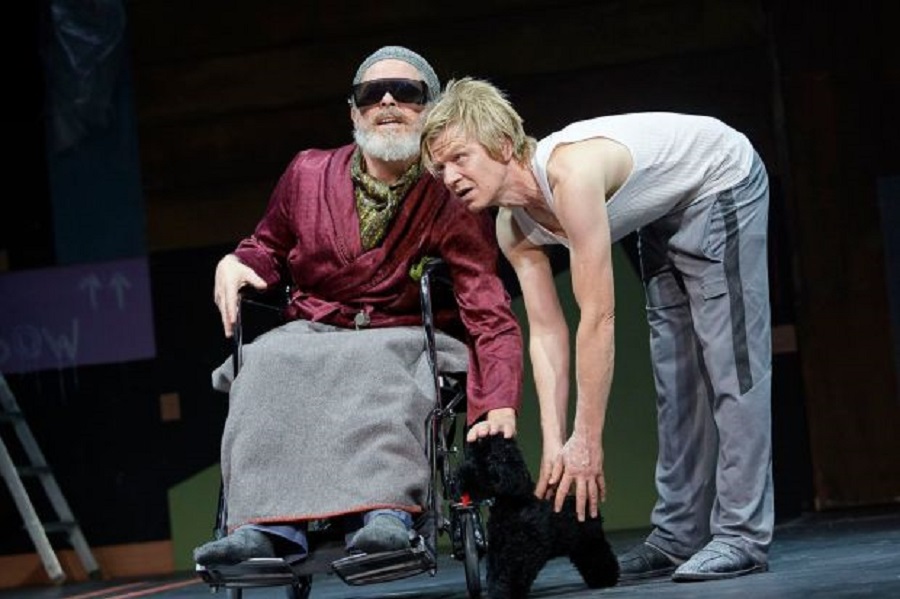 "You're on Earth. There's no cure for that!"
When tackling any of Samuel Beckett's plays, never mind one of his most emblematic, the challenge for a theatre company is how to leave its own imprint while navigating the author's exacting directions.
As people enter the Project Art Centre's theatre to take their seats they are greeted by a recorded reading of Endgame's text and stage directions. The voice is mechanical, almost synthetic. Beckett wanted actors to downplay the emotions in this farcical tale of stagnation and hopelessness. Pan Pan Theatre, however, has other plans.
Pan Pan Theatre has scored notable successes in the past with imaginative productions of Beckett's radio plays All That Fall and Cascando.  Endgame, however, is a different proposition.  Like Waiting for Godot before it, so sparse is the – suggested – post-apocalyptic setting, and so precise are the author's directions, that there is seemingly little room for manoeuvre.
And yet, there were versions in French, English and German, each offering significant translation challenges. There were numerous drafts, rewrites and notebooks of Endgame, not to mention a convoluted early production history, all of which leaves wiggle room for interpretation.
Parisian theatres initially refused the play, balking perhaps at the financial risks inherent in staging such surreal experimentalism. Just when production seemed set to go ahead in Theatre de L'Oeuvre, it fell through at the eleventh hour.
The premier, in French, took place in London in 1957, while the UK premiere had to wait until Beckett bowed to the censors and altered what they deemed to be blasphemous language. The critics were harsh, perplexed at End Game's bleakness.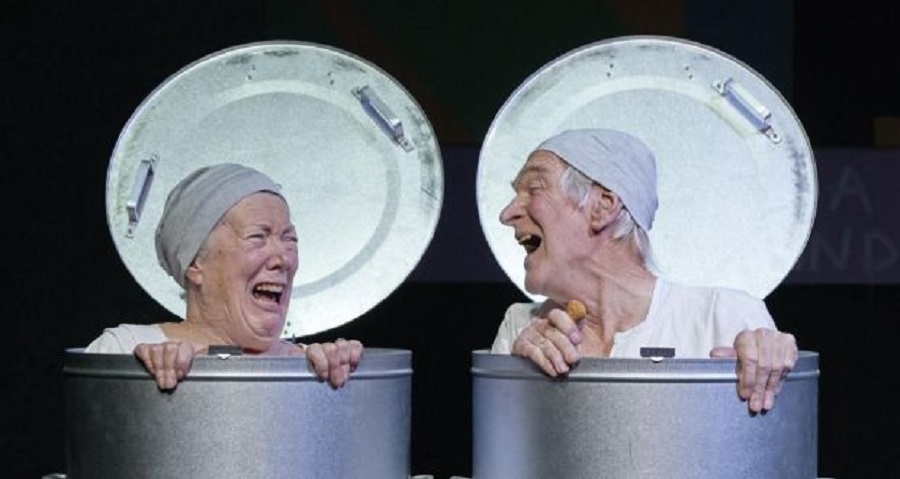 In fact, there was arguably more drama surrounding the birthing of Fin de Partie/Endgame than in the play itself, which Beckett described as "a heap of words but no drama."
Pan Pan Theatre is not shy, but in this production directed by Gavin Quinn, it does seem to deflect from the darkness of the play's soul with an overly bright stage design. Even the ash cans that house Ham's geriatric, legless parents, Nagg (Des Keogh) and Nell (Rosaleen Linehan), look as if they've come straight off the production line. It doesn't quite chime with the doomy, end-of-the-world vibe of the text.
"Outside of here is death", Hamm intones sombrely, noting also that the stink of corpses is everywhere. The spectre of death haunts the living too, or rather the terror at the thought of more living.
Only death, it seems, can relieve Hamm and Clov from their mutual suffering. In their barren world, a flea ("But humanity might start from there all over again!") , a rat ("If I don't kill that rat he'll die") and a boy ("A potential procreator") spied through one of the windows, pose the threat that the whole, awful cycle of life on Earth might repeat itself. Even the death of Hamm's mother barely warrants commentary.
Little wonder that early critics responded to the bleakness of the play, finding little of the silver-lining humour and human empathy of Waiting for  Godot.
The blind Hamm (Andrew Bennett) is confined to a wheelchair. His servant Clov (Anthony Morris) is unable to sit, ("Every man his speciality"). Their remorseless verbal jousting is caustic, cruel and dourly repetitive. "Ah, the old questions, the old answers, there's nothing like them," intones Hamm dryly.
There are endless shenanigans with a telescope, a ladder and the two windows, and a three-legged toy dog – round and round they go, again and again.
Their game ("Me to play") is a perpetual farce where neither can escape their fate. Their moves are senseless, perfectly encapsulated in the scene where Clov moves Hamm's wheelchair, under instructuion, right and left, back and forth, to find the dead centre of the room. "Roughly! Roughly! Bang in the centre!", barks Hamm, as he asks to be moved just a bit more this way and then just a bit more that way.
It's humorous, but deeply black. Becket hinted that Hamm and Clov were Waiting For Godot's Estragon and Vladimir in later life, or even himself and life-partner Suzanne Déchevaux-Dumesnil , when, in the 1950s, they found it difficult to stay together but more so to part from one another.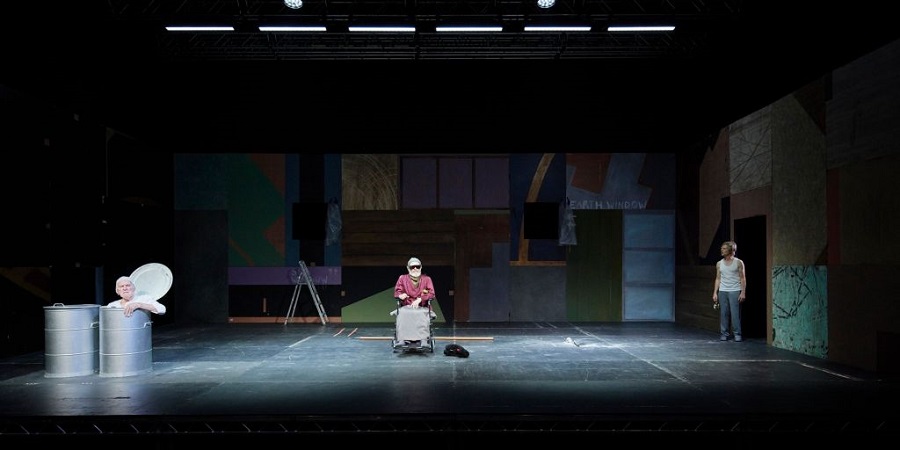 One moment of genuine relief comes when Clov hums, as per Beckett's guideline – only who would have expected Herb Alpert's "Spanish Flea"?
Beckett's experiences during WWII, and the horrors inflicted by that conflict, seem to cast a dark shadow on Endgame. Critics reeled from it at a time when the advent of rock 'n' roll, the birth of television, and the end of war rations, all signalled a brighter dawn.    
Sixty years on, our increasingly agnostic culture seems not just unmoved by violence and destruction but even entertained by it. The audience in a packed Project Arts Centre laughs a good deal during Pan Pan Theatre's  production of Endgame. That says a lot for the actors' handling of the script, but it may be too, that people today are more immune to others' unhappiness. It's just a game, after all, and as Nell remarks, "nothing is funnier than unhappiness, I grant you that." Ian Patterson
Photos: Ros Kavanagh