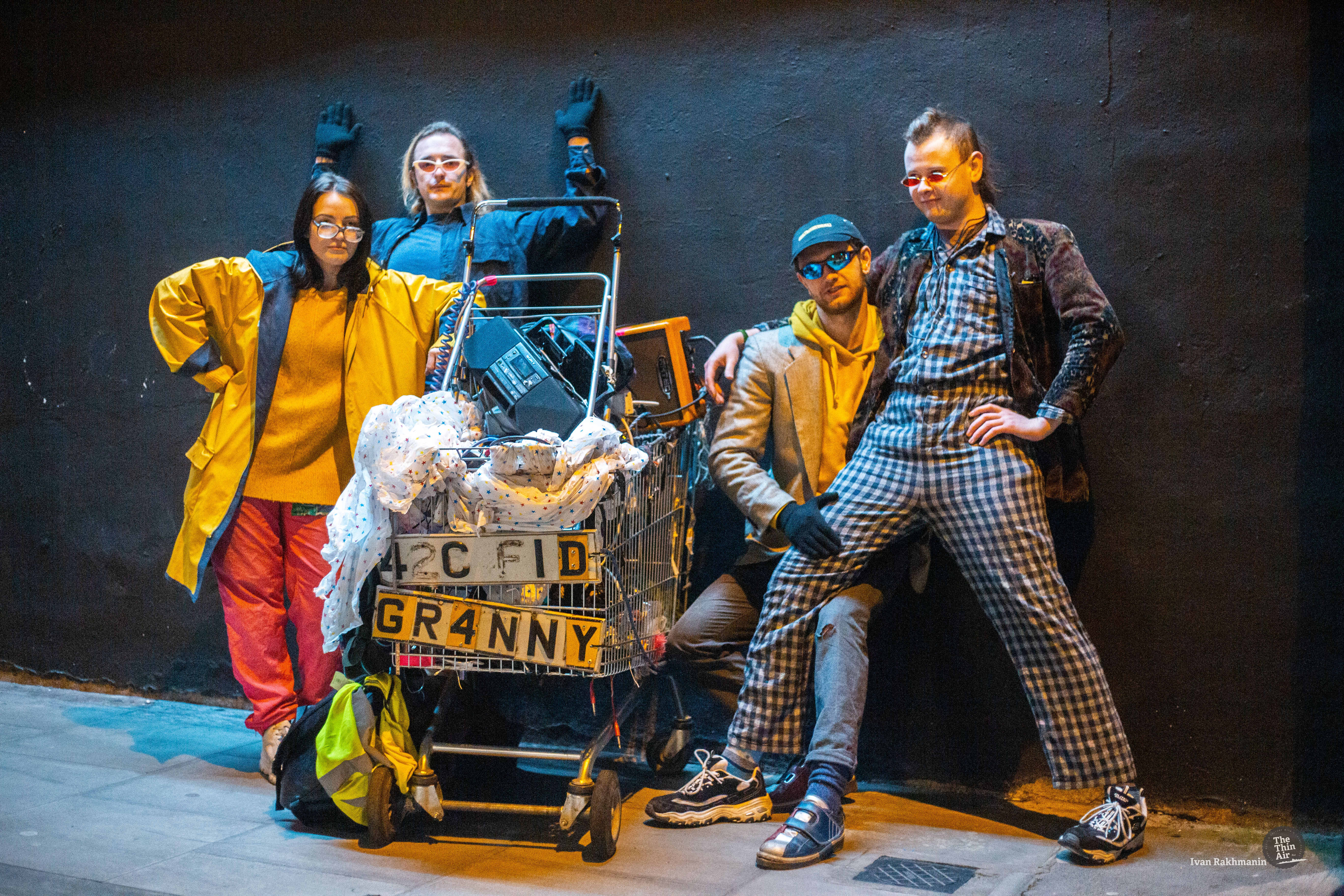 In the first installment of 10 for '20 – our new series previewing ten Irish acts we're convinced are set for great things in 2020 and beyond – Justin McDaid introduces one of the country's most singular live acts, Dublin quartet Acid Granny. Photo by Ivan Rakhmanin
There's a celebrated quote on a famous theory attributed to a clever man. Put your hand on a hot stove for a minute and it seems like an hour. Sit with Acid Granny for an hour and it seems like time is being pulped into some sort of amniotic goo where we all converge and fuse into one pulsating being of pure ming. That's relativity. Light, space, time, and gravity: all just playthings to the sentient aural mechanics that galvanise as Acid Granny.
Who are they? We don't know. Where did they come from? We don't know that either. All we know for sure is that we know fuck all, save for an abstract explanation ("Acid Granny is a trolley full of toys") and some vague math. There are about eight members. Sometimes there are less. Consider W.B. Yeats' elucidation on the trooping fairies of Irish folklore: "Everything is capricious about them, even their size. They seem to take what size or shape pleases them." The human element of Acid Granny is fluid and elusive to those who wish to pin them down; hiding in plain sight, an ever-darting shoal of fish. The trolley, though, is as irrefutable as it is incomparable. We've seen it.
An episode from Series 2 of This Ain't No Disco offers a glimpse into the band's style of guerrilla street performance. A Christmas crowd on Dublin's Grafton Street gathers around a man with a shopping trolley laden down with musical ephemera, layering one distorted vocal on top of the other. It's the briefest of snippets, a mere 25 seconds, but it's the most intriguing of the entire half hour. The reason? Acid Granny "don't know what'll come out at any given time and that's half the show."
In August of last year, they put out 'Chickatweeks', the first of eleven tracks that was to mark the beginning of the gradual online release of an improvised mixtape. The stems from this "big, unorganised pile of treasure" were shipped out to "the most bet-down producers" they could find. The fruits of these labours are still to be unleashed, this collaborative synthesis of experimental acid-jazz-acid-techno-acid-funk-acid-trance-acidacidacidacidacidacidacidacidacidacidacidacidacidacidacidacidacid.
Somewhere in Dublin city, then, an electrified shopping trolley holds the secrets to sonic exploration as told by Acid Granny. For now, if you want to keep tabs on the band just keep watching the skies, the streets, the social media transmitters. The machines are always listening. Justin McDaid
Acid Granny play Quarter Block Party 2020 at the Kino in Cork on Saturday, February 8th, alongside Post Punk Podge & The Technohippies, Jar Jar Jr. and Junk Drawer