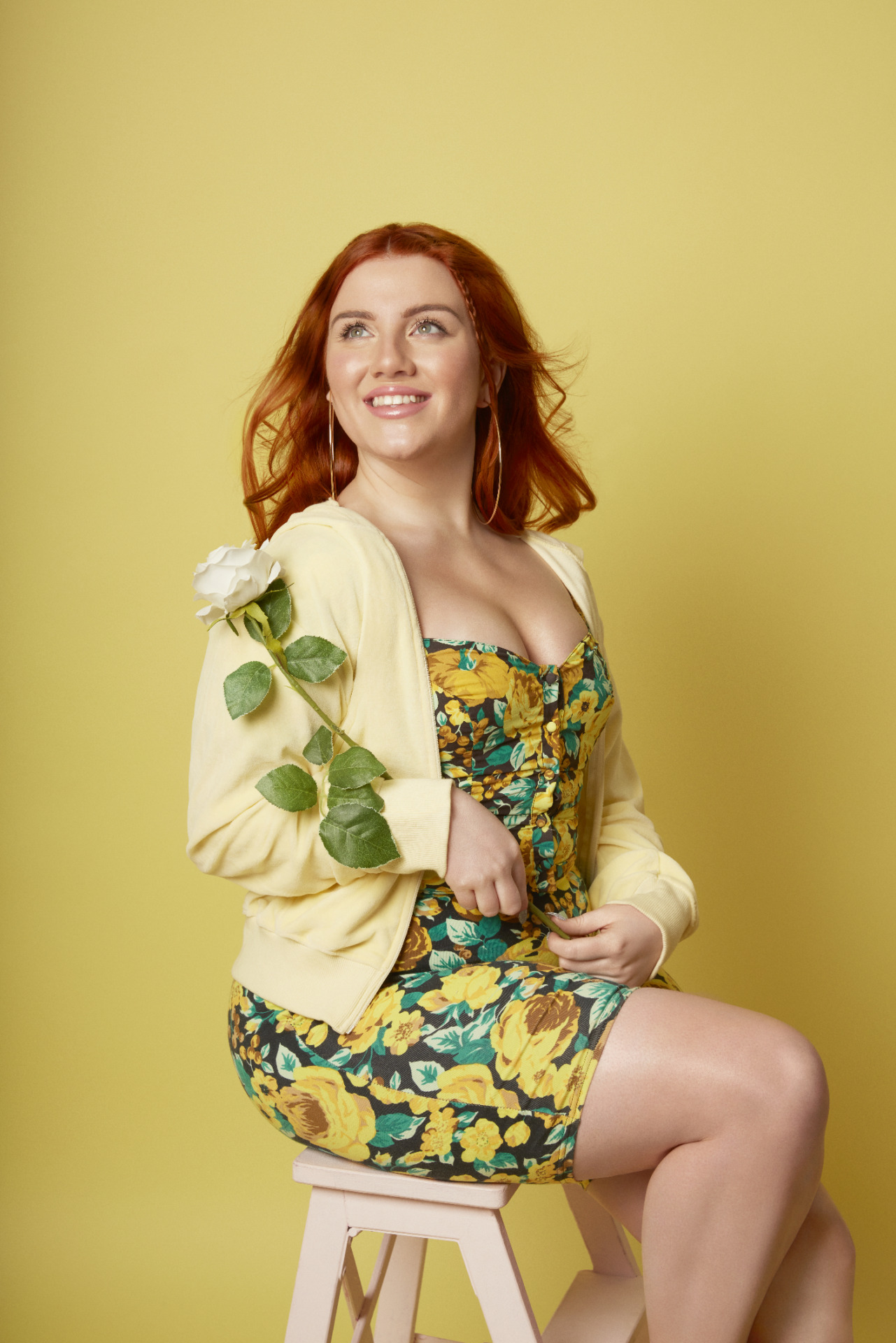 From Bombay Bicycle Club and Dolly Parton to Glen Campbell and the Sensational Alex Harvey Band, Meath pop sensation Ciara Mary-Alice Thompson aka CMAT waxes lyrical about some of her all-time favourite songs.
__
Bombay Bicycle Club – Lights Out, Words Gone
I could write a book about any song on this album. My first foray into the music industry was being a highly successful Bombay Bicycle Club fangirl, and it has served me quite well in life. I ran a blog about the guitarist, Jamie, where me and my friends wrote fanfiction and photoshopped his head onto members of One Direction, and the queen of England and Jesus and stuff. Jamie actually ended up becoming my first music manager when I was 18! Flattery does get you everywhere, kids. I picked this song because the music video is just stunning, and because the opening bars set off my ASMR.
Glen Campbell – Gentle On My Mind
I think the reason iI first got into Glen Campbell was because I thought he was really hot, which he was, despite the fact he was a huge Republican. It then developed into a full-on obsession when I realised how much of a great guitar player he is. He's probably my favourite guitar player of all time, and I always think about how the wrecking crew begged him not to leave to become a Country musician. It's funny how people always turn to Rock for 'guitar music' when I personally find the standard of musicianship to be so much higher in Country and Western. Gentle On My Mind is such a gorgeous song, and the guitar break in this version of the song is just stupidly good.
Dory Previn – Lady With a Braid
I had a really great relationship with my music teacher in secondary school, despite being really bold in school and being one of the few in the class with no formal musical training. This song always reminds me of her, because she begged me to listen to Dory Previn from when I was about 13. I remember listening to her when I was 13 and thinking "this is so boring!". Then I listened again when I was about 17, and it just clicked. I don't think I had ever heard a woman out herself as being so pathetic before, and I thought, 'this is me!'. 'Lady with a Braid' is the blueprint for how I learned to write, and I reference it constantly. Side note: I very enthusiastically support whoever made the video for this version of the song on YouTube, as it is mainly just pictures of Jon Hamm.
Boney M – Brown Girl In The Ring
Up until I was about 8 years old, I had only really heard the music of about five different artists, because my Mam only listened to Gerry Ryan and the five tapes she owned in the car. One of the tapes was Boney M's greatest hits, and I was obsessed with them. It makes sense to me now, as Frank Farian, who might be one of the most awful people to ever work in music (Google him), is undeniably a gold standard songwriter and arranger. I remember being in senior infants and getting up in front of my class to perform a dance that I had choreographed myself to 'Daddy Cool', having lied and said I learned it in dance class (i did not go to a dance class). This song though, really resonated with me for some reason, and it was my go-to party piece at all communions, birthdays, and Christmases.
Emma Roberts – Mexican Wrestler (Unfabulous Soundtrack)
What was the reason? What was the reason for including this song in a TV show for children? It's devastating! I was obsessed with the show 'Unfabulous', and the fact that the main character wrote 65 songs about the same boy (Jake Behari, I still love you). I started trying to write that many songs about the boy I fancied in school and quickly realised that it was an insane, unhinged thing to do. This song was written by Jill Sobule who is a really gifted songwriter, and every day I am grateful that Nickelodeon made the extremely inappropriate decision to repurpose her songs about heartbreak and identity for a 12-year-old Emma Roberts.
Dolly Parton – Drinkenstein
It's hard to overstate the impact this woman has had on my life. I love her style, her work ethic, her constant desire to write the best possible song and her ability to be so kind to everyone she comes into contact with, despite being probably the most overworked person in the history of the world. I'm in a DJ collective called Western Girls, and most of what we do when we meet up is just exchange Dolly Parton facts, and weird deep cuts. This is a song she wrote for a movie she made in the '80s with Sylvester Stallone. The film is godawful, and the best thing I've ever seen. I adore this song and performance, but unfortunately Dolly never got to record it, and Sly's version on the soundtrack won the 1985 Golden Raspberry award for worst original song.
Sensational Alex Harvey Band – Delilah
When I was a teenager, on weekends I stayed up until 3 in the morning watching old re-runs of Top of the Pops/The Old Grey Whistle Test on BBC4. It was hard not to fall in love with Alex Harvey – he kept popping up everywhere, with each performance of a song being somehow more batshit than the last. I adore this band and think they probably still set the standard for television music. Fun fact: I met an old SAHB roadie in a record shop in Dublin when I was 17! It was amazing, as I was such a huge fan at the time and he had so many stories. Unfortunately, it eventually turned into a very sad conversation about how Alex's younger brother Leslie was electrocuted to death on stage by his guitar in the early '70s, and how your man I was talking to witnessed the whole thing. He seemed pretty chuffed about Leslie being Glasgow's first member of the 27 club though.
Mika – Big Girl (You Are Beautiful)
When I was a kid I was obsessed with Mika, but I had not thought of this song in years, when my best friend put it on a workout playlist for me a few weeks ago. I legitimately think it might be the best song ever written, but please don't quote me on that. I was obsessed with glossy celeb mags when I was a child and I vividly remember the vicious streamlined-women-only culture of London in 2007, and how dangerous it was. I really love the fact that he addressed such a poisonous issue in such a fun, lighthearted and positive way. I'm probably being way too deep about a Mika single, but I really do think this attitude has fed into my own songwriting in a big way. Stan Mika!
Shania Twain – I'm Gonna Getcha Good
How good is a song, on a scale from 1 – I'm Gonna Getcha Good by Shania Twain? I think if I could be anyone I would be Shania Twain. People don't give her enough credit- she came from nothing, started her career very late by the music industry's standards, and wrote pretty much all of her songs, including this one. I really do think that my love of country music comes from this insanely high standard of work ethic and musicianship that seems to apply across the board. There is a through-line for women in country from Kitty Wells to Shania, which is that you can use great songwriting, songwriting that works at its most skeletal form, to get you where you need to go.
Charley Pride – Mountain of Love
Charley is simply the king of showband country, I adore him. I use the backing vocals in this song as a constant reference for recording and vocal arrangements in my own songs as I think they are exceptional. It shocked me to find out that he released this song when he was 48, as for me this is when he was at the top of his game. He was in Ireland very recently, performing on one of those godawful watered-down Irish country music programmes that do the rounds on TG4. He's 86 years old and he hit every damn note, and quite honestly still looked kinda hot. My biggest dream is to be 86 years old and still wiping the floor with every other country music performer on the planet.