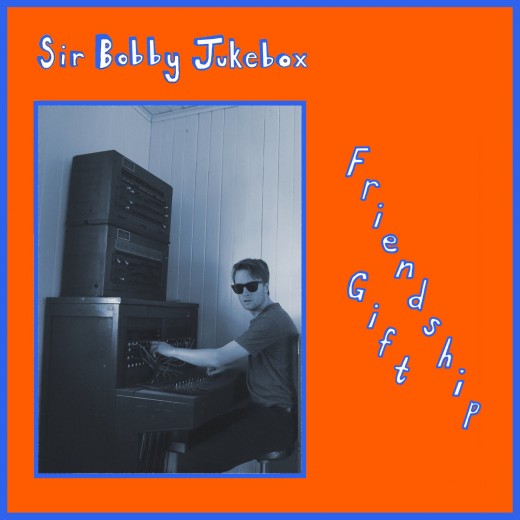 Until pretty recently, Bobby Aherne was one of the most prolific of Ireland's DIY musicians. If releasing a steady stream of EPs and LPs through the 2010s with No Monster Club (and a few more as Dublin Duck Dispensary before that) wasn't quite enough, Aherne also spent years as bassist for hire for friends like Paddy Hanna and Ginnels. After that, even found time to write a book (D'You Remember Yer Man?, about the eccentric local characters of Dublin) and co-write a musical loosely based on Jedward (Trial of the Centurys, described by the Irish Times as "adorably awful"). Although the last No Monster Club full length was 2016's 'I Feel Magic', 2017 was given over instead to a series of monthly double A-sided singles, keeping productivity rates typically high. By contrast then, the last couple of years have been unusually quiet, as life – and a relocation to Australia – appear to have gotten in the way. 
But at last, he's back, once again ringing in a new decade with a new moniker. Although No Monster Club's recorded output regularly alternated between full band and solo recordings, Aherne has now decided a demarcation between the two is in order, having felt uneasy playing solo gigs under the band's banner. Enter Sir Bobby Jukebox, a suitably preposterous alias to match the sugar rush of Aherne's music. 
Despite the change of name, Friendship Gift is an otherwise fairly familiar collection for those already acquainted with Aherne's particular brand of warped guitar pop. In fact, a couple of those 2017 singles re-emerge here, notably the long-form 'You Only Dance' and the superbly infectious 'French Revolution'. The usual homemade hallmarks – charmingly cheap keyboards and vintage drum machines – are present and correct, though some of the more cartoonish elements of past work feel toned down just a little, making for a record that's a more even listen overall.
The nine and a half minute 'A Long Day at the Seaside' is an obvious highlight and the album's unmistakable centrepiece, with its looping bassline giving it a krautrock feel as found sounds and samples of weather forecasters' voices weave in and out. Sunshine and the beach prove to be a recurring theme here ('Factor 50', 'Fra Lippo Lippi'), unsurprisingly given his new surroundings. Other tracks, meanwhile, deal with everyday issues like demons in a bottle (the addictive 'El Diablo') or birthdays ruined by cakes left out in the rain ('Birthday Cake'). Business as usual then. 
Closing the album out is 'World Peace', a track Aherne submitted only semi-seriously to the open call for Irish Eurovision entries a couple of years ago. Unsurprisingly, the track wasn't chosen, but it is as life affirming as its title would suggest. Its chorus of "We can never let love die" sounds increasingly euphoric as the track progresses, and it feels like a simple yet extremely relevant statement for the weird times we're living in – a universal message that could surely have seen Aherne crowned as the new Johnny Logan if only given the opportunity.
At 65 minutes, this record is an uncharacteristically lengthy work, given that Aherne's early albums rarely reached the half hour mark. It's no grand statement to say that the album doesn't doesn't feel anywhere near as long as that though. It's just Bobby Aherne doing what he does best with a backlog of songs that breeze by as effortlessly as ever.
Aherne may not be breaking too much new ground here, but Friendship Gift is a welcome return from an artist that still forms a significant part of the Irish music scene's DNA, even when he's on the other side of the world. Eurovision doesn't know what it's missing. Cathal McBride