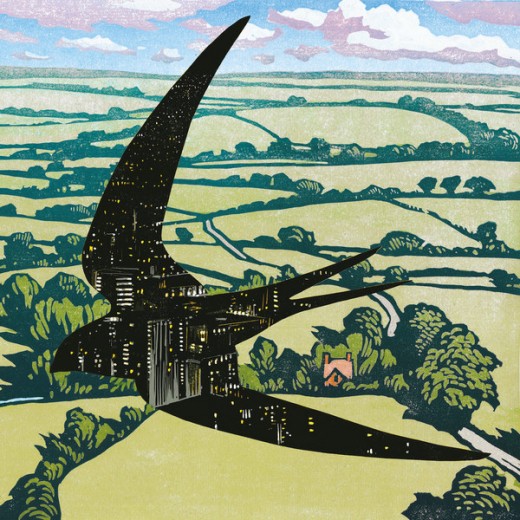 Warp's finest acoustically-inclined son, Bibio (Stephen James Wilkinson), has returned with Sleep on the Wing. It's another shining example of meditative, textured experiments in meandering psych-folk and echoing found-sound that, despite being a stylistic sum of the parts of its creator's output thus far, is anything but an exercise in pastiche. How Wilkinson continues to craft compositionally intriguing records under the auspices of his tried and tested "sound" is difficult to ascertain but the results speak for themselves across the 10 tracks on offer here.
Unlike the titular bird to which the EP is tied, Sleep on the Wing does anything but take the listener on a journey as the crow flies. Though Wilkinson occasionally draws from a familiar palette that has marked his sonic identity for the past 15 years, this latest effort eschews the Bibio recognisable from the more reverb-heavy, introspective elements of last year's Ribbons LP.   Sleep on the Wing leaves much more room for jangling guitar work, layers of looping, hazy plucks, and optimistic, airy strings – just hear the EP's opening title track, as well as 'A Couple Swim' and 'Oakmoss'. The latter is heavily reminiscent of Andy Shauf's mode of delivery throughout 2016's The Party, albeit with a parochial, singularly English pastural bent.
Sleep on the Wing largely continues in this manner, with refreshing flourishes and a jaunty disposition instilling the record with a gentle atmosphere it never struggles to impart on the listener. It's testament to the fact that Wilkinson borrows subtly from what he knows best, without ever really explicitly reproducing any past laurels. 'The Milky Way Over Ratlinghope' calls back to the kind of dreamy, sepia tinged profile found throughout Silver Wilkinson, but sounds fresh and full of new vigour. 
Some shorter rambles found on the EP, such as 'Awpockes', 'Crocus' and 'Otter Shadows' aren't  overtly dissimilar, but each is uniquely beautiful. There are flavours of the Green EP, Ambivalence Avenue, and Phantom Brickworks at play, but they lean more upon on Wilkinson's knack for balance and thoughtful composition in his folk-led electronic sound . It's perfectly captured on triumphant finale 'Watching Thus, the Heron is All Pool'— a wonderfully layered exposition of ringing guitar and deep woodwind inflections that flits from sedate to plucky. 
On Sleep on the Wing, Wilkinson has wrapped up in a wicker picnic basket everything that has made his Bibio back-catalogue so enduring. Through traces of memory, scene-setting and a careful consideration of a warm and rich timbre, he guides the listener to a sun-dappled spot to enjoy this hazy collection of trickling melody and sleepy-eyed ambience. A beautiful representation of summer. Aaron Drain