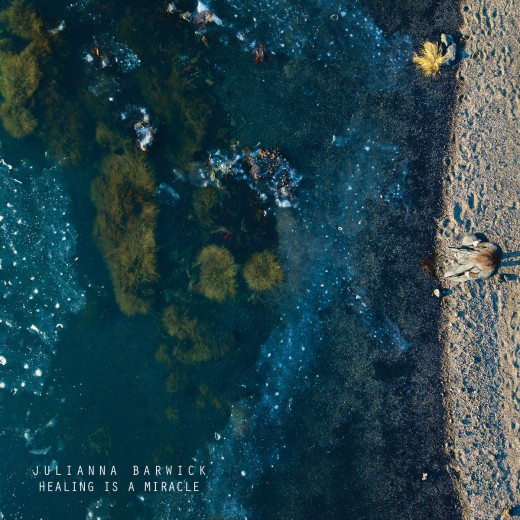 In the four years since her last full-length release, Julianna Barwick uprooted herself from New York City, her home of sixteen years, and relocated to LA. A move spurred on by the need to discover "joy and delight" again, it was in the wake of this change of life and landscape that her aptly-titled, luminous new album, Healing is a Miracle was formed.
In the spring of last year, Barwick began work on a new project; sitting down with a pared back array of her "most trusted" pieces of gear, she began shaping melodies, and looping her voice around skeletal, slowly forming sketches. Barwick describes it as a process of moving inwards, of retreating towards the root of what she does. She was "making something for myself, just for the love of it… it was emotional, because I was recording music that was just from the heart, that wasn't for an 'assignment' or project… it brought me to tears a little". The resulting record is devastating; in equal parts delicate and whole, it feels like something to cloak around you, like an aural attempt towards sanctuary. Barwick came to the record's aphoristic title after meditating on the way the body heals itself, how simple and yet how awe-evoking that process is: "You cut your hand, it looks pretty bad, and two weeks later it looks like it never happened… That's kind of amazing, you know?"
 It is easy to dismiss this kind of sincerity as cloying, but at a time when so much of the world's population is trying to heal, in the most literal way, Healing is a Miracle, feels perfectly timed. The album's eight tracks seem to mimic the process of healing as they simultaneously comfort and unsettle, resisting straight lines, with vocal melodies looping, ebbing, and opening out in strange turns to the unexpected. The cavernous 'Inspirit' opens with Barwick's typical spacious, reverb-laden vocals, in an incantatory loop on the words "open your heart, it's in your head" before dissolving in and out of a low, rumbling drone. The title track is awash with swooping drones, and strange, beatific vocal loops that seem to push language to a communicative place beyond words. There is something magic here, and it lies at the heart of what makes Barwick distinct as an artist of ambient soundscapes: her songs refuse to reside in the background. This is most evident on 'Flowers', bringing the album to an unexpected climax, as unsettling echoing vocals give way to a throbbing bass synth, and the pattern of Barwick's voice unravels as the song dissolves into a chaotic, static thunderstorm of synth before cutting suddenly to black. 
The move to LA provided Barwick with three diverse local collaborators, who each in turn offer interesting ripples in the seam of Barwick's project. In 'Oh Memory' Barwick invites harpist Mary Lattimore who plays trills and top notes over a looping bass synth and Barwick's swooning, distant vocals. 'In Light' is a collaborative effort with Sigur Rós' Jónsi and the loose weaving of their voices in and out of each other over the rise and fall of spacious beats recalls the kind of ghostly epic, anthemic moments of the Icelandic band's peaks. The album closes with 'Nod' a somewhat unlikely collaboration with Nosaj Thing, a producer who has worked with Kendrick Lamar and Chance the Rapper, who reached out to Barwick after discovering her 2011 album The Magic Place. Their collaboration forms one of the more surprising turns on Healing is a Miracle, closing the album on a note of thumping, cosmic urgency.
Healing is a Miracle feels like a vulnerable project, it's the sound of an artist retreating inside herself to rediscover the essence of what it was that compelled her towards music to begin with, and perhaps what Barwick presents is the key to the essential miracle of healing – accepting our own vulnerability and exposing ourselves as the fallible beings that we are. With Healing is a Miracle, Barwick has created a transcendent and truly sincere record; she has put forth her own healing, and it sounds like joy. Maija Makela