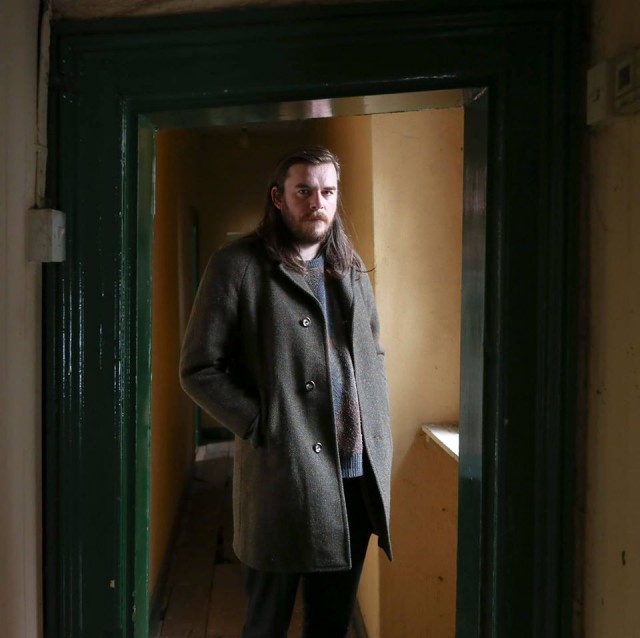 In the latest instalment of Monday Mixtape, experimental Dublin folk singer John Francis Flynn – who you may have caught on the wonderful inaugural episode of Live From Guerrilla Studios – takes us through some of his favourite recent musical finds, across a wealth of traditional and avant-garde sounds.
It's the year 2020. I'm on a train wearing a mask. Time has been moving very fast recently, and very very slowly. I'm going to Mayo to be alone. I will climb a mountain, swim in the sea and work on some music. When I come back to Dublin I will finish recording my first album as John Francis Flynn, which is my name. This is a list of music I have been listening to recently.
Elysia Crampton (feat. Jeremy Rojas) – Dog Clouds
I came across Elysia Crampton recently and I've been fairly hooked. This track is from her latest album, ORCORARA 2010, which is dedicated to a man worked for years as an inmate firefighter across the Sierra Nevada of California. You're supposed to listen to this in a dark room with throbbing diffuse light apparently, so give that a lash I suppose.
Jeff Parker – Build a Nest
Build a Nest if the first track on Chicago based jazz guitarist's 2020 release, Suite for Max Brown. His own guitar playing is incredible, but his ability as an arranger is staggering. There's so much going on and it hops and skips from idea to idea, but it never feels overcrowded or unfocused, and everything flows seamlessly.
It's a nice message about creativity too.
'Everyone moves like they've somewhere to go. Build a nest and watch the world go by slow".
My dad introduced me to this album.
Iarla O'Lionaird – Abha
From his debut album, The Seven Steps To Mercy, this is Iarla O'Lionaird at his best in my opinion. The arrangements here are stunningly beautiful and experimental in equal measure, but no matter how dense or creative they getting, O'Lionaird's vocals always take centre stage. And vocals are incredible! A lot of efforts have been made to frame traditional Irish music in contemporary soundscapes, some more successful than other, but I can't think of any album that's done it better than this. It's a total masterpiece.
Earnest Hood – Neighbourhoods
Originally released in 1974, Neighbourhoods was rereleased in 2019 and was Earnest Hoods only solo album. He recorded the sounds of daily life in his neighbourhood over the course of about 20 years and wove them together with his zither and synthesiser. The music plays off the sounds of the neighbourhood and either mimics, responds to or creates a bed for what's going on around, almost as if it was another character recorded on the street. Anyone who played Pokemon Blue/Red (literally everyone born in the 90s) is gonna LOVE this. Or maybe they will HATE this. I LOVE this.
Go for a walk in a quiet place with this one. Here's a track, but give the whole album a go.
Seán Garvey – Earl Richard
Just to be in the presence of Seán Garvey is magical. He has an aura about him, like some kind of myth. An incredible story teller and one of the finest singers the country has ever produced. I would travel the length and breadth of the country just to hear him speak never mind sing. Luckily he comes up to The Cobblestone the odd time to play with his son, Seán and Dermot O'Hanlon's session, so I make sure to get in to listen to him then if I can. Over lockdown I've been listening to this track a lot. Apparently, it was recorded one day when Brian Doyle from ITMA spotted Seán walking through Trinity college and coaxed him in to record a few tracks. This hasn't been released as an album, but I believe there's about an albums worth of material that recorded that day. I'm open to being corrected here, but if true judging by the quality of this track the album would be something else.
Robin Holcomb – Help a Man
This has been my feel good track over lockdown. Never fails to give me a bit of a boost when I'm feeling low. Its a fairly straight up American country rock song I suppose, but its tied together with this odd piano riff that runs on repeat right through the track apart from the bridge section. Apart from the riff being a bit odd melodically it creates this angular syncopation this is ridiculously infectious. I could listen to this all day long and be on a very good buzz.
Kali Malone – Sacrificial Code II
I keep coming back to this album. Slow moving, minimal organ music. You can almost feel the air rumbling through the pipes. I put this on another list like this a while ago but I've just listened to it so frequently recently I thought I had to include it.
Nuova Compagnia Di Canto Popolare – Tarantella Del Gargano
This is a traditional Italian love song. My good friend, Consuelo Bresci, of the wonderful folk duo, Varo, introduced me to this. I have been working on a project with herself and Lucie (Varo) recently and on more than one occasion rehearsals have ended in the drinking of the wine and dancing to the many versions of this song there are online. This is my favourite version.
Drink wine and dance to this with your friends. V good buzz. V!