Articles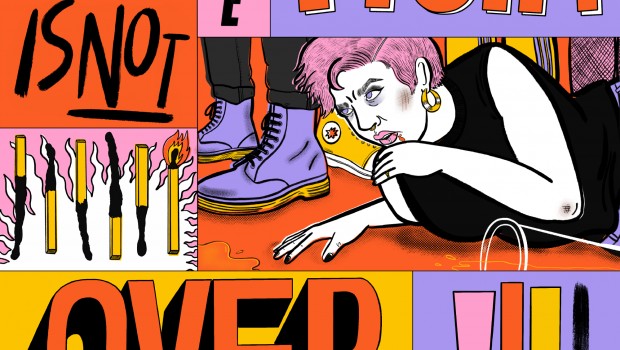 Published on July 9th, 2020 | by Kristen Sinclair
0
"While injustice persists, we won't shut up." The Fight Is Not Over – Here's Why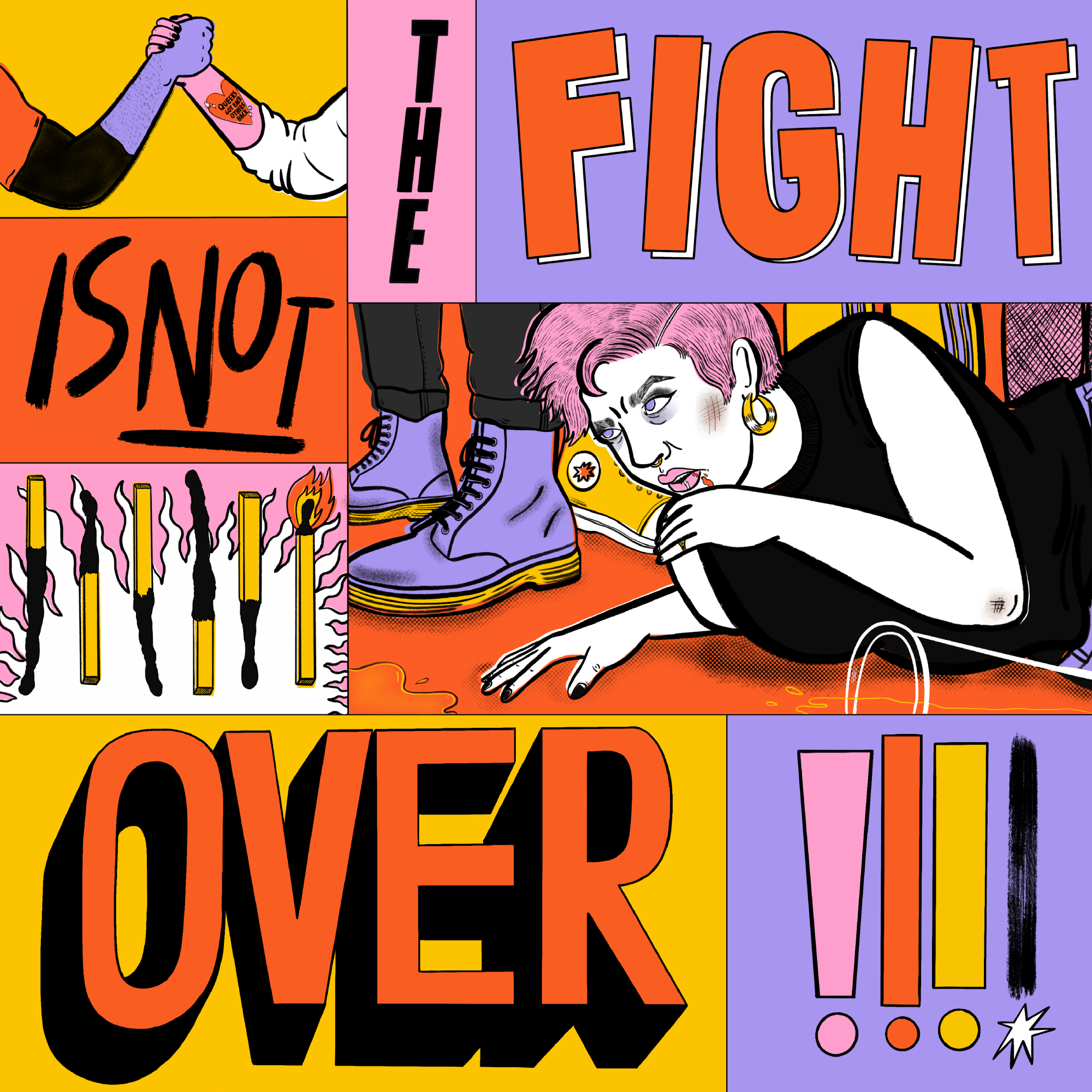 Out today via Belfast imprint Third Bar, The Fight Is Not Over is a fist-clenched snapshot of a scene of artists that insist upon making their voices – and music – heard. Kristen Sinclair gets the full lowdown on the four-track live EP from Problem Patterns, Strange New Places, Sister Ghost and Gender Chores, and digs deep to trace the trajectory of a movement that has no intentions to slow down any time soon.
EP artwork by Jacky Sheridan
Buy The Fight Is Not Over on 12″ vinyl here.
'The Fight Is Not Over' reads the slogan emblazoned across the jackets of Strange New Places onstage at the Ulster Hall at the end of their electrifying set at the NI Music Prize in November. "As much as the small victories are meaningful and worth celebrating, our work is not done. While injustice persists, we won't shut up," lead vocalist Ashley Jones tells the packed-out venue and live radio broadcast over Northern Ireland, "Until a sea-change in our society affords us autonomy rather than oppression, we will not be satisfied. We aren't there yet, which is why we're still here. The fight is not over. Join us in it."
Whilst activists in Northern Ireland had fought for years to finally achieve equal marriage and abortion rights that the rest of the UK and Ireland enjoys, Strange New Places' message was clear: now is not the time to stop fighting – we have not reached the end goal.
Over six months later, the quote adorns the back of a new vinyl compilation The Fight Is Not Over from Belfast label Third Bar. Following a Rock for Choice gig at the Ulster Sports Club last year which Strange New Places headlined, I had spoken with some of the acts on the line-up for the Guardian. They voiced their frustration with the region's lack of social progress and how they were explicitly giving the middle finger to the politicians upholding these draconian laws. Music, it seemed, was an effective and cathartic form of protest.
After reading my article, Davy Matchett, who co-runs Third Bar Artist Development with Snow Patrol frontman Gary Lightbody, came up with the idea of capturing these bands' spirit of protest on an EP showcasing their most political material. Involving several of the bands I originally spoke with, The Fight Is Not Over was born, taking its name from Strange New Places' landmark set. For many of the featured bands, it is their first time on vinyl.
Sister Ghost, Gender Chores and Problem Patterns join Strange New Places in recording live versions of their most poignant protest songs. With its bold and colourful cover design, artist Jacky Sheridan wanted to invoke "a sense of solidarity with the people involved in the record itself – people who are down to their last spark energy-wise, people who've been pushed down and trodden on but have gotten back up."
My Guardian piece was a sobering snapshot of Northern Irish politics at the time, published at the height of pre-Brexit tensions in the North, with a collapsed government and the DUP's chokehold on equal rights. Soon after, equal marriage and abortion were finally introduced in the absence of a Northern Irish assembly through a Westminster bill in October 2019. As the first same-sex couples tied the knot in February this year, the path to providing abortion access was fraught with more obstacles. It faced opposition from the DUP and some people were still forced to travel in spite of the pandemic. Nearly one year on from the introduction of new legislation, the punks of Belfast's music scene are not yet satisfied and echo Ashley's call for further change.
Having won Best Live Act that same night that Ashley called the music scene and wider community to arms, Sister Ghost's Shannon O'Neill has never shied away from overtly criticising leaders at Stormont. The Fight is Not Over EP's opening track 'Fake Friends Run This Country' is a fast-paced, anthemic and unrelenting wall of punk fury and a rallying cry against self-interested politicians. The video sees the band clad in bowties and rosettes taking over the empty assembly building, bouncing around and knocking down frames of Donald Trump, Boris Johnson and DUP leader Arlene Foster.
For O'Neill, the track is sadly as pertinent now as it was then. "I think that song will always be relevant, as ironic and grim as that might sound," she feels, "There will always be a machine to rage against in every society." The Derry native wants to "change the ingrained societal perceptions towards both issues [same-sex marriage and abortion], by working on how these topics are addressed and spoken about in schools so that future generations are more compassionate, supported and informed."
From self-serving politicians to gender dysphoria, The Fight Is Not Over pioneers Strange New Places' contribution to the EP takes the form of 'Mr Gumble', an exploration of sexuality, confidence and Simpsons references. For bassist Caleb, the song marries jaunty light-heartedness and the often distressing reality of dating as a transgender person: "It's a bit of a bop and then you listen to it and it's like, 'oh, this is actually quite sad' because these are the struggles of transgender people, myself included, trying to assimilate into a nicer image of what I can be, a more palatable image of what people expect me to look like." As well as expressing the need to actively create safe spaces and platform women in music rather than just paying lip service to the cause, he sees the state of healthcare for trans people as another crucial component in the ongoing fight. "It is abysmal," he laments over Zoom, "I was very lucky to access healthcare as soon as I turned eighteen when they weren't facing a mad overload, and now people are on waiting lists for years for vital healthcare and they're having to start self-medicating. It's killing people."
Strange New Places almost accidentally coined the phrase that has given the EP its title. Whilst throwing around ideas for their NI Music Prize performance, they ended up landing on something quite profound. Not long after, they were backstage at the Ulster Hall struggling with tape to put each word of the slogan on the back of each band member's jacket.
"That fight is not over, and people are quick to say, 'you have marriage equality now, so what are you complaining about?' – that doesn't represent the entire LBGTQ+ community, it's just one issue among loads," he goes on, "We want to keep up that momentum for queer-led spaces where LBGT bands can thrive and flourish in safety with their audience and have them feel protected as well."
In recent weeks, reports of abuse from within the local music scene have surfaced with some victims bravely sharing their stories on social media. Bands spanning the musical spectrum have shared messages of solidarity, expressed regrets about having worked with alleged abusers in the past and promised to combat abuse in the community in any way they can. Jealous of the Birds, one of the North's most prominent acts, have led the way by axing their lead guitarist following multiple people coming forward with accounts of his abusive behaviour towards them.
Getting involved in the creation of the EP was a natural fit for straight-shooting queer punk trio Gender Chores. "I think that's the best subgenre to do a project like this on. Especially considering how for all four of us [on the EP], every single song is quite political or is talking about a situation or idea that's a bit of a taboo subject," says drummer AJ, "So it makes sense to bring in four bands that are always talking about this."
The jagged riff and snarled lyrics on 'Territory' kick off side two of the EP, capturing all the urgency of a live performance. "'Territory' was the first song we wrote as a band and it was off the back of a very high profile rape trial that was going on in Belfast at the time and it just seemed there needed to be some kind of statement made," guitarist and vocalist Sam explains, "The particular line '[I'm not a] a sentence in your story' is a double entendre because it's talking about a prison sentence and how that would be the thing that people seem to get so defensive of, that these abusers lives are going to be ruined, but that's a victim's story as well and that's their life. We need to listen to victims and stop apologising for the behaviour of people who abuse."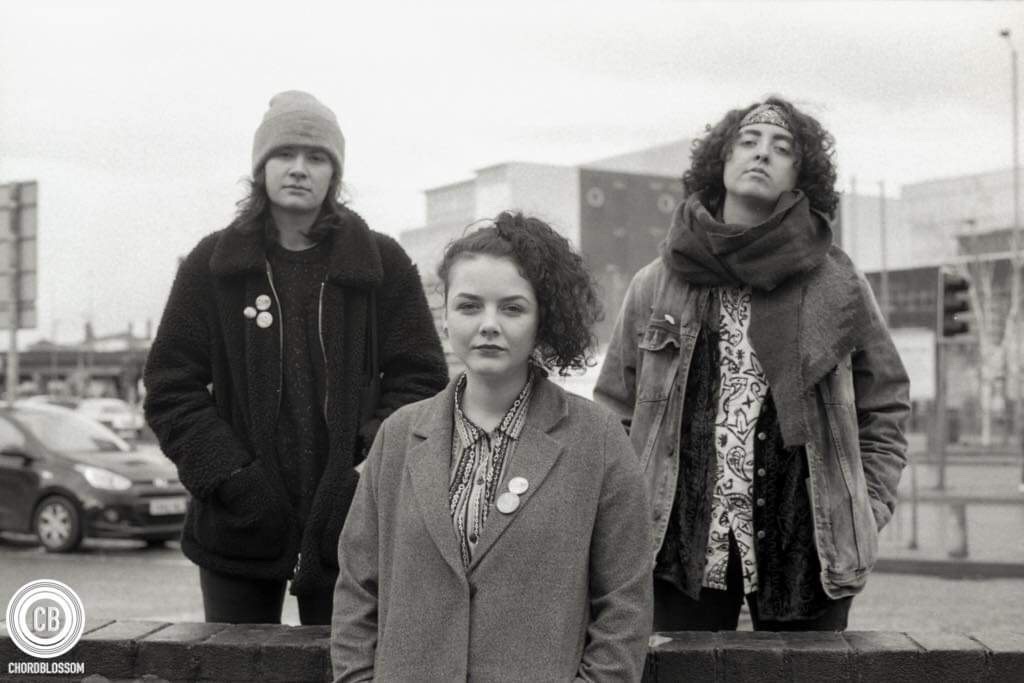 Gender Chores [photo by Aaron Cunningham]
In light of recent allegations, lines about 'predatory glory' have a special resonance. "The fight is just starting now," according to bassist Soph. Sam concurs: "It feels like the odds are stacked against minorities. That's another big thing we're fighting against outside of the music scene where we have more control and an ability to actively make change." Whilst lockdown has forced Gender Chores to take their activism online, supporting grassroots campaigns, signing petitions and sharing resources, it's often easy to forget that not everyone shares their ideology. AJ reflects on the need for a wider reach: "That's a fight as well. We're in that lovely, cosy queer bubble in Belfast, but our music tries to transcend that. I think everyone's music on that EP does – we're trying to move past that and get the music out to absolutely everyone."
Closing the EP, Problem Patterns pull no punches on their rage-fuelled, frenzied punk anthem 'Sell By Date'. The four-piece does not have a singular frontperson, instead opting to switch roles and instruments. The unambiguous lyrical content of their EP track deals with the societal pressure to have children and the incessant conversations that plague anyone who says they don't want to. "You should just be respected for your life choice," Alanah says of her experience, "I've found that's the one that's had the most personal reaction in terms of people coming up to us [after a gig]." Beverley explains further: "It's also something put on young kids, like they have baby dolls and pram toys and it's a bit strange, like that's what your life's leading up to." Ciara agrees: "It's the big grasp of traditionalism that people hold on to."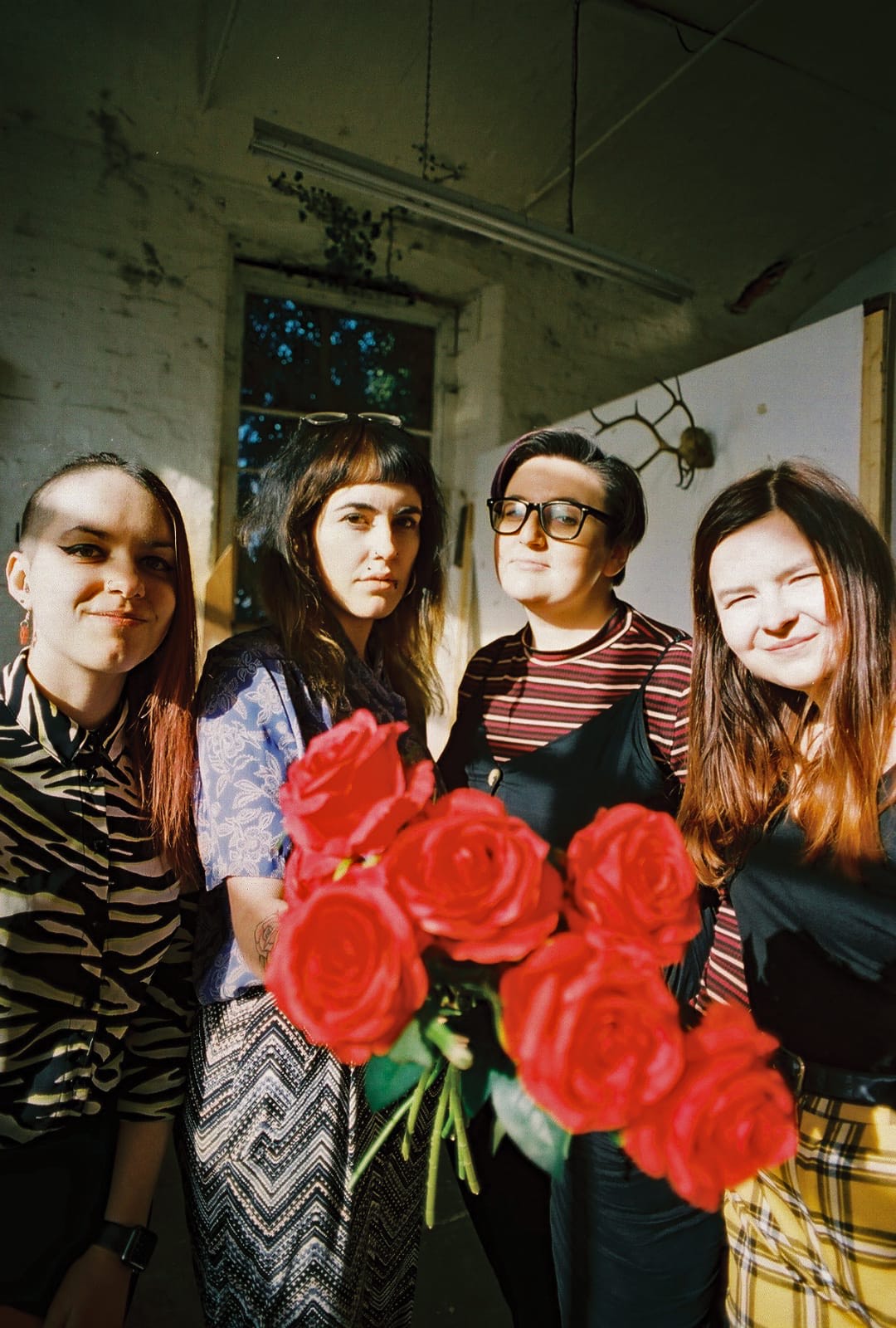 Problem Patterns [Photo by Betsy Bailie]
Problem Patterns embrace punk's uncompromising bluster to deliver their message, but with a soft and gooey centre. "Punk always comes from some counterculture or response to something and especially in Northern Ireland with its big old weird history, it's always been speaking about how fed up it is with the way we are and it's always wanted a nicer, more compassionate community," Ciara believes. Performing may act as a kind of primal scream therapy for the band, but providing a safe and accessible environment for their audience is equally important. "The fight is not over because if every one of us is not safe, then we have a lot of work to do," Ciara continues, "I think men coming out and saying they don't stand for it [abuse] is a massive movement that we've really needed because the queer punk pocket has always been saying this stuff, but seeing the male bands and non-political bands also coming and standing behind it means a lot as well."
With the return of live music still uncertain and safety being a top priority for the band, they are wary of leaders being too hasty in the easing of social distancing restrictions. "We're not punks who are like, 'fuck the rules!'" laughs Bethany. But what could be more punk than not trusting the government?
The Fight Is Not Over EP is available on vinyl and on all digital platforms from 9th July with all profits going to The 343, an artist-focused, feminist-led queer arts space in east Belfast.