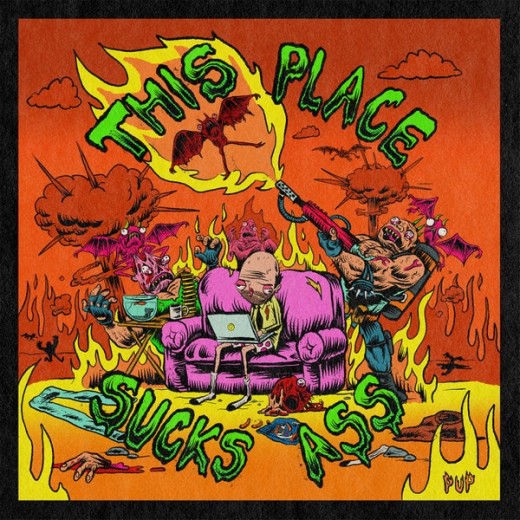 At the beginning of 2020, Canadian pop-punks PUP were in the midst of a promotional tour for their breakthrough 2019 album,  Morbid Stuff. That album's mix of hook-filled anthems and passionate torrents of self-deprecation made it one of the year's best punk albums, being met with universal critical praise and a new legion of fans on both sides of the Atlantic. With the advent of COVID-19, the perennially on-the-road band no doubt found themselves at a loose end as the as the live entertainment industry came screeching to a halt. And thus, we get This Place Sucks Ass.
Comprising one brand new song, four leftovers from the Morbid Stuff sessions and a cover, PUP's latest offering lacks the cohesion of their well thought out studio albums. This complements the EP's content rather than deter from it. While these songs were best left off of Morbid Stuff, they do point towards some interesting new directions for the band. Take for instance the unorthodox rhythms and piercing guitar tones on 'Anaphylaxis'. The cover song of choice, Grandaddy's 'A.M. 180' is a carefully chosen and faithful one, only swapping out tinny synth patches for bright, melodic guitar leads. The progressively arranged examination of paranoia and boredom on 'Nothing Changes' inch ever closer to indie rock territory. What it loses in swivel-eyed buoyancy, however, is made up for in spades with its harmonised gang vocals.
Opening track 'Rot', the only new song on the EP, is a wonderful examination on the band's success story post-Morbid Stuff. Lead vocalist Stefan Babcock seethes "I'm doing something productive with my self-destruction / it's the one thing keeping me sane", self-flagellating over the capital gains his own worst traits have brought him. At just 70 seconds, closing track 'Edmonton' is the least substantial track here and despite its irresistible force, it burns itself out no sooner than it ignites.
PUP are at their best when they're being their juvenile, self-loathing selves and when those moods and sentiments are put to an increasingly sharpened sound, there's no telling how far the band can go. So while This Place Sucks Ass does lack the cohesion of the band's full-length output, it does enough to stand up in their discography in its own right. The group's leftovers may not have fit in with the songs that broke the band into new heights, but that is not to say that they hold any less merit. Danny Kilmartin