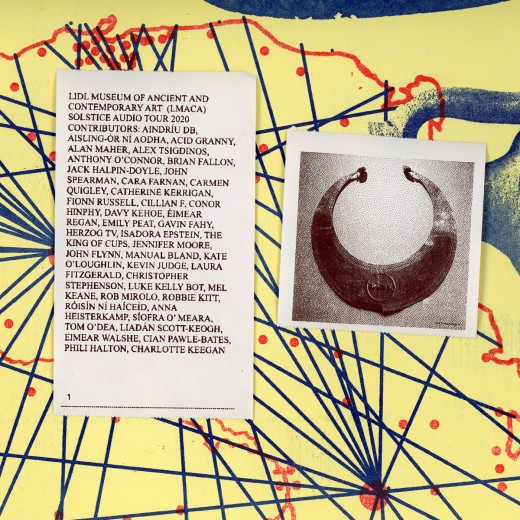 Brainchild of the mysterious The Ecliptical Newsletter, The Lidl Museum of Ancient and Contemporary Art Audio Tour is an ambitious act of experimental escapism. The cassette release is inspired by the new Lidl on Aungier Street in Dublin, which has been built on top of a number of sites of historical significance including an 11th century home, a medieval church, and a 19th century theatre. The 24 track release features contributions from the likes of Acid Granny, Kate O'Loughlin, Davy Kehoe, Robbie Kitt, Éimear Regan and Rob Mirolo and includes a healthy supply of pseudonyms. 
The group's Instagram account advises that you listen to the album in one of the 200 Lidl branches located across the island, but while adhering to Level 5 restrictions you may have to settle for a visit to the Medieval Dublin City Centre Lidl that exists only in your mind.
The album is part audio tour, part radio sketch show, part spoken-word night, part EP, and for the most part it weaves these threads as deftly as a medieval peasant weaving a wattle and daub domicile. It shifts in and out of skits on time travel, countercultural essays on capitalism's legacy, and staff reviews of the company overlaid with a "healing tones" meditation track. All of this punctuated with a mix of dark electronic tracks and futuristic re-interpretations of patriotic Irish ballads. 
A highlight of the album is Isadora Epstein's 'Ancient Breakfast', a hilarious guide to time travel via porridge which pivots gorgeously into 'The King of Cups', an eponymous acoustic track which follows a youthful attempt at pastoral courtship. Side A closes with a dark mash-up of our two national anthems, 'Amhrán Na bhFiann' and 'Ireland's Call', before Side B welcomes us back to the controlled chaos with an auto-tuned rendition of 'Raglan Road 20002000' credited to Luke Kelly Bot.
The album offers the listener a selection of lenses through which they can view the odd reality that faces those who frequent Lidl Aungier Street. It poses difficult, if often whimsical, questions which skewer the false promises of capitalist Ireland, while simultaneously singing the praises of convenient access to cheap bottles of craft IPA.. Tracks like 'All along the banks of the Lidl canal' (which proposes an alternate future where the Royal Canal has been redirected through the middle aisle of a nearby Lidl,) offer a tongue-in-cheek warning of what might be in store if we continue down the route of leaving the preservation of our heritage up to large multinational supermarket chains. Meanwhile 'Lidl Deansgrange' reminds us of the historical and cultural context on the origins (and subsequent popularity) of Lidl itself. Thankfully, it is this type of juxtaposition that makes the album feel conversational rather than preachy. It loves Lidl as much as it hates capitalism. It's not a comfortable notion, but it's hard to argue with it, and the artists behind this creation know it.
Genre-bending by its very conception, Lidl Museum of Ancient and Contemporary Art Audio Tour defies categorisation. Calling it an "experimental album" diminishes its frequent theatrical leanings, and "radio play" ignores the moments of musical ignition which propel you along the compilation's middle aisles. Welding song, story, sketch and sound in a way that would be the envy of Nationwide as much as Brass Eye, it is at its core a journey. At a time when trips to the supermarket are an exotic and rare experience, I think we can all be grateful for a little escapism. I'm heading back for another lap. Do you want anything?  Mike Ryan