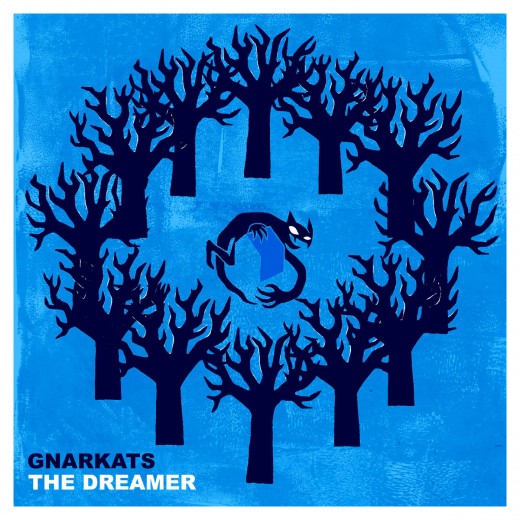 Grunge-pop outfit Gnarkats explore themes of heartbreak and insecurity on their new EP, The Dreamer. The three-piece Belfast band, consisting of Louis Nelson, Stuart Robinson and Jordan Evans, examine the ups and downs of love through the lens of an insecure protagonist, grappling to speak his truth while battling with his emotions. 
The EP opens with 'Dreamers', a bombastic single with riffs and drum rhythms that call to mind the likes of Biffy Clyro. It sets the tone for what's to follow, with a nod to themes of insignificance and the journey to self-acceptance as Nelson states that he's "tired of someone else's dream", and pleads, "can you please help me cause I don't know where to start". 
The Dreamer takes the listener on a journey of emotional growth, with the opening track looking at life through an idealised, escapist lense and closing with 'Volume Up', which returns to that same notion to avoid the reality of a failing relationship. 
'All the Time' tells the story of a relationship's breakdown, contrasted with a punchy chorus to lighten the mood. The lyrics – "I don't know what to do, I don't know if it's me or you" – echo behind an indie-rock atmosphere that encapsulates the life change that happens after a break-up, and take an honest look at the thought process that happens before and after making the decision to end a relationship. The tension in the song is palpable while Nelson tries to figure out whether or not he's doing the right thing, and asks who should be held responsible for the demise of the relationship. The lyrics are rooted in sadness and insecurity, and the accompanying music reflects this internal struggle. A simple and melodic guitar riff repeats during each verse where Nelson reflects on the situation, before transitioning into a heavier sound with crashing drums and a growling guitar in the chorus where the mood changes to that of frustration and uncertainty.
The mood of the EP shifts in 'Heartbreak Debut' with a change of pace and tone from the upbeat and fast-paced into a slower, more evocative sound. The title and lyrics epitomise the collection's theme of navigating the end of a relationship: "I'd do anything to make her smile, in her heartbreak debut". 
'How Does That Make You Feel' is the EP's heaviest sounding cut, and reflects the mixed feelings one can have within an unhealthy relationship, and the emotional turbulence therein:  "You don't love me, you just bring me down".
Closer 'Volume Up' begins with a punchy guitar riff, evocative of Two Door Cinema Club in their heyday. The lyrics – "I know what I want but not what I need" sum up the sense of confusion and soul searching that is prevalent throughout the EP. 
The Dreamer takes pervasive issues such as emotional introspection and heartbreak and condenses them into catchy indie-rock songs. In doing so, Gnarkats have created an EP that demands to be heard live in a room full of people, singing along cathartically to lyrics that represent the all too familiar feelings of heartbreak and insecurity. The Dreamer is an EP that demands to be experienced amongst a room of total strangers, bringing them together in the feeling that they are not alone through the ups and downs of life. Ciara Byrne