News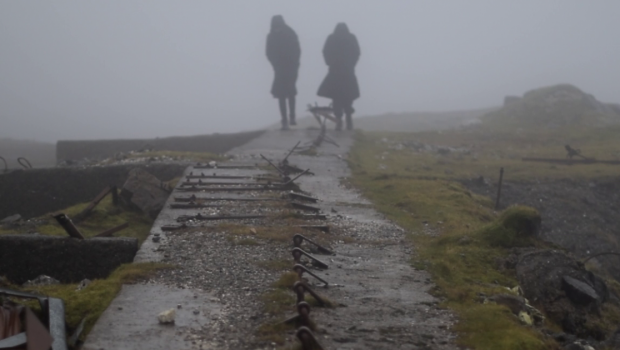 Published on March 8th, 2021 | by Stevie Lennox
0
Landless Presents: Two Miles Of Earth For A Marking Stone
As part of International Women's Day and the Capital Irish Film Festival, and commissioned by Solas Nua, traditional vocal quartet Landless have crafted a free concert film of traditional songs in collaboration with experimental visual artists Ruth Clinton and Niamh Moriarty, titled Two Miles of Earth for a Marching Stone.
Brigid, the Irish pre-Christian goddess of poetry, is the inspiration for a psychic vision exploring feelings of intangible longing arising from experiences of emigration. Film clips set in the North-West of Ireland will appear as interjections through the music, with the themes of the songs mirroring each corresponding scene in the saga. The songs will follow the story of two sisters, who journey across the ocean and through a mountain, representing a search for a better future as well as a descent into the subconscious. When her son Ruadán fell in battle, Brigid is said to have cried out – the first time keening was heard in Ireland. Landless' singing can be thought of as a kind of keening, as might have been heard at an 'American wake', held on the eve of the emigrant journey.
Landless released of the finest folk albums to emerge from Ireland in recent years in 2018's Bleaching Bones, and comprise Lily Power, Meabh Meir, Ruth Clinton and Sinead Lynch. Based in Dublin, Belfast and Sligo, they sing unaccompanied traditional songs in close four-part harmony. For the performance they have been joined by Consuelo Breschi (Varo/Nomadic Piano Project). Ruth Clinton & Niamh Moriarty are collaborative artists based in the North-West of Ireland who use performance, video, sound installation and storytelling, informed by site-responsive research in order to open up spaces of renewed reflection.
Available for streaming until the end of today for those based anywhere in US territory, or the island of Ireland, get your free ticket here.