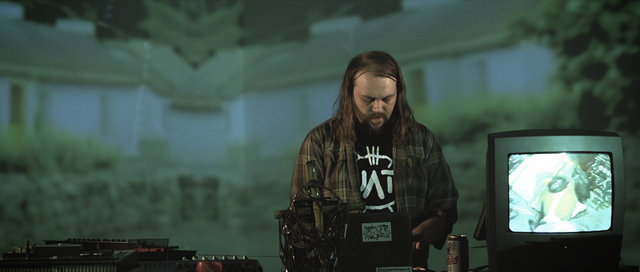 Set to air tomorrow – Friday, May 21st – at 10pm, 'Northern Tape Lord' Aengus Friel, aka Shammen Delly is set to bring his hauntological blend of old VHS tapes, found-footage, reel-to-reel tape loop manipulation, ambience, trip-hop & electronic music to the very first edition of new live series Notions, broadcast from Letterkenny's Regional Cultural Centre.
The Notions series is set to feature everything from alt. rock to jazz, and aims to shine a light on Donegal artists currently pushing the boundaries in their fields to make a singular imprint on music in Ireland.
Shammen Delly released his eponymous debut album in 2013, which has been recently re-released on Bandcamp. No stranger to boundary-pushing practice and unorthodox performance, he has worked site-specifically and collaborated to create unique immersive experiences and conjure new worlds and synthesised nostalgia – his 2017 collaboration in Templebawn Cave, Co. Fermanagh, for one.
For this performance, he promises a mixture of tape loop experimentation, live electronica and improvised ambience, taking influence from William Basinski's fractured timescapes. A reel-to-reel player and a Tascam Portastudio 424 mk III form the basis of his  tape work. Friel tells us: "I cut a very long length of reel to reel tape of an old submerged recording of 'Amazing Grace' from God knows when, that keeps feeding and looping back using another portable tape recorder that turn sinto an analog delay in order to feedback the sounds. I also made some cassette tape loops and a tape cassette full of chords I recorded so I can play with the pitch and warble it live, with sequenced synthesiser patterns and thick, dense, distorted, damaged, infected beats and breaks to take you on a journey through the pastoral dense oneiric warbled vision from the mind of Aengus Friel."
As for the visual element, Friel told us: "I used an old VHS video I found in a charity shop, and brought a TV with me. I cut up videos for visuals using local sourced footage and I was given some old handycam footage of our friends when we were teenagers around 2005/2006 by a friend of mine, Leeann Toland."
"I'm looking forward to everybody escaping for a while to see and hear this special performance, astral projections guaranteed for all to witness!"
You can stream the event live here at 10pm on Friday.