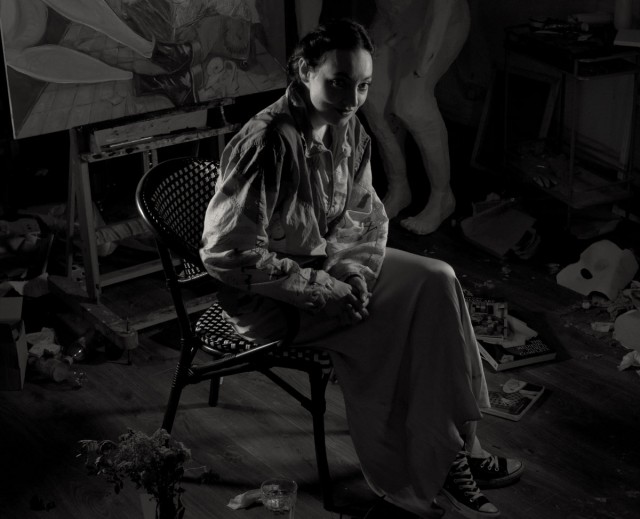 Pizza Pizza Records' latest signing and experimental pop auteur Clara Tracey today releases the video for her wonderful latest single 'Harry Clarke'.
The lushly-arranged Daniel Fox production puts the Fermanagh-born, Belfast-based Tracey's layered, technically superlative vocal range at front and centre, offers fragments of the subtly subversive, highly influential Irish stain glass artist & illustrator Harry Clarke.
Initially inspired by window 'The Eve of Saint Agnes', Clara tells us more about the song's inception: "Stained glass windows often bring to mind biblical scenes and churches, they don't tend to be associated with dark eroticism. While Harry Clarke did receive most of his commissions from the Catholic Church, he had a flair for the other worldly and the sensual which can be seen in his secular windows and illustrations.
"I wanted to try and make it come to life in the video, picking out the tiny, strange and exquisite details : the willowy hands, moonlight shining through the panes of a stain glass window within the window (!), the red faced drunkard (a caricature of Harry), the golden dwarf…"
Its video wonderfully mirrors those fragmentary lyrics, slowly unfurling into some technicolour tapestry, and was largely shot in the gorgeous setting of the Hugh Lane Gallery and Salvatore of Lucan's studio by Tim Shearwood, Jamie Hyland & Justin Young, with a performance from ballerina Niamh O'Flannigain.
As she tells us "We only had an hour and a half in the Hugh Lane on official permitted filming time which made it really tight to shoot both the ballerina and the window. It was basically a military operation but with me in charge running around in a cape. In the end, myself and the assistant director, Jamie Hyland (Mhaol, Caskré), kept sneaking back into the gallery during opening hours to take stills from under a trench coat. Holding up that coat was the most intense workout my arms have done in a long time – and having had the privilege of sitting for Salvatore of Lucan, I thought the slightly chaotic setting of his studio would be in keeping with the song, skeletons and all."
Check out the video below, and pick up the single here.