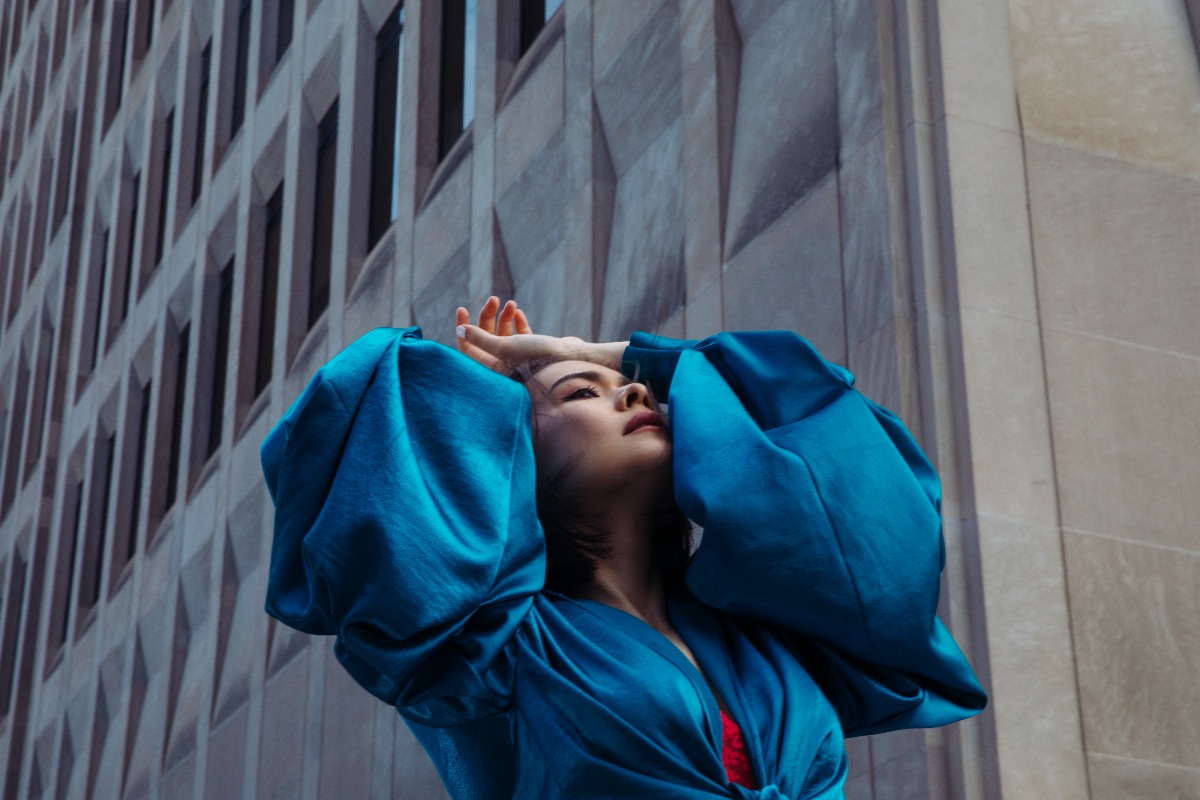 A large white wooden door hangs in the centre of the stage. Five musicians dressed in black step into position. Mitski begins to sing a capella, her haunting vocals emanating from the wings while her band members take the stage.
She appears dressed in long, white flowing garments. Immediately, the crowd are in awe. Beginning with 'Love Me More' and 'Should Have Been Me,' she circles the stage, frantically, as if searching for a lost lover.
Airy organs float above a wall of sound, as a tight rhythm section cuts through layers of keys and synths. She races in a figure-eight, building kinetic energy. Organs oscillate over a steady bassline; melancholy synths weave in and out. Mitski sings with a rare sincerity, and I believe every word. By the third track, 'Francis Forever,' the crowd are singing louder than her.
White lights give way to blue and green. Smoke rises like incence. Mitski's side profile is a dark silhouette against a foggy green backdrop. She uses the whole stage, theatrically commanding the space during 'Stay Soft' and 'Me and My Husband'. Her long, white dress creates dramatic shapes as she gracefully glides, her beige ballet slippers barely making contact with the surface of the stage.
She acts out a charade during tracks like 'Working For the Knife,' where she uses her microphone as a pretend knife and draws a microphone stand gun, while a paper airplane explores peaks and troughs on 'Goodbye My Danish Sweetheart'. The crowd mimic her movements during 'Heat Lightning,' surrendering their arms upwards while singing the lyrics "I surrender".
She looks almost animatronic, her movements beautiful and erratic, poising effortless pirouettes like an unhinged marionette. At the end of 'The Only Heartbreaker,' she would drop dead, as if all the energy had drained from her body. 'Drunk Walk Home' begins with her lying on the floor, slowly rising, standing as she proclaims, "fuck you and your money!".
Launching into 'Townie,' lights flashing, drums pounding, she bangs on the large wooden door. People are singing, screaming along. Literally jumping for joy, invigorated, they shout the lyrics: "I want a love that falls as fast as a body from the balcony!"
Pacing urgently, she begins 'I Will'. It sends the crowd into a frenzy. Even the band are jumping up and down by the end of it. She pulls invisible tightropes and punches the air. The energy is palpable as people stand up from their seats during 'Nobody' and 'Your Best American Girl'.
Closing with 'A Pearl,' a thousand phone torches light up the venue, swaying imperfectly.
"Yup Mitski!" a voice from the crowd cracks the silence before the encore.
She sings us out with 'Two Slow Dancers,' a song that laments the passing of time. "I love you!" she addresses the crowd. "…I guess, till next time." Sarah Deegan