All Together Now 2022

Returning after its forced hiatus, Waterford's All Together Now festival was back with a bang this weekend, bringing with it one of the most diverse and interesting lineups of any festival this summer. Armed with just his notes app and press pass  -and accompanied by the inimitable Celeste Burdon and her camera – Mike Ryan gives us a glimpse into the odyssey that engulfed Curraghmore Estate for the August bank holiday weekend.
Photos by Celeste Burdon
I arrive at All Together Now overburdened with probably unnecessary camping equipment, but just in time to catch the back half of The Altered Hours, who are bringing their psychedelic frissons to a packed-out Something Kind Of Wonderful tent. The Cork-based five-piece have been busier than a Waterford wasp chasing down a pint of Rockshore cider, having spent the past year touring Europe with Fontaines D.C., and the UK under their own power. On top of this, they treat the crowd to a cluster of new songs that they've been working on. Their massive efforts have paid dividends, as the already oily slick outfit have developed a new aura of confidence and seem poised to launch themselves into a new musical epoch.
Next up is Gemma Dunleavy. Dublin's RnB phenom seems at home on the Main Stage, accompanied by just harp and drums. Performing to a sizeable and rapt crowd, the standout track from her set is 'Stop The Lights' from her breakout EP Up De Flats, which features a heartbreaking monologue outlining the death of Terence Wheelock while in Garda custody in 2005. I ask one of the two Gardaí standing beside me in the crowd if they are Gemma Dunleavy fans. They decline to answer. I get it though. I'd want to just enjoy the show, too. She's an incredible talent.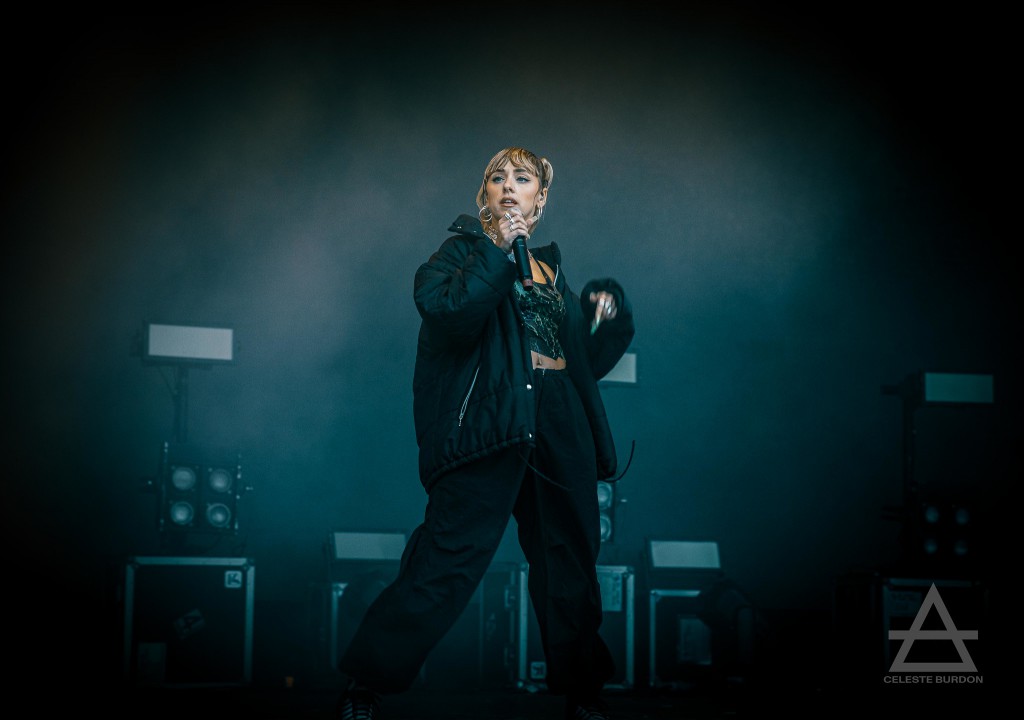 Over on the Road To Nowhere stage, Self Esteem is performing to a packed-out tent of devout followers and curious new inductees. One of the most anticipated acts of the festival, Self Esteem doesn't fail to deliver. Opening the show with 'I'm Fine', the outrageously polished performance at one point has the entire tent barking back at her and her back-up dancers/singers. With highlights include 'I Do This All The Time' and 'Fucking Wizardry, it's reminiscent of a Las Vegas residency in its meticulous choreography, all the while delivering an incredibly powerful and liberated pop production.
Back on the Main Stage, I realise that I must have missed a note on the website about the dress code for electronic darlings Jungle, as everybody up the front is wearing shorts, a Hawaiian shirt, sunglasses and a bucket hat. Emerging to a haze-filled stage and a roar from the already raucous crowd, who immediately leap into the groove of their 2021 disco anthem 'Keep Moving'. Tracks like 'Casio' and 'The Heat' capitalise on the momentum of the crowd's energy. Whether it's because they're watching Jungle fill the air with their Bee Gees-esque falsetto, or simply because they're back at Waterford's fantastic addition to the Irish festival calendar, it's hard to tell. If it's the latter, then the addition of Jungle's soulful, high-energy setlist is certainly an apt accompaniment. "It's Friday night, baby!" they scream to the now-packed, adoring crowd. "We getting fucked up! Are you getting fucked up?" There is confusion from the crowd as many of them are clearly already there, and now wondering where their gods expect them to go from here.
From the wild to the domestic, I head from Jungle to Houseplants who are performing for the Road To Nowhere tent. When I last saw them in Cyprus Avenue back in April, I was taken aback by Daithi and Paul Noonan's symbiosis on stage, but seeing them now through the festival lens, it's easy to see the impact they get from the expanded panel of musicians they've added since the project was first conceived. A slew of recent gigs has allowed them to hone their craft and take more ownership of the songs as the tight unit groove and cavort along with the joyous crowd. Tracks like 'Window Pane', 'Wait', and 'I'll Give up Sweets And Cursing' are pitch-perfect floor fillers for any festival line-up.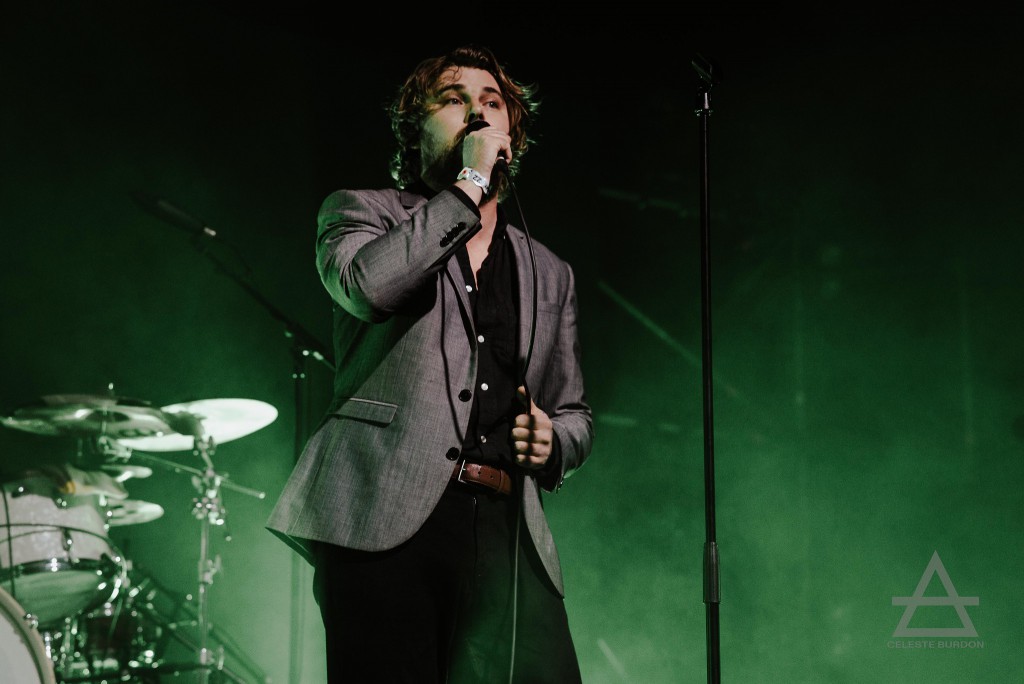 If there's any brief respite to be found from the existential angst caused by the last few years, I imagine it might be found in the centre of the mosh pit at Gilla Band's rammed 11.30pm slot in the Something Kind Of Wonderful tent. I stop by the Jameson bar for a whiskey to steady my nerves before entering. What ensues could only be described as cathartic carnage. From the very first track, the centre of the tent is heaving with bodies, keen to exorcise their demons early, ahead of a busy weekend. Opening with their new single 'Eight Fivers', the show builds through classics like 'Paul', 'Lawman', and 'Shoulderblades', ending in an almighty crescendo as they play their tumultuous cover of Blawan's 'Why They Hide Their Bodies Under My Garage.' The tent erupts in frenetic moshing as screaming voices echo the song's repeated seven-word refrain. Sopping wet faces and massive smiles abound as the gig finishes and revellers disperse to their respective domiciles or chosen late-night dance areas. I head back to my tent satisfied that my first day at All Together Now has set a mighty precedent for what was to come. But unbeknownst to me there were clouds moving in over the festival, both meteorologically and metaphorically…
Day 2
The Saturday of All Together Now brought with it the growing rumblings of controversy. Word was quickly spreading online, and across the fields of Curraghmore Estate, that two speakers had been programmed for the Curious Minds tent later that day whose views on trans rights and sex worker rights were, to put it mildly, problematic. One of whom actively campaigned against the ban on conversion therapy. It should be noted that they weren't there to speak specifically about trans issues, or sex worker rights, but their presence at the festival alone was jarring. Many people I spoke to couldn't mentally consolidate the progressive, inclusive, joyful atmosphere cultivated by the majority of the festival programme and audience with the inclusion of these controversial figures. There was a palpable frustration coming from many quarters, with many festival-goers leaving early on the Saturday as news spread, no longer feeling comfortable or, in some cases, safe. For the vast majority of attendees who opted to stay, the weekend had now taken on a murkier overtone.
The festival powered on regardless, and in the Road To Nowhere tent PowPig provide the first blast of musical momentum of the day. The Limerick four-piece have attracted an impressive following over the years, and have opened for acts such as Pillow Queens and Gilla Band, as well as headlining their own sold-out show in Limerick pre-pandemic. They manage to effortlessly pivot from Riot Grrrl aesthetic anger to Sonic Youth-inspired shoegaze guitar riffs throughout their set, even managing to work in some back-beat disco sensibilities from time to time. Between songs the group swap guitars and basses like it's going out of fashion, demonstrating their multi-instrumental musical depth. I'm about to jokingly ask my friend if the drummer is going to play bass next, when the drummer stands up from behind the kit and does in fact start playing bass. They are an incredibly impressive outfit and their trajectory is definitely one to keep an eye on.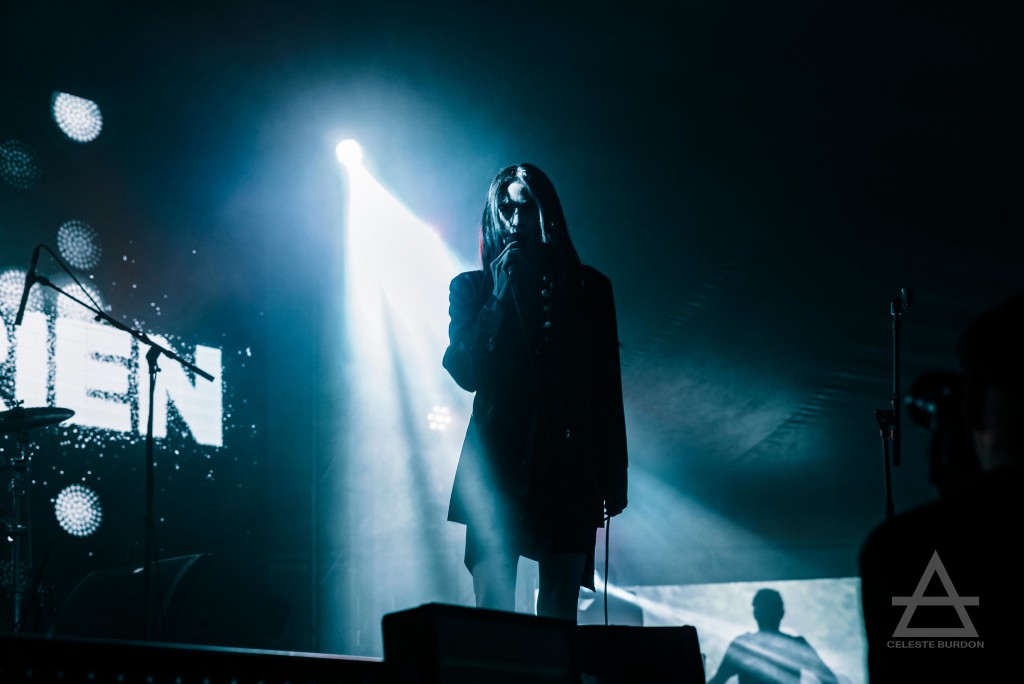 Next up is Sinead O'Brien. O'Brien is a very special artist. Her raucous set of spoken word over guitar and drums was a festival highlight. Performing their raucous set to a seated, but equally raucous crowd, Sinead O'Brien commands the stage like a veteran rock star. She exerts incredible vocal control as she shrieks and whoops in and out of her spoken verse, utilising extended vocal techniques to connect music and words like no other artist performing at the festival. A truly impressive act and one I will no doubt be thinking about for many weeks.
A massively contrasting but no less impressive Niamh Regan took to the stage in the Global Roots area not long after Sinead O'Brien started. I manage to catch the end of her set as the rain began to pour across the fields of Portlaw. The downpour didn't deter the crowd for Regan's mellow and soulful performance. Regan is certainly a star on the rise, and as is usually the case when a star is rising, the other artists are the first to notice, as the crowd was dotted with performers from other bands performing at the festival and beyond it. Regan's talent is obvious to anybody who sees her perform, and with Choice Music and RTÉ Folk Award nominations already under her belt for her debut LP Hemet, it's only a matter of time before that talent is in front of much, much larger audiences. For now, all those lucky enough to be present could enjoy the brief moment of respite from the festival madness as they blissfully listen to her serenade concert goers from the small stage deep in the woods.
After a quick bite to eat (and a few minutes sheltering from the rain) I return to Main Stage in order to catch Soda Blonde bringing their glissy alt-pop tones to the good people of All Together Now. In 2019 they treated the crowd to a surprise set from the Road To Nowhere stage, but it's evident that their upgrade to primary venue of the festival is warranted. They are total pros, and their command of both their music and of the audience is inarguable. Their set must be as pleasing to the weather gods as it is to those in attendance as the rain eases off almost entirely to just a light haze, allowing the large crowd to dry off as they sway to lead singer Faye O'Rourke's impeccable voice.
Following Soda Blonde on the Main Stage is Pillow Queens, who have solidified themselves in recent years as one of Ireland's top acts. Playing a mix of songs from their new album Leave The Light On, as well as crowd-pleasing classics from their debut album In Waiting, they look totally at home on a festival main stage. Towards the middle of their set, they maKE their feelings on the day's earlier controversy patently clear as they replaced the live feed to the screens flanking the stage with a large trans-pride flag for two songs, to much cheering from the crowd. Before the second song, guitarist and singer Sarah Corcoran removed any doubt as to their message. "We're thrilled to be here, but it's a pity that in 2022 we're still platforming TERFs," she says The reaction from the crowd just confirms how far word has travelled of the upsetting and mind-boggling programming of the Curious Minds stage. By now there was an alarming amount of vitriol being directed at anybody who expressed their disappointment on social media, and the "free speech" and "entitled to their opinion" brigades were piling on thick. They are, of course, entitled to their opinion. But they're not entitled to a platform and giving them one was a choice that was made by somebody in a position of power at All Together Now. This seems to be the issue for everybody here. Pillow Queens finish their set with the haunting refrain of "Some day you will have my head, you will have my head on a silver plate" from their anthemic track 'Liffey'. I can't help leaving the stage feeling something sinister has temporarily tainted the line.
Having caught a few tracks from English post-punk band Shame's high-energy set in the Road To Nowhere tent (before getting lost in the woods while trying to locate Emma Langford serenading the Live On The Lawns stage) the Main Stage is hosting what many will consider the most memorable performance of the weekend. Nick Cave and The Bad Seeds would have been most people's top pick of the festival heading into the weekend, and it's fair to say that those people came away looking very smug after their scorching two-hour masterclass in how to be a rock star. Strutting over and back along the stage barrier, he grabbed the hands of the utterly euphoric crowd, telling them he loved them in between song lines. All the while, The Bad Seeds give their own superstar performances behind him. Warren Ellis on violin is particularly eye-catching as he elicits noises from his instrument only he is capable of creating. It's as if he's in a battle with the instrument and his many effects pedals, and he's damn sure not going to lose. It's the kind of performance that demonstrates why Ellis' other musical project, The Dirty Three, is Nick Cave's favourite band. Only Cave himself is more entertaining. His charisma, energy, and full-throttle performance leaves no room for doubt in people's minds about his legitimacy.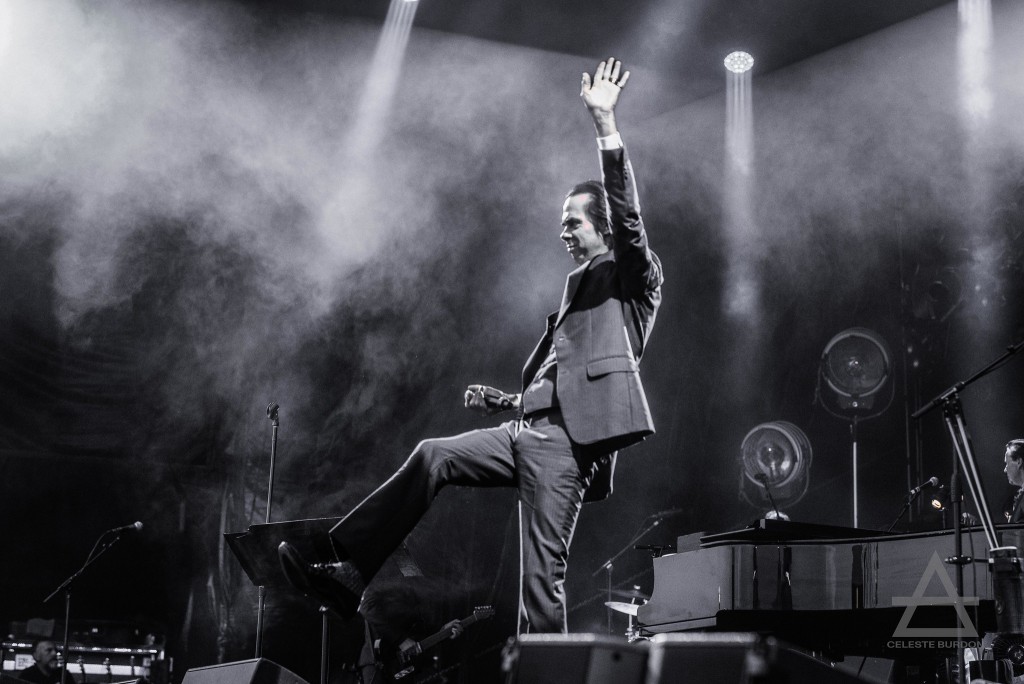 In contrast, the much anticipated electronic duo Flight Facilities put in a rather lacklustre performance over in the Something Kind Of Wonderful tent. Opening with a remix of 'We Are Family' by Sister Sledge, their set is a mix of classic disco hits interspersed with their own tracks. It's a disappointingly dull performance from a group I was very excited to see live for the first time. They feel more like a Flight Facilities tribute act, which was a massive pity, as the tent is rammed full of revellers eager to see them live. Despite the somewhat impressive visuals, the crowd never really reached the heights you'd expect from such an experienced dance act.
Thankfully, the other large tent of the festival, Road To Nowhere, is hosting Rival Consoles at around the same time. The broody, electronic artist is performing to a full crowd as he is silhouetted against his glitchy geometric graphics. His ability to build and release tension amongst the crowd is masterful, and the onlookers can't help but be mesmerised by his set.
My final gig of the night is Pretty Happy who are performing at The Well stage, which is running about half an hour behind schedule. The delay seems to have lost a lot of their crowd, as it seems a bit sparse as they open their set with a monologue from Arann Blake while drummer, Andy, emerges in a suit and underwear holding a briefcase, daftly waving at the crowd, while Abbey Blake builds a wall of sound. By the time Andy takes his seat at the drums, the noise has already drawn a much larger crowd, who erupt as they burst into their opening song, 'Sudocream'. The set is blistering, and all three musicians play as if their life depended on it. It's impressive how much noise they can make for just three musicians. You get the feeling that the place could be empty and they'd still put in this performance. It's one of the reasons that they are one of the bands to keep a very close eye on over the next year. You can read more about them in this month's issue of The Thin Air.
As another night draws to a close, I stumble exhaustedly back to my tent. I think about the day's controversy and drift off to sleep pleading that the Sunday of All Together Now will bring more hope and less rain.
Day 3
Waking up on Sunday morning I see that All Together Now had issued a statement on the controversial event on Saturday, saying "We wholeheartedly and unreservedly apologise to all our festival community, artists and supporters for any hurt or anguish caused. We support trans rights. It is as simple as that." The statement has caused further uproar online, with the speakers in questions demanding to know which of their views the festival disagreed with. The festival has not issued any further clarification and has not explained how the event came to be programmed in the first place if the speaker's views did in fact, by their own admission "not align with the views of ATN Festival".
After a quick breakfast burger from Phat Cow food stall, I stroll over to Brunch With Blindboy. He opens his interview with Jess Kav by immediately asserting that he has "no time for TERFs or SWERFs" to much applause, getting it out of the way right from the get-go. Blindboy's Limerick lilt drifts across from the Bandstand stage, providing an aural backdrop to the GuinnessXBaste barbecue demonstration which has waylaid me, like a cartoon character smelling a delicious, freshly baked pie. A nice member of the Guinness bar staff appears at my side. "Would you like me to bring you a Guinness?" she asks. "I would like that very much." I smile at her, surprised I haven't thought of it sooner. She returns with a pint and a card machine just as I receive a generous portion of steak from the barbecue demonstration. "Here's a voucher for a free ice cream cone as well," she says, handing me a small card for the ice cream van to my left. As she leaves, I look from my fresh pint to the clear blue sky (more rain had been forecast) and I begin to wonder if somebody has slipped a hallucinogen into one of my €7 White Claws, and it was actually still Saturday night and this whole morning had been imagined. Just then a wasp landed in my Guinness and I concede that it was in fact real.
My first port of call is Ezra Williams (FKA Smoothboi Ezra) at the Road To Nowhere stage. The talented young indie singer-songwriter gently rocks the crowd with heartfelt and often whimsical songs from their catalogue such as 'My Own Person' and 'A Shitty Gay Song About You'. It was a lovely warm-up for Rufus Wainwright who is, I now believe, the perfect "Sunday of a music festival" act. Entertaining a field full of seated onlookers from the Main Stage, he tells anecdotes and stories between songs, all while the sun beams overhead. It's a blissful hour and the ideal way to recoup some stores of much-needed energy before the next act.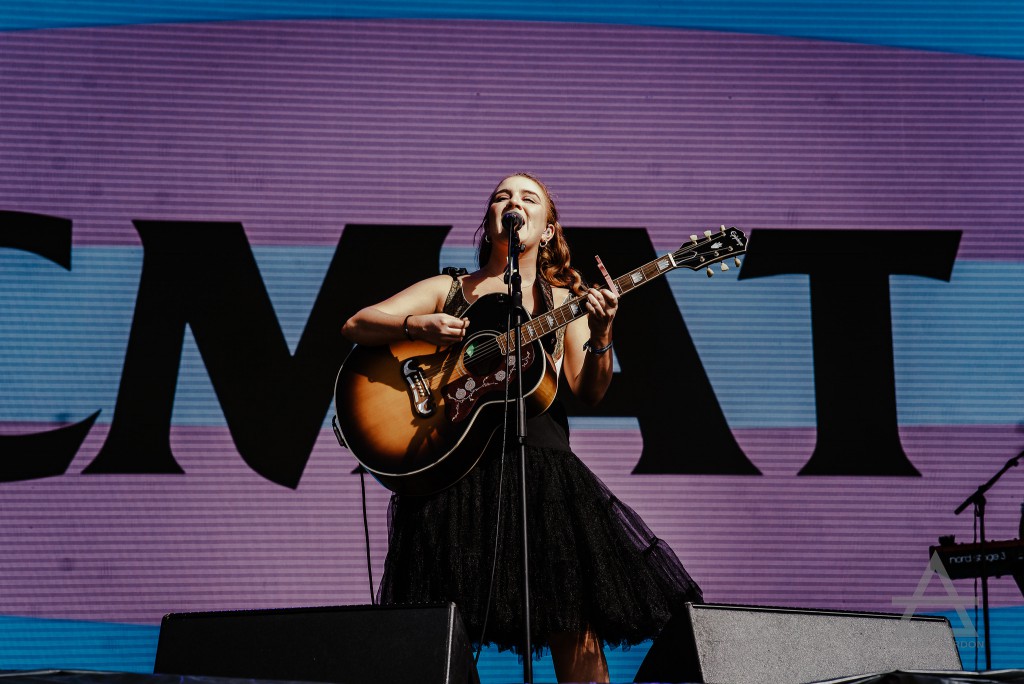 CMAT takes to the Main Stage quickly after her opening act, Rufus Wainwright, finishes up. The field is now on their feet in anticipation as she and her band strut on stage while the sound system blasts the Dustin The Turkey version of Joe Dolan's 'Good Looking Woman' and her name appears in massive letters in front of a large trans-pride flag on screen behind the band.
The crowd enthusiastically sings along with Dustin and Joe as CMAT takes her place at the mic stand. As it turns out, the crowd sings enthusiastically along for the entirety of her set. Her first album is riddled with hits like 'Nashville', '2 Wrecked 2 Care', and 'Another Day (KFC)', all of which have been absorbed into the psyche of the Irish music fans present. "I hope you like bangers," she tells us, "because here's one I wrote earlier". And with that she launches into an uproarious rendition of 'I Don't Really Care For You'. This really is a special performance, and everybody in attendance feels it. CMAT is clearly making a statement with her live shows at present, and that statement is "I am an absolute superstar". From the carefully choreographed dance routines with her musicians to flailing around on stage mid-song or climbing halfway out to the crowd to sit on a large stage speaker, she is an artist fully in control of her performance. She's unphased when a butterfly flies directly into her face as she sings 'Another Day (KFC)'. Even members of the animal kingdom are helplessly drawn to her charisma and talent.
The real standout moment of the gig, however, comes when she takes several minutes towards the end of her set to address the crowd about the previous day's controversy. While telling the rapt audience a story about a trans friend who told her that they always play her iconic 'I Wanna Be A Cowboy Baby' when undergoing hormone therapy because "it's become a theme tune for finding themselves," she begins to break down, saying "I think that that was the first time I ever felt like I did a really good job of something, and it was the first time I felt that what I was doing actually meant something". There is a deafening roar of support from the crowd, and as she starts into her closing song I glance around at the audience. There's hardly a dry eye to be seen.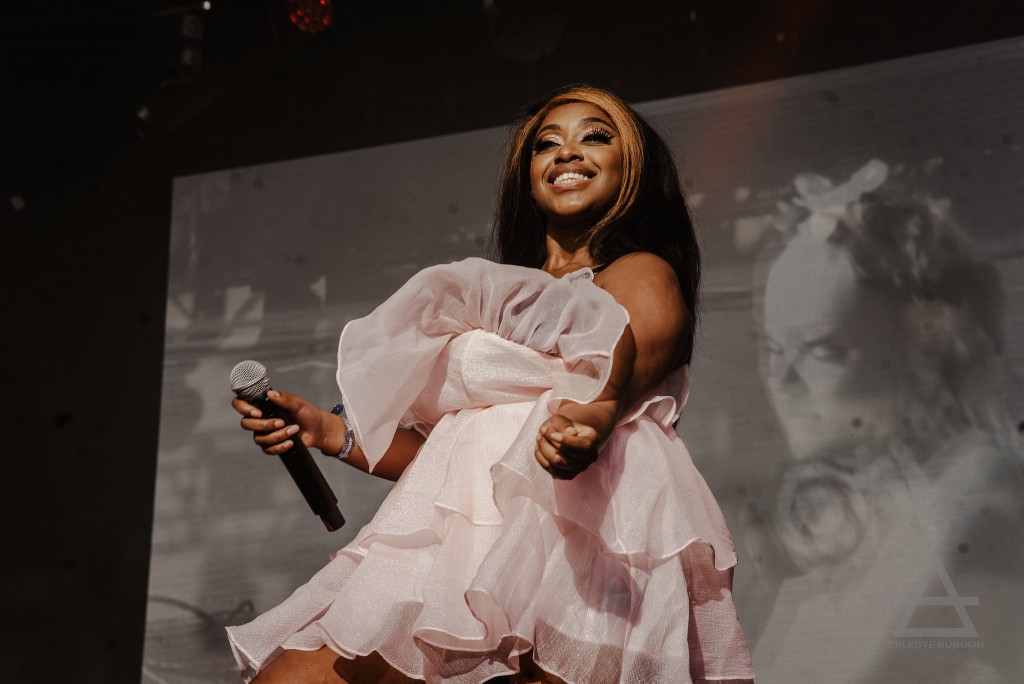 Her set is followed up by the Limerick powerhouse Denise Chaila, who gives a blistering performance more than worthy of the Main Stage she's performing on. Tracks like 'Anseo', 'Chaila', and '061' have gotten frequent airplay during the past few years, but she has a depth of both style and tracks that will ensure that she stays at the top of her game for plenty of time to come. Closing out her set, she also makes a statement about the big issue of the past few days, telling the audience that "if people criticise you for being proud of who you are, then you deserve to scream in their faces".
Over on the Road To Nowhere stage, NewDad are bringing their shoegaze sensibilities to the tired Sunday evening crowd. The crowd sway blissfully as the groovy psychedelic guitars wash over them, and their delicate lyrics provide a sense of calm. They've been compared favourably to The Cure in the past, but there are definitely shades of Smashing Pumpkins' landmark album Mellon Collie and the Infinite Sadness to the Galway natives' sound. It's truly gorgeous.
The penultimate act on Main Stage is also probably the most confusing booking of the entire festival. King Gizzard And The Wizard Lizard. Their albums are consistently outstanding feats of musical prowess, equal parts thrilling and mesmerising. They are one of the most ambitious acts in the world, and I have no idea how they came to be programmed on the Main Stage for the final night of a three-day music festival. The fairly full arena, mostly consisting of people curious to see what the hype is about, just seemed confused as the band masterfully jumped from track to track, playing nothing recogniseable to a casual listener. I'm not dumping on them here, I honestly believe they are an incredible group, and they are in frequent rotation on multiple playlists that I have on the go. I just think much of the audience was totally lost without having any big recogniseable songs to cling to or get excited about. It's definitely one of the more memorable gigs of the weekend, if only for the audience's non-reaction to what is, objectively, one of the best new rock bands of the last decade. They'd have fared much better in one of the two larger tents, where devotees could gather in reverence of their incredible musical ability.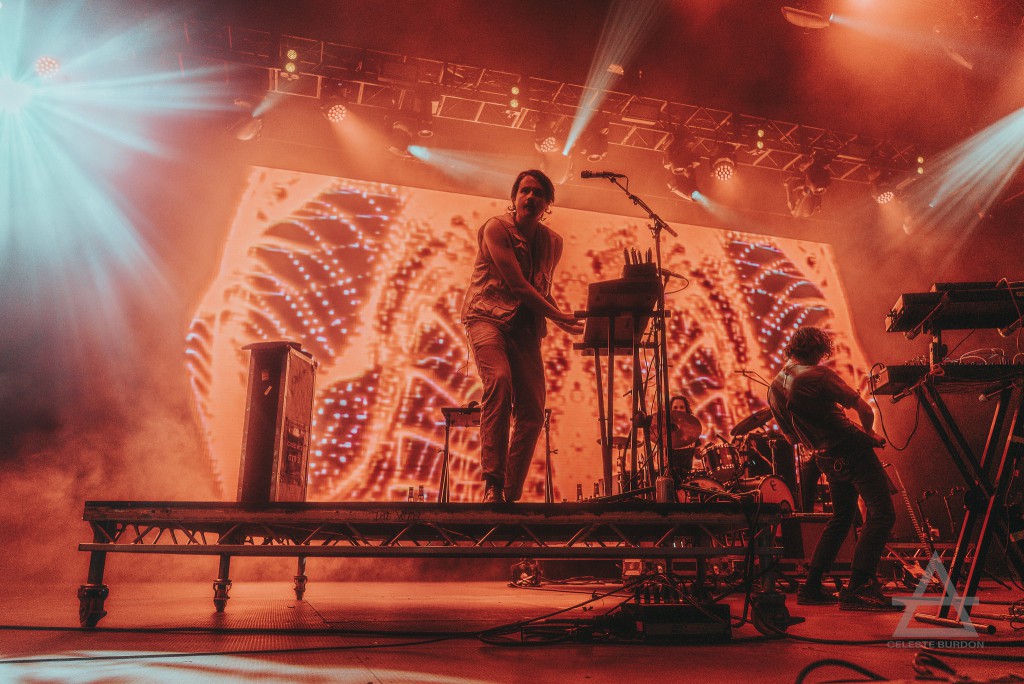 My final gig of the weekend was one I had been looking forward to since I first saw them close out the Jerry Fish Electric Sideshow at back in 2019. Thumper's inarguably chaotic lineup consists of two drummers and four guitarists, and they use it to immense effect. Their newer tracks from their recent debut album, Delusions of Grandeur, are more experimental than the noise-rock rolling guitars of their earlier releases, but the same drive and urgency is still there which makes them one of the best live bands in the country. Their classic 8-minute belter 'Down' closes out the set to a raucous but exuberant mosh pit. I don't know if there's a better final song in any band's arsenal in the country right now. It was the perfect way to end a weekend of great music, but also one of frustration. Mike Ryan
Day 1:
Day 2:
Day 3: