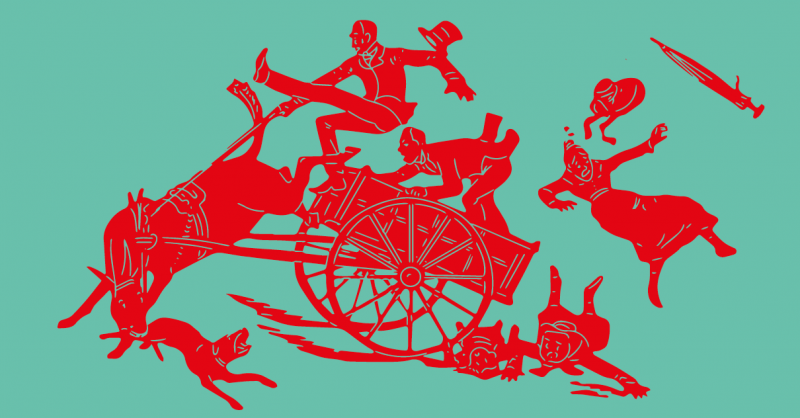 As one of the most fêted literary voices from these shores, Paul Muldoon surely knows there's no favour in feigning wisdom. It's an accumulation, not a ransacking—a life's work sprung from the ups, downs and in-betweens. It's in knowing that for all one's ascribed or self-worth, success—like wisdom—is a goose egg without the gaze and concert of others.
Produced by Poetry Ireland, and curated by the widely celebrated Co. Armagh poet in question, Muldoon's Picnic is an omnium-gatherum of poetry, prose and music that takes that essential esprit de corps and sprints with it. Following ten sold-out seasons at the Irish Arts Center in New York, and two successful Irish tours in 2017 and 2019, its return is a prized chance to experience this one-of-a-kind conflux of song and verse first-hand.
Speaking to The Thin Air back in 2017, Muldoon touched on the rolling series, which borrows its name from a popular 19th-century New York vaudeville act. "I've been reading poetry aloud for 45 years but I think it's only recently I realised how much I enjoy being in touch with an audience," he said. "Not on my own behalf, I should say, but on behalf of the poem or song. Ordinarily one's sitting at a desk day in day out. I like to get poetry on its feet. I like to give it that extra push." Between the storied—and thoroughly songed—walls of Belfast's Lyric Theatre this evening, that "extra push" feels more like a triumphant jolt.
Having regaled Limerick and Letterkenny with the likes of Kevin Barry and Louise Kennedy in tow—and with Dublin set for an evening in the company of Iarla O'Lionard among others—Belfast, too, is treated to a carefully-curated twist on Muldoon's glorious gallimaufry. At the center of it all is Rogue Oliphant, a five-piece performing original songs based on the writing of our Pulitzer-prize-winning host. And what a world-beating troupe it is. Comprising the Pogues' Cáit O'Riordan, Chris Harford (Three Colors, Band of Changes), David Mansfield (Bob Dylan, The Alpha Band), Ray Kubian (Electric Six, Chris Forsyth) and Del Fuegos' Warren Zanes, their fine-tuned renditions of songs like 'Made Men' and 'Rock n' Roll Royalty' burrow deep. If Muldoon's words and guests double as its lifeblood, the beating heart of Muldoon's Picnic is Rogue Oliphant's masterfully measured rock balladry.
With its variety-show-like ebb and flow, tonight's program is a wonderfully mottled affair. Guided it all along with the unaffected air of a man one-thousandth his stature, Muldoon graciously cedes to his guests while fulfilling his role as host with warmth and presence. Early on, he takes a moment to recall his moving from the Moy to Belfast in 1969 to study at Queen's University. Grounding matters in the eternal eye-blink of history, he pays tribute to the founders of the Lyric Theatre, Mary and Pearse O'Malley, and offers a timely reminder that the stage upon which he stands was built with poets and poetry firmly in mind.
Scandalizing a grand total of zero people, Roddy Doyle is sickle-sharp from the off. "I'm going to tell a short story in two parts," says the Dublin-born novelist, dramatist and screenwriter. "The first now, the next part in Reyjavik in November." Blessedly, we get both parts of 'The Funeral'—a sublime short story for Doyle's recent collection Life Without Children—right here in Belfast. Centering on a middle-aged son barred from his own mother's funeral, it's an equal parts sobering and side-splitting highlight tonight (the winding minutiae of a would-be Viking's cookbook appearing in the RTÉ Guide, for example, is perfectly absurd). Booker Prize winner or no, Doyle's matter-of-fact delivery is the everyday icing on the cake. With words this powerful there's no call for conceit.

Few musical pairings come as revelatory as Irish fiddle player Zoë Conway and guitarist John Mc Intyre. Partners in both life and music, the husband-and-wife duo perform a handful of songs spanning original material and traditional Irish compositions. While Conway's gossamer vocals thrill on a couple of numbers, on the soaring instrumental 'Ómos Sheamuis'—In Honour of Seamus Heaney—the pair's wonderfully woven interplay comes into sharp focus. Where McIntyre later takes an opportunity to remind us just how deep-seated the overlap between poetic and musical traditions is in Irish history, here, one's mind naturally wanders toward thoughts of Muldoon and his old friend in Heaney. Lodged in the forefront is the well-travelled tale of how a young Muldoon approached Heaney with some of his work to ask what he could do to improve it, to which the latter replied: "Nothing."
Speaking of indisputable excellence, the appearance of one of Ireland's most revered literary authorities, Eiléan Ní Chuilleanáin, feels particularly special tonight. Having been relected Saoi—or "wise one" in English—by the members of Irish artist association Aosdána, the Cork-born poet and academic reads a selection of her work from across the years, including a recent series based on the Divine Comedy. Revealing that she drew inspiration from having re-read Dante's original 1320 narrative epic "for the first in about 50 years" during lockdown, the opportunity to observe, in real-time, the sublime symbolism and timeless rise and fall of Ní Chuilleanáin's own adaptation feels nothing short of precious.
Sealing the deal, time and again, are Rogue Oliphant. Measured and magnificent, songs like 'No Skin in the Game' and 'Lonesome George'—an amped-up paean to a Galapagos tortoise, no less—draw out whole new worlds from Muldoon's words. Notwithstanding the traditional hitch, of course. "Oi, Joe!" shouts Cáit O'Riordan stage-left mid-way through Chris Harford introduction to Highlights of the Low Life gem 'Buddy and Billie'. "It's dead," she adds, nodding down at her bass amp. On cue, Muldoon coolly emerges from the wings. If ever there was a man born ready to allay technical difficulties with his own technical ease.
"Poem!" a man bellows from the crowd.
"What was that, sorry?" replies Muldoon, brogue-dry.
"Poem!!"
Without missing a beat, Muldoon recites his epigrammatic 1980 poem 'Ireland':
"The Volkswagen parked in the gap,
But gently ticking over.
You wonder if it's lovers
And not men hurrying back
Across two fields and a river."
It's brief yet brilliantly off-the-cuff. Having pitched in with his house band, led a moving few moments' silence for Salman Rushdie and occasionally reflected on his journey to date, Muldoon crowns the evening in style. With the muted glow of magic filling the room, O'Riordan's amp springs back to life and before long, Rogue Oliphant—boasting Muldoon, as well as the returning Conway and McIntyre—jam out a swansong. To an extended ovation, Muldoon then takes the time to individually thank every person, both on-stage and off, without whom this latest run of Muldoon's Picnic wouldn't be possible. By insisting on shining a floodlight on those that make it all happen—by refusing to make it all about him—his legacy gleams brighter still. And if that's not wisdom, what is? Brian Coney