Articles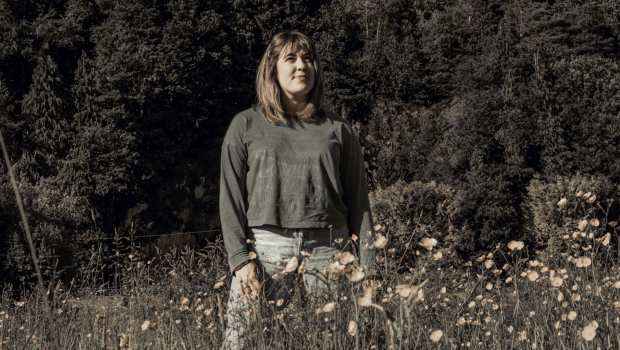 Published on August 13th, 2022 | by Eoghan O'Sullivan
0
In Striking Distance: An Interview with Elaine Howley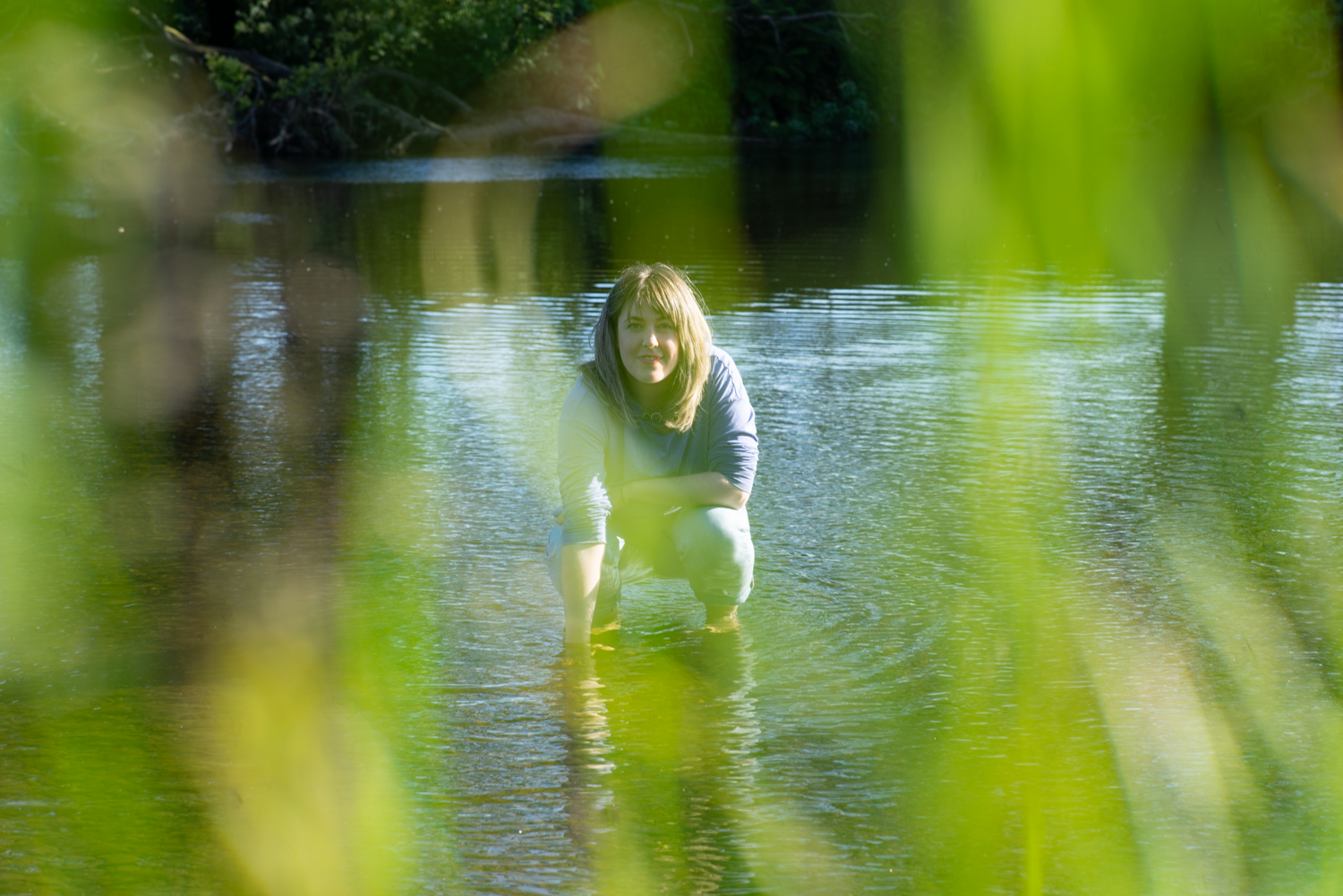 Following the release of her sublime debut solo album, the Cork experimental artist talks to Eoghan O'Sullivan about her process, how she's surprised to even be making music, and coming to terms with her ambition
Photos by Celeste Burdon
Elaine Howley, along with partner Cathal MacGabhann, fronts The Altered Hours, one of the most thrilling bands in the country. However, it is but one facet in Howley's creative output. A youth worker, she also makes music with experimental acts Crevice and Howlbux, hosts the experimental show Cosmosis on Dublin Digital Radio, which has been running since 2014, and in the past few years she's slowly but surely developed a solo project.
From her home in Dripsey, a village about 20km west of Cork City, Howley says she's not just surprised that she's made a solo album – The Distance Between Heart and Mouth has just been released on Belfast's Touch Sensitive – but that she's even in music at all. "I think it's because I have such reverence for music and because I came at it in an – in my mind – unusual way where it wasn't what I was doing, it wasn't what I thought I would do," she says. "It's taken me a long time to convince myself that that's what I am doing. And so yeah, I am surprised that a solo album happened. It shows the importance of people that are encouraging you – record labels, curators, whatever."
Howley says the debut solo album has been gestating for a long time but she can trace it back about four years to Cosmosis. In April 2018, she began a series of specials where musicians share an hour of their experiments, songs and sounds made especially for the show. "I'm going to go first and test the waters with an hour of music I made in the past week," she tweeted. It's still available to listen to online – all episodes of Cosmosis are up on Mixcloud. The episode is full of ambient sounds, gentle drones and lulling vocals lurking underneath. "Starting from that project I did for the radio gave it that shape," she tells me. "I originally wanted the album to be even more like that, very mixtape-y, with little weird sounds in between, but I do think there's something to me, I'm just drawn to a classic album format."
From there, Howley made a track, 'Song for Mary Black', for the Wacker That! compilation to celebrate Touch Sensitive's fifth birthday, supported the likes of Aoife Nessa Frances, and earlier this summer played Body & Soul both in a solo capacity and with The Altered Hours. It's been a gradual process, but Howley puts in the work. Every morning after she wakes up, she goes to a spare room in her house to work on music. It's akin to the way the acclaimed writer Kevin Barry works. He explained: "I find the very best time [to write] is first thing in the morning, when you're still half asleep and not afraid to embarrass yourself on the page, and you just blurt stuff down. That's when you can get the good stuff." Similarly, Howley says: "I think in order for me to be in a good place, I usually just, every morning, set up and play a little bit, even if it's a small bit. There's obviously times when there's just too much going on, but I feel like playing every day is the way that I'm just the happiest."
She adds: "I love guitar chords and songs and all that, but with all the little weird machines that I've connected, there is no end to the sounds they will output in the ways that it will just get my brain going. I think before, I felt like there was creative stores [building up] and now it's just something that you do for fun every day. Obviously, it's not all roses in the garden; some days are just like, whatever. But yeah, I do like to think of it that way, just get up in the mornings and do it before I do anything."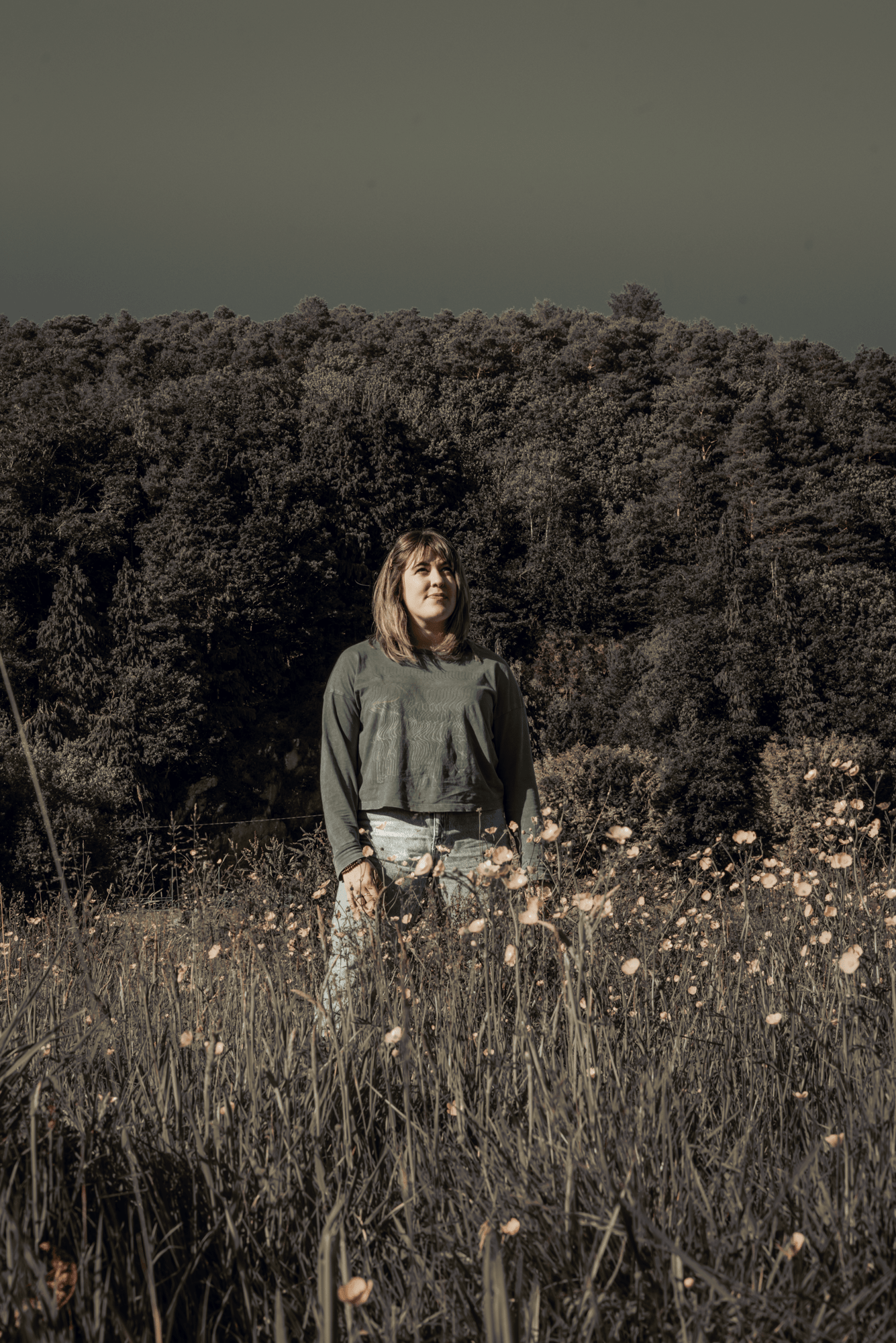 The Distance Between Heart and Mouth feels like the culmination of all these years' work, the product of this 'audio diary' way of working. Citing influences such as Trish Keenan and Broadcast, Tirzah, Leslie Winer, Inge Copeland, Lizzy Mercier, US Girls, as well as rapper Earl Sweatshirt, Howley's created an album that woos the listener. The vocals are often buried deep in the recording, urging to be uncovered, while gentle electronics across the nine tracks and 35 or so minutes are cut through with the likes of an outlandish guitar solo on second track, 'Autumn Speak', her pop-inflected "la la las" on 'Person Count', and the aforementioned 'Song for Mary Black'.
Howley explains the latter: "Don't sue me, Mary Black! … that's something I love about sampling, when I was using cassettes and reversing some of the sounds from a Mary Black album I had, and suddenly you just hear something and you're trying to catch it. There's something magical about that. I love listening out for a particular thing that you know will sound good, like when you repeat it or stretch it or manipulate it. And that's one of my favorites that I ever came across. And I love Mary Black, she was my first concert. So it's a bit sentimental as well."

Over the course of our 45-minute conversation, Howley mentions the word 'ambition' and explains how she's only recently come to terms with it. She wants the album to do well: "You want as many people to hear it as you can, and for it to reach people who do actually want to hear it." She continues the point, citing her former touring partners, Fontaines D.C.: "I'm not afraid of it. And in order for it to happen, if it is going to happen, like for Fontaines, you have to be honest about it and truly focus and allow it to be. They're incredibly inspiring the way that they are and the way that they function on the road and enjoy what they're doing."
There's tour dates to come over summer, both solo and with The Altered Hours, and the band are going back into the studio in autumn to work on a third album. But no matter what, Howley will continue to wake up in the morning, go into the spare room, and put in the hours making music, writing lyrics, and continuing the process: "Because I'm interested to see what I will want to write about or what comes up because I think with this album, it taught me a lot personally as well; where I was at and what was happening and what I needed to look at, and what I could work on within myself. So I think that's something that I hope happens again as I continue to write. It helps to guide me as well, like, 'Oh right, that's how I feel, I didn't know that'." Eoghan O'Sullivan
The Distance Between Heart and Mouth is out now via Touch Sensitive