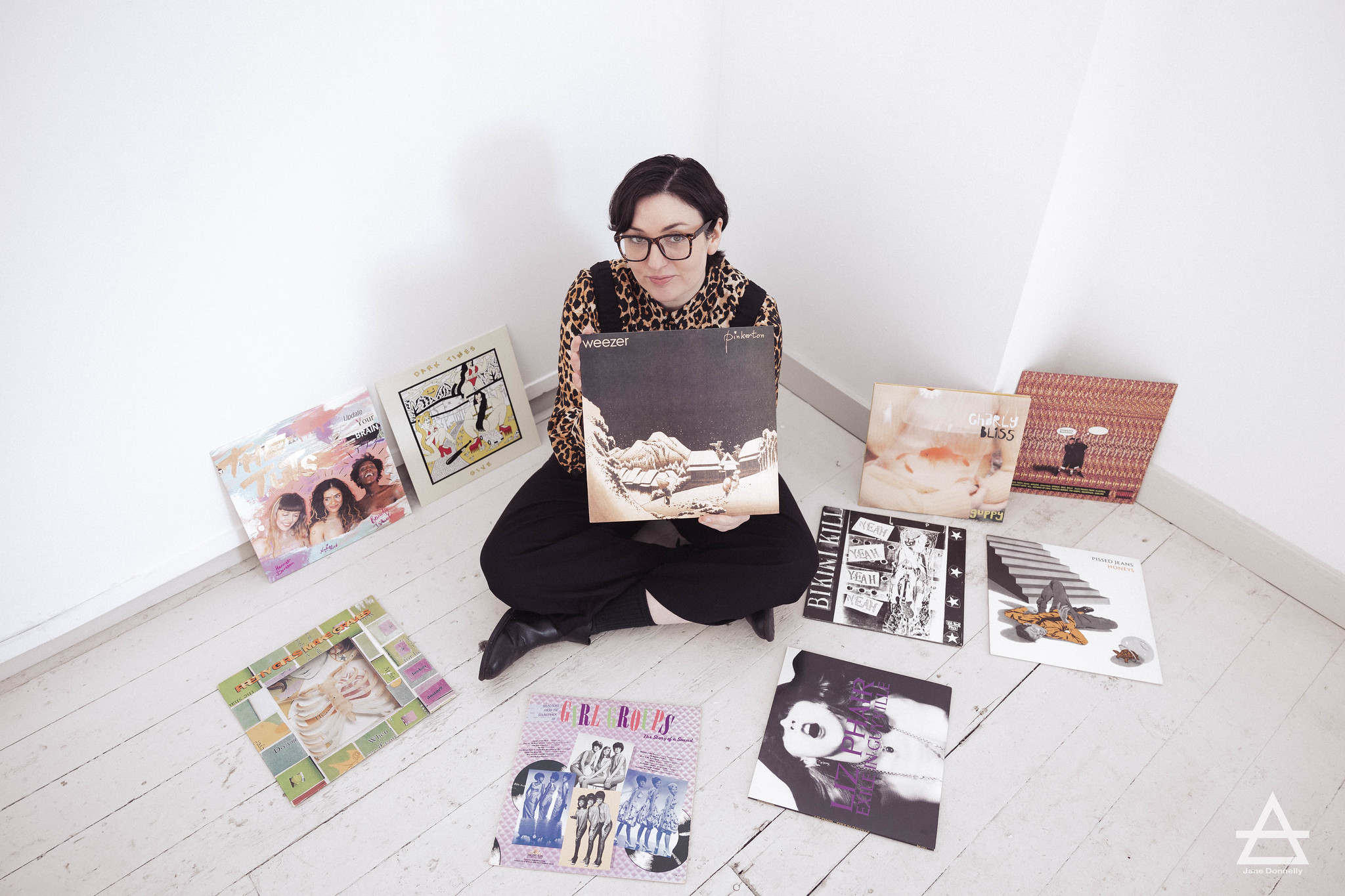 Alanah Smith from Belfast-based feminist queerpunks Problem Patterns selects the albums that left a huge impression on her life from Bikini Kill to Charly Bliss. Photos by Jane Donnelly.
Dark Times – Give
Dark Times are a band who reinvigorated my love for punk, and more specifically, made me want to try my hand at it properly again. I'm fairly certain I've put them on every single list when anyone asks me about influences for Problem Patterns. I found their song, 'Girl Hate' years ago, which just blew my mind when I first heard it. It was just a chaotic blast of noise about internalised misogyny and about breaking through that. Give is their first LP and it became an instant classic to me. It's hard to categorise them even with their "no wave" and "hardcore" labels. They started out a lot more sludgy but became more refined over the years. They're a feminist punk band for sure, but not riot grrrl (just to make a point, not all women in punk classify themselves under that label!) They have a knack for catchy choruses without veering into poppy territory. AK's vocal delivery is always so raw and powerful, aggressive and assertive.


Give is a solid album throughout, with connecting themes of resilience, lost friendships, personal anxieties, and learning to stand up for yourself even when full of self-doubt. 'Almost' is one of my favourite songs purely because of how short and sweet it is. It's just over a minute long and is reminiscent of '80s hardcore punk, including a hugely satisfying breakdown. 'Be Cool' ("You're not trying to be cool/Just turning away from me") the first track, is a brilliant opener and sets the album's tone, whereas 'Lies' ("These are not your friends/Dry your crying eyes") works not only as a perfect album closer, but serves as a finale for the overall story that is present throughout. It's furious and compelling, the kind of music that gives you a shot of adrenaline. I'm also just a massive fan of the artwork by Maren Karlson, who they collaborated with a few times. They've been a band for a very long time now, and have only come to the UK once, but I'm still hopeful that I will be able to see them at some point because I've heard nothing but brilliant things about their live shows.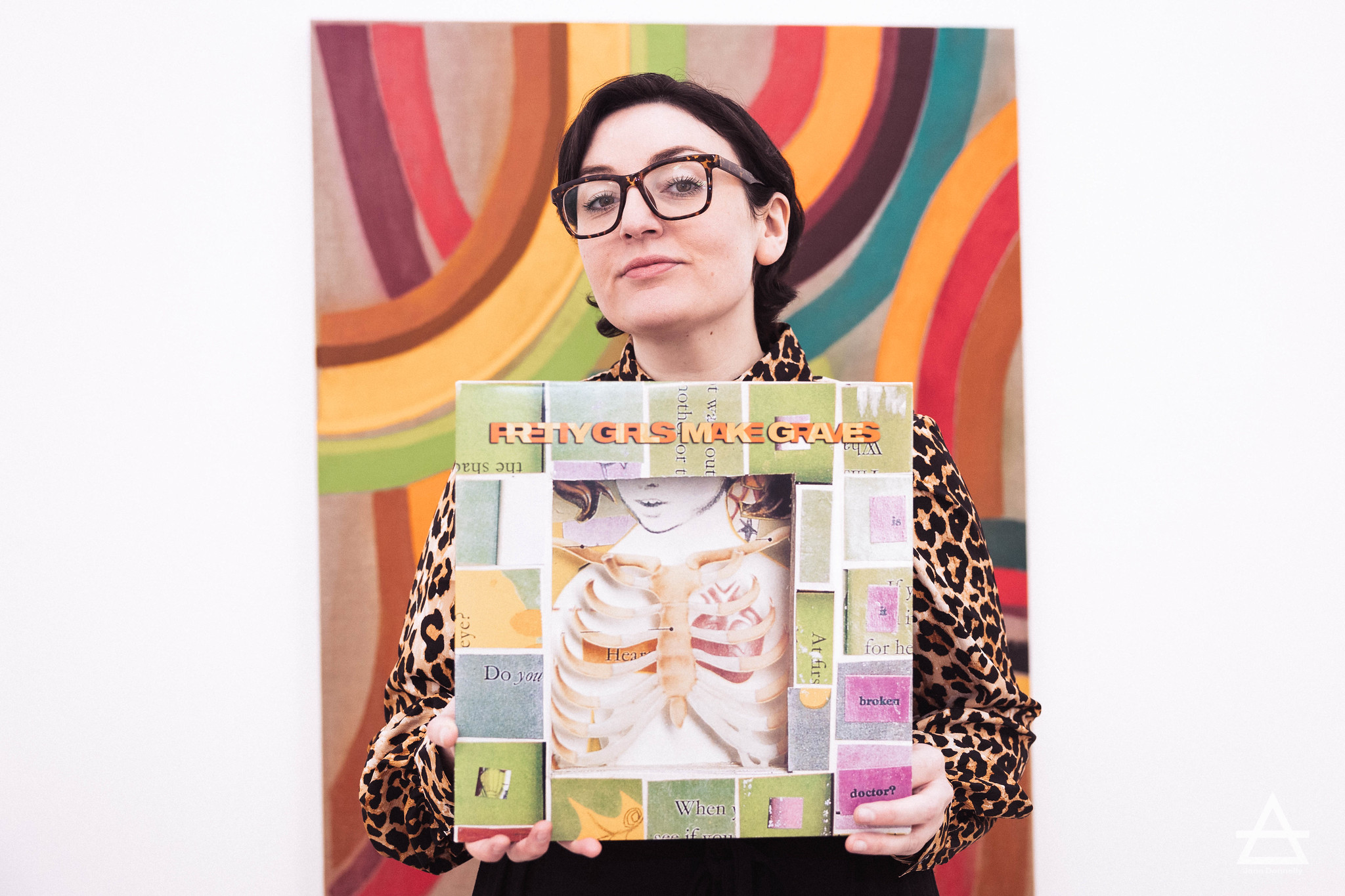 Pretty Girls Make Graves – Good Health
The music that Pretty Girls Make Graves made sat somewhere between early-2000s emo and post-hardcore. Their whole discography is brilliant, and particularly impressive if you take into account how short their time was together. They would evolve their sound a little bit with each record by the time they finished, but this album, their debut, remains to be my favourite. Musically, the riffs were intricate, often veering into mathy territory at times, but always holding a catchy melody. Lyrically, the album could be paired with a coming-of-age film plot; the angst of outgrowing friendships 'If You Hate Your Friends, You're Not Alone'), unrequited crushes, loneliness, and figuring yourself out. At the forefront of it all was Andrea Zollo, who I would argue is vastly underrated in terms of influential women of alternative music.


The band was quite popular at the time, and yet I never see her name come up when discussing that kind of music from her era. What's even more noteworthy is that she was specifically part of a music scene not known for being particularly kind or inviting to women. She was unique and helped to make space for so many women who would follow, even if it wasn't intentional on her part. She has such a strong duality in her vocals, a beautiful singing voice and a powerful yell (which is borderline screamo on 'Head South') both always delivered with absolute raw emotion. Even as someone who has had this album on throughout varying times in my life, it is only in the past few years that I've fully realised just how much of a musical inspiration Andrea has had on my own writing and my performing style. 'Sad Girls Por Vida' is my personal standout, the chorus a lifelong theme song for any emo girls who never really grew out of that phase, myself included.
Girl Groups: The Story Of A Sound (Soundtrack)
This is a soundtrack compilation that accompanies an early '80s documentary around '60s girl groups. While it doesn't include any of The Ronettes, who easily had the best tunes from the time, it is still my favourite collection of the other big hits. That era of girl groups has, to say the least, a complicated history, especially in terms of hugely problematic (even killer) producers. The songwriters behind the scenes were geniuses, including one of my personal heroes, Ellie Greenwich, who is responsible for a number of tracks on the compilation. The songs are just golden pop perfection. The Shirelles 'Will You Still Love Me Tomorrow' remains to be one of the most heartbreaking songs ever recorded.


Diana Ross' career is legendary, and it never stops feeling like pure magic to hear her work with The Supremes. Girl groups of this time have always been so fascinating to me. Image-wise, they were always sweet, smiling, in matching outfits. Lyrically, the content was often dark. Many of the songs had a glossy exterior, but beneath the surface addressed subjects like infidelity, abuse and violent death. The Shangri-Las are one of my favourites, their aesthetic was less polished and more like a tough girl gang. It's easy to see why they are credited for their influence on punk; add fast guitars to their songs and you get The Ramones. Sound-wise, they are all a long way from where girl groups are at today, as music continues to evolve every decade since, but it's still clear how much of an influence the original wave has over pop culture.
Liz Phair – Exile in Guyville
There are musicians who write personal, heart-on-their-sleeve lyrics, and then there is Liz Phair. Exile in Guyville feels like an audio recording of her very own diary. There are plenty of songwriters who are brutally honest in their lyricism, but Liz makes you feel like you're eavesdropping on her deepest secrets. The focus is heavily on soured relationships, and she does not sugarcoat a thing. When I first heard her, it was actually a bit shocking, but also hugely refreshing to hear a woman singing so explicitly about sexual experiences and romantic grief. I can still vividly remember the first time a friend had me listen to 'Fuck and Run' when we were teenagers. I hadn't heard anything like it before.


A lot of the context for the record would only become more relatable as I grew older. Songs like "Canary" made me blush when I was younger, but I would learn how drenched in sadness it really is. 'Divorce Song' has always been a favourite, and is a pretty good example of what makes Phair's lyricism so brilliant; she sings not of extraordinary experiences, but everyday issues in relationships. The small fights, the things that chip away at us for ages, until there's nothing left. There is also an incredibly lo-fi feel to the songs overall, a sound that has undoubtedly influenced a generation of indie musicians since. Liz Phair is not about big elaborate guitar riffs, nor is she a classically trained singer, but I highlight these things in the most positive way, not least because it makes her all the more relatable. Her performance on the album is ultra-raw and she presents a vulnerability that cannot be fabricated.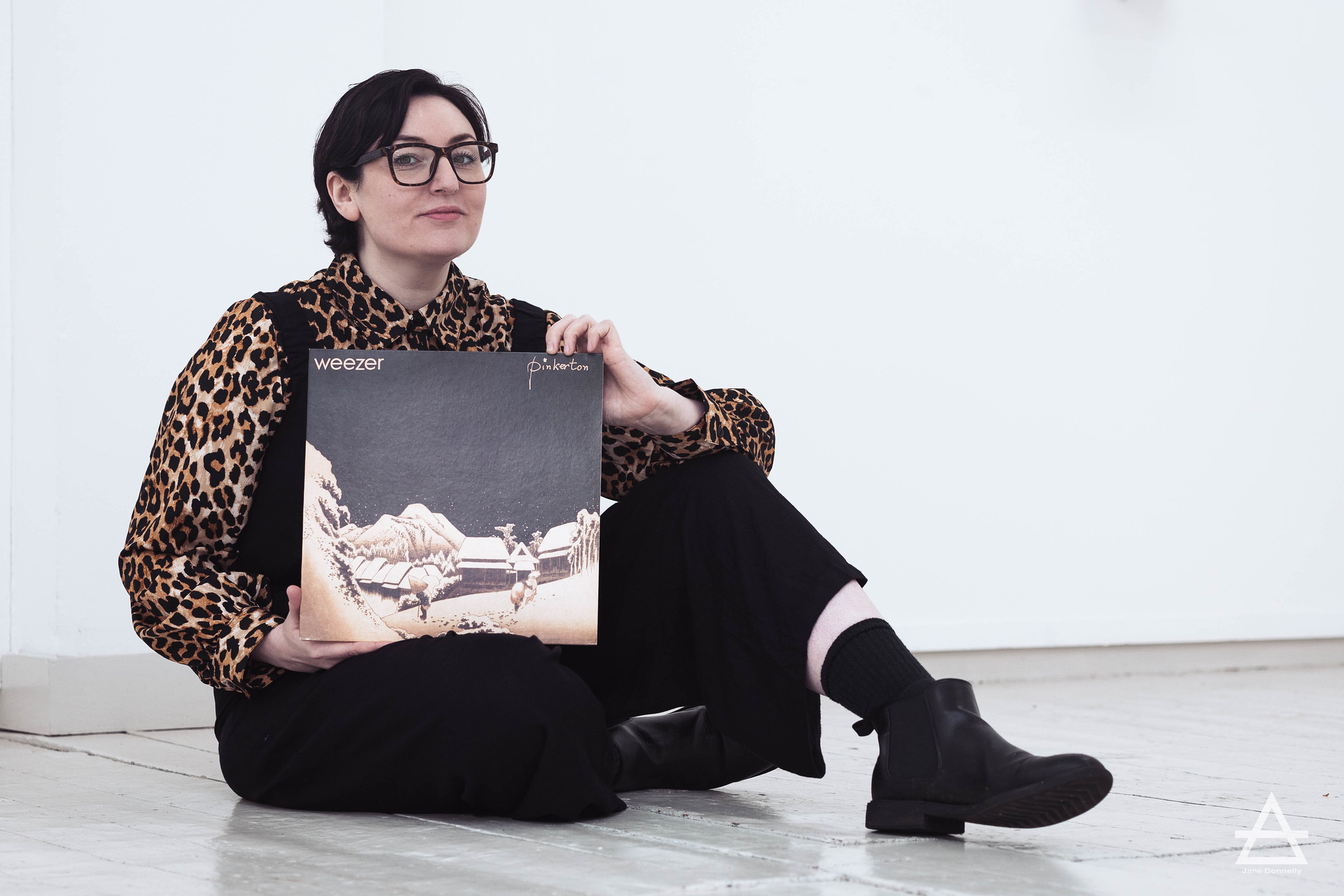 Weezer – Pinkerton
It has always been tough to pick between which of Weezer's (first two) albums is my absolute favourite, and I'm sure I'll change my mind again, but right now it's Pinkerton. I've had the biggest personal journey with this record, even if I sometimes wish I didn't. I was fifteen when I first heard it in full, and I immediately became attached to its heavy angst and lyrics about unrequited love, two themes that are all too predictably relatable as a teenager. An embarrassing percentage of my high school years were spent on their fan forums. I'm permanently associated with Weezer for a lot of people in my life, which is both horrifying and sweet at once. I've never tired of Pinkerton, no matter how many times I've listened to it over the years. As I got older, every time I returned to the album, it felt like I was going in with new ears. It also became increasingly difficult to ignore one particular theme: how absolutely gross it is. Even on a surface level, the topics covered in songs like 'Across the Sea' and 'Pink Triangle' are, at best, incredibly questionable. Rivers Cuomo himself once called the album diseased.


Even so, I still can't let go of it. While their self-titled debut was polished, poppy and catchy, Pinkerton was rough, frustrated and heavy. Rivers' lyricism gets a lot of the credit due to how ultra-personal it all is, but a lot of what I love about it comes down to the music itself. The guitar solos are fantastically messy, to the point that they almost shouldn't work. Matt Sharp's bass and Patrick Wilson's drums are unmatched. It's a grand shame we don't have more material with their rhythm section. 'Tired Of Sex' may be the opening track, but it's also the best and most clear example of how well those two worked together, and definitely my favourite bass riff ever. Pinkerton 2 is never coming, which is probably for the best, considering they're all family men in their 50s now. This is a great album for a very specific moment in alternative rock that has since spawned a whole generation of bands attempting to capture its exact sound. Try to remember that part of their legacy when they release their next disappointment. I say that with love, as only a Weezer fan can.
Pissed Jeans – Honeys
Pissed Jeans are really great at expressing the horrors of the mundane, and I think Honeys encapsulates that best. The guitar tones on this album are furious, the bass riffs are beefy and the drums are erratic. Matt Korvette has one of my favourite voices in music, not least because at times he barely sounds human. It's not singing as much as it's more like a man having a nervous breakdown. Is he yelling? Is he grunting? Does he have acid reflux? Who cares, it sounds great. He is also one of my favourite lyricists, often self-deprecating and seemingly very aware of himself. He is without a doubt one of my biggest influences in what I (try to) do in Problem Patterns. Tracks like 'Bathroom Laughter' and 'Romanticise Me' are both incredibly chaotic depictions of domesticity, but realistic portraits nevertheless. A song like 'Male Gaze' is an attempt to atone for Korvette's own socialised misogyny, which ended up winning him praise for calling himself out. [In reaction to that acclaim, Korvette was apparently then inspired to write 'The Bar is Low' for their next album.] I have on more than one occasion said that 'Teenage Adult' is my theme song, and I'm not sure how much of that claim is a joke. Regardless, it's one of the best riffs of all time and I'd be happy to have it follow me around forever.
Charly Bliss – Guppy
As far as debut LPs go, I feel Guppy has rightfully already been acclaimed as one of the greats of the last decade. I have a lot of friends who already have it in their 'absolute favourite albums' lists too, which says a lot considering it was only released in 2017. There is no single skippable song, and picking the best simply depends on what day of the week it is. 'Westermarck' has one of my favourite choruses in recent memory; 'Gatorade' encompasses the grief of losing a friend too young; 'Julia' manages to blend feelings of jealousy with empathy. I still prefer the single version of 'Ruby' (a grand example of their earlier grungier efforts), but the album version still highlights their songwriting strengths.
Eva Hendricks' lyricism isn't always as direct as many of my other favourite songwriters, but there's a cleverness in her wordplay that resonates and often inspires multiple interpretations – there's something really special about different people finding different meanings in your words. The record as a whole captures so many personal anxieties, working more like a coming-of-age movie, set to upbeat melodies and soaring harmonies. Charly Bliss has often seen comparisons to Weezer in their young career. To me, they are everything I loved about Weezer, but from a woman's viewpoint, updated, and shinier; far more relatable from my side of things. They are a perfect mash of all the bands I've loved over the years, but somehow at once refreshing and new.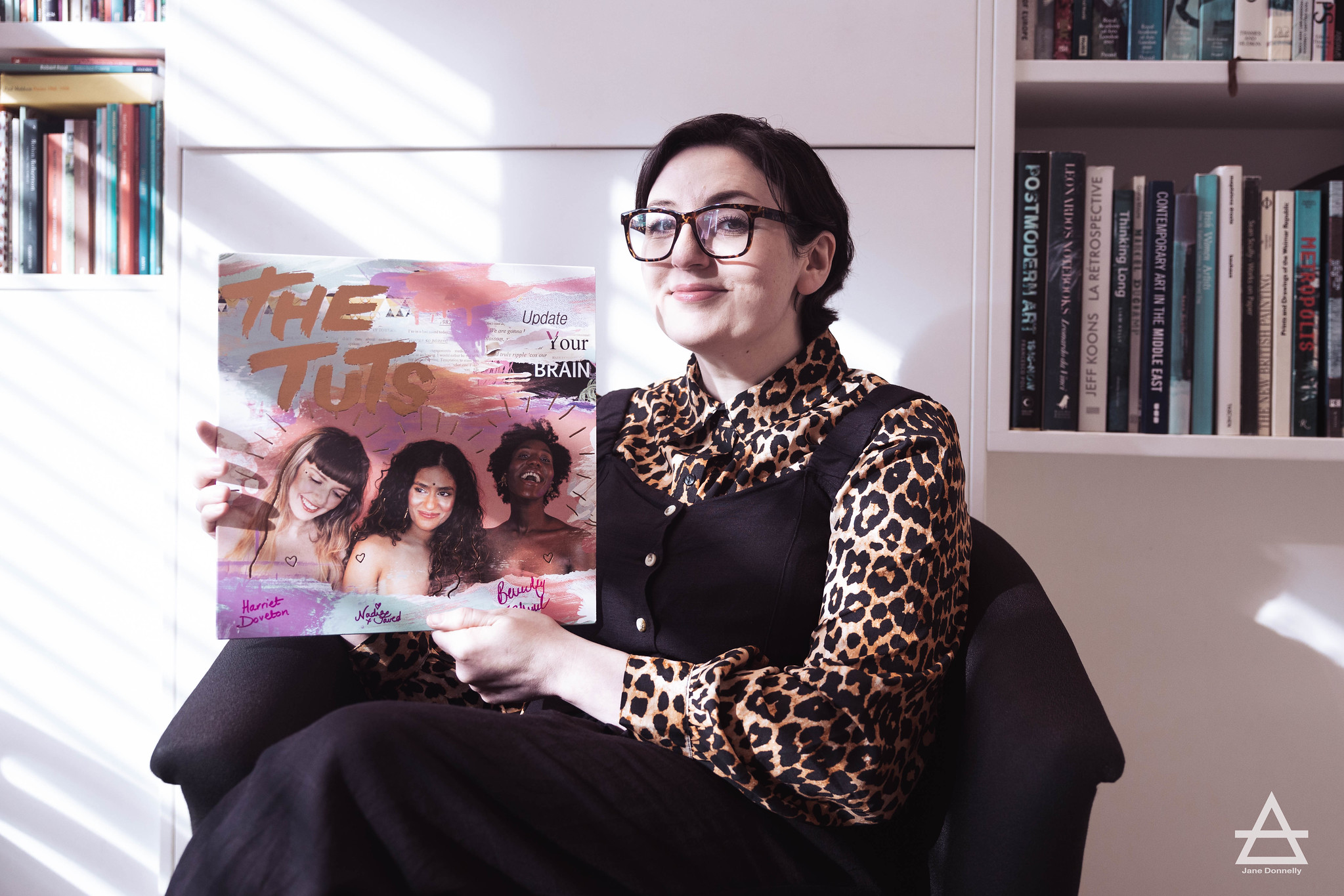 The Tuts – Update Your Brain
The Tuts are one of the most vital English bands in recent memory and deserve to be remembered as such. Musically, the album is super catchy, full of punk influences with a poppy sheen. Lyrically, they are fearless, and have never been afraid to speak out about any topic- something they were committed to doing so offstage, too. They embody the DIY ethos, making their own merch, booking their own shows, and doing it all through their own label, Dovetown. They represent voices that you don't typically see in this genre; not just as women, but as women of colour, who are often erased or outcast from music history's archives. Update Your Brain was a long time coming when it was finally released in 2016, and it was well worth the wait.
It is clear from the first second that this album is a labour of love; a result of three friends who have spent years building a relationship personally and musically. Album opener 'Let Go Of the Past' is both glossy pop-punk perfection, while also being solid life advice. 'Con Man"s soaring chorus hits a nerve for anyone who has ever let the wrong person get too close. 'Back Up' will always bring back memories of stage invasions during their frantic live shows. There is also the acoustic gem 'You're So Boring', which is a different direction than the rest of the album, but really highlights just how wonderful their vocals are. Each member of the band is a master of their craft, and they match each other perfectly. Although they clearly draw influence from punk, pop and ska, they have created a sound so unique to them. They should have taken over the world, but they created one for themselves that will influence so many more to come. The Tuts are the soundtrack to some of the best moments of my 20s, and I'll always be thankful for that.
Various Artists – Mallrats (Soundtrack)
I have a few film soundtracks in my record collection. They're an integral part of any movie's storytelling, whether it's an original score, or a perfectly chosen pop song hitting at just the right point in a scene. It heightens the visual impact. I probably have some cooler choices, but I'm too sentimental to choose anything but this. Mallrats is my favourite movie. I don't even want to know how many times I've watched it over the years. It's just a silly Kevin Smith rom-com, but a comfort film for sure. The soundtrack itself captures such a specific moment in '90s alternative music, just past the grunge era. It has my favourite Weezer song of all time, which is actually my favourite song of all time, 'Susanne'. I could write an essay on that single track alone, it's perfect. This movie and album introduced me to Belly, through one of their best tunes, 'Broken'. You've got Elastica's 'Line Up' and a very fun cover of 'Build Me Up Buttercup' by The Goops. Thrush Hermit's 'Hated It' is also a highlight. They were a brilliant band from Halifax, Nova Scotia, which had some amazing bands at the time such as Sloan and Plumtree. There is one band on it that I absolutely cannot stand, but it can be forgiven in this context. I found this album about twelve years ago in a record store in Toronto, which is long gone now. The film, the soundtrack, who I was with, where I bought it, it's all good memories for me.
Bikini Kill/Huggy Bear – Yeah Yeah Yeah Yeah/Our Troubled Youth
It will likely come as no surprise when I say that Bikini Kill is a massive influence on Problem Patterns. They're the one band that all four of us cited as an influence when we first got together. I can still remember the first time I heard them – it was totally raw and unlike anything I had heard before. As a young girl trying to navigate the punk scene, Bikini Kill were the first band that felt like they were specifically writing for me. Discovering them was like a gateway into finding so many more women in punk, including the bands that came before them such as X-Ray Spex. This album isn't necessarily my favourite in terms of Bikini Kill's output as a whole, but I have a really fond attachment to this split. Their side of the LP is short and sweet but each track is essential.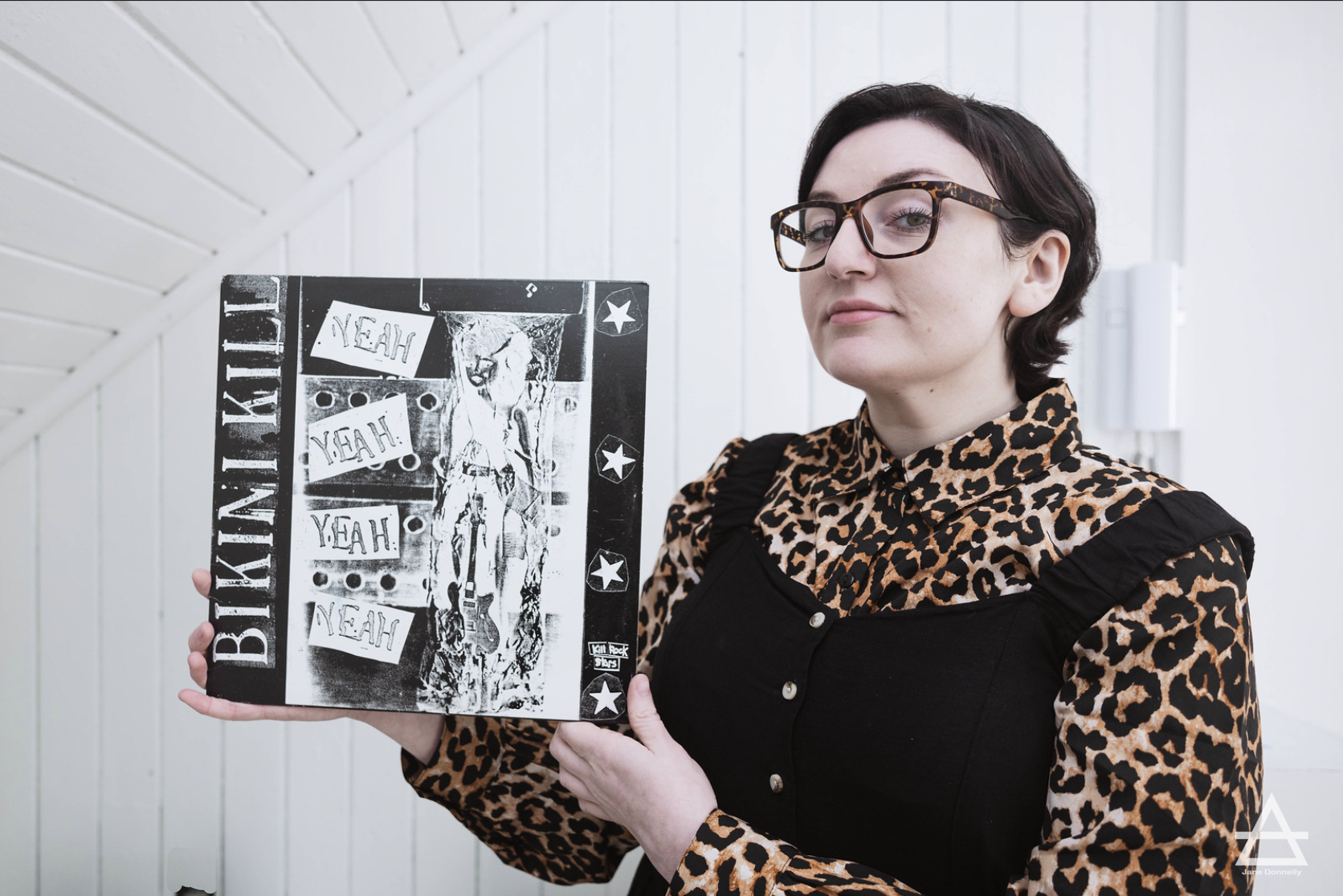 'Resist Psychic Death' still feels as inspiring as ever. 'Rebel Girl' has become a little overexposed in recent years due to it being used in so many girl power movie montages (seemingly fighting for that spot against The Runaways' 'Cherry Bomb'.) but it still packs a punch. This version sounds a little rough around the edges. On the flipside, literally, this record introduced me to Huggy Bear. A little more melodic in their approach, Huggy Bear almost goes into twee-ish territory at times, but they still match Bikini Kill in their fury. 'Aqua Girl Star' remains to be a favourite of mine since the moment I heard it. It could very well be the sonic sibling to BK's 'Rebel Girl', both extraordinary proclamations of joyful adoration. On the subject of riot grrrl: while it was a very big movement in that era of feminism, it was flawed and rightly criticised. In its attempts to empower some women, it shut out the voices of others. It was still very binary-based and racially biased. We must not forget this when taking inspiration from it, musically or otherwise. Feminism must be intersectional and not individualised.