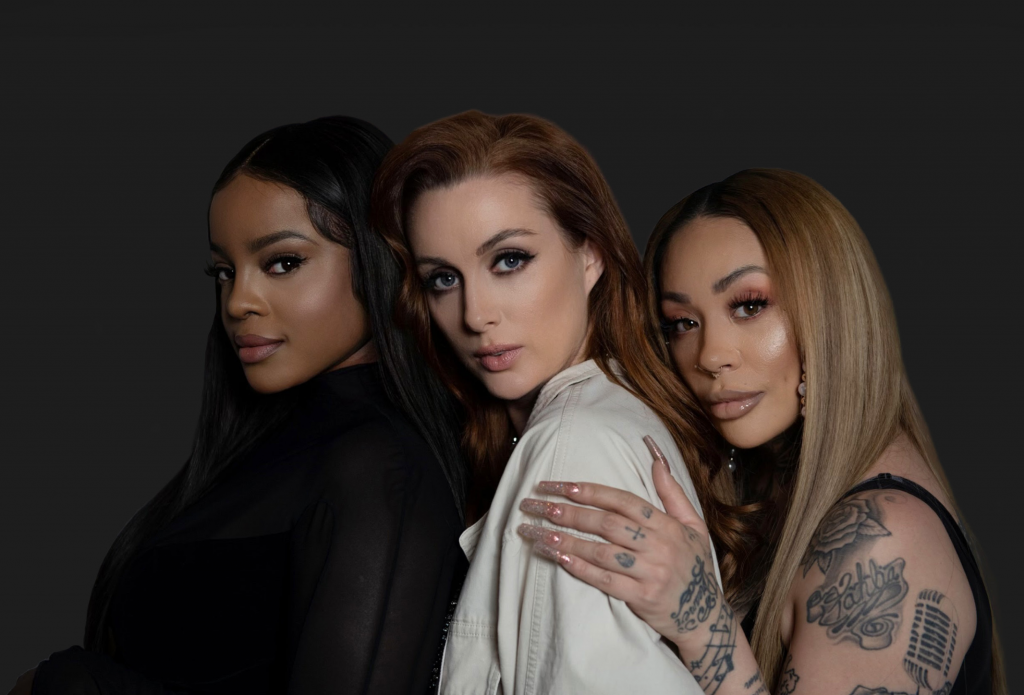 Almost a year after their return as one of the unexpected hits at Glastonbury, when such a crowd turned up that entry to the Avalon gig had to be shut to any more fans, Sugababes brought their summer festivities to Belfast on Friday night, as part of the Live at Botanic Gardens series of concerts. While I never had the joy of seeing them the first time around (my hero then was Morrissey as opposed to fun pop girl bands, but sure, we live and learn) I can't imagine that this original line-up, known for some years by the altogether less catchy 'Mutya Keisha Siobhan' could have brought any more joy in their heyday than they do now.
Mutya Buena, Keisha Buchanan and Siobhan Donaghy, the founding members of the group back in 1998, took to the stage with back-to-back hits, proving to anyone who thought otherwise, that Sugababes haven't gone away. Pleasantly surprising was the very mixed crowd that had descended in Botanic to hear them; they seem to have worked their way through the generations now and the crowd was full of young girls who knew all the words. My party included an obligatory gay man of course, a demographic as well represented on the lawn as that of middle-aged women reliving their youth. And there's a distinct possibility that the lawn would have been even more packed had it not been for unwise booking decisions in Belfast that night – if ever there was a tug of war over the attention spans of party-hungry women in their forties and camp men, surely it must centre around Sugababes and Strictly's Johannes Radebe, who was performing simultaneously in the Grand Opera House. In contrast, the third member of my gig-going trio had been to see Richard Dawson in the Empire the previous night and didn't even have claim to being the only Dawson-Sugababe crossover in the crowd. His favourite band is Throbbing Gristle so I think we can say with some certainty that Sugababes have a surprisingly wide fanbase.
Opening with their cover of Adina Howard's 'Freak Like Me,' a song arguably so good that some bands would have had to stash it away for the encore, The Babes showed from the outset that they have so many brilliant pop songs they can now afford to leak them out gradually over the course of an evening. 'Hole in the Head' followed soon after, another pop classic and a break-up song so dismissive of a 'fool boy' that it screams girl power as much as anything The Spice Girls sang. And while it's fair to say there may have been no Sugababes at all without that fabulous fivesome, they eschewed the soft-pornesque costumery and dance moves beloved of 90's pop girl bands; the pared-down cropped top and combat combos reflected a more relaxed confidence than their younger selves seemed to have. A very welcome sight with so many Tweens cheering in the crowd.
I admit to a second of horror when the high stools were brought out for the trio to sit on and did momentarily worry that it was all going to go a bit Westlife, but they were quickly forgiven when, seated on said stools, they finally delivered 'Overload,' the excellent debut single co-written by these particular three Babes – another song obviously much adored by the audience, who turned the whole evening into a veritable sing-song.
The best thing about starting a successful band when you're thirteen is that when legions of nostalgia-driven fans come to see you twenty-five years later, your voice is as good as ever. They were all in top vocal form, Keisha in particular, so that between the remarkable voices and the characteristically extraordinary harmonising, their sound at times is reminiscent of a gospel choir with a great live backing band.
They played fourteen songs in all, including a cover of Sweet Female Attitude's 'Flowers' and with almost every song a pop great – a special shout-out to 'Push the Button' and 'Round Round' in the run-up to the encore – reminded those among us who needed reminding, that Sugababes, beaten only by the aforementioned Spice Girls in Number 1 singles by a British girl band, were prolific in releasing absolute bangers. Bangers, that if the young girl loving life in front of me all evening was anything to go by, will continue to delight.  Of course, with the obscene price of tiny tins of drinks in Botanic (nothing to do with the band) this meant that between the three of us we paid £16 per Sugababes' song. Still, it's safe to say that as we all joined in with the final acapella version of 'About You Now' it was worth it. Shauna McLaughlin