Features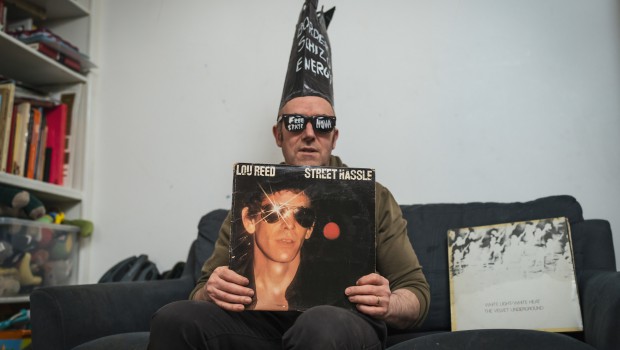 Published on May 25th, 2023 | by Loreana Rushe
0
Track Record: Jinx Lennon
In this installment of Track Record, Dundalk's very own Jinx Lennon selects the records that have left a lasting impact on his life, from Television to Frank Sinatra. Photos by Sean McMahon
Lou Reed – Street Hassle
I've been trying to get my head around Lou Reed because so many of the bands I was into dropped his name. I bought Transformer and Rock 'n' Roll Animal – I hated them! I found pure gold with this one. Lou's lyrics can be touching and ugly and the characters in the song 'Street Hassle' have a certain sensitivity that only Lou could provide with his impeccable way. I never heard a song like 'Street Hassle ' before. Lou never shrank away from what needed to be said.
Velvet Underground – White Light/White Heat
I got it in Caroline Records in Newry in the bargain bin for £1.50 in 1984. I couldn't believe it! This is the shit. All the comeuppance of 'Lady Godiva's Operation', stupid Waldo Jeffers in 'The Gift', John Cale as Dylan Thomas reading Shirley Collins, and the orgy of 'Sister Ray'. Never in fashion and still always sounds 100 years ahead of its time.
Elvis Costello and the Attractions – Get Happy
The music is joyful but the man is pissed off, not happy! It reminds me of dancing at the wedding while the MC rips your head off behind your back. Like Blonde on Blonde, the words just keep coming over the Motown and Stax-type beats, and the playing is top notch. When I bought this LP, the track listing on the sleeve and label got mixed up so I thought side 2 was side 1. It still sounds better that way anyways to me. Probably my favourite record.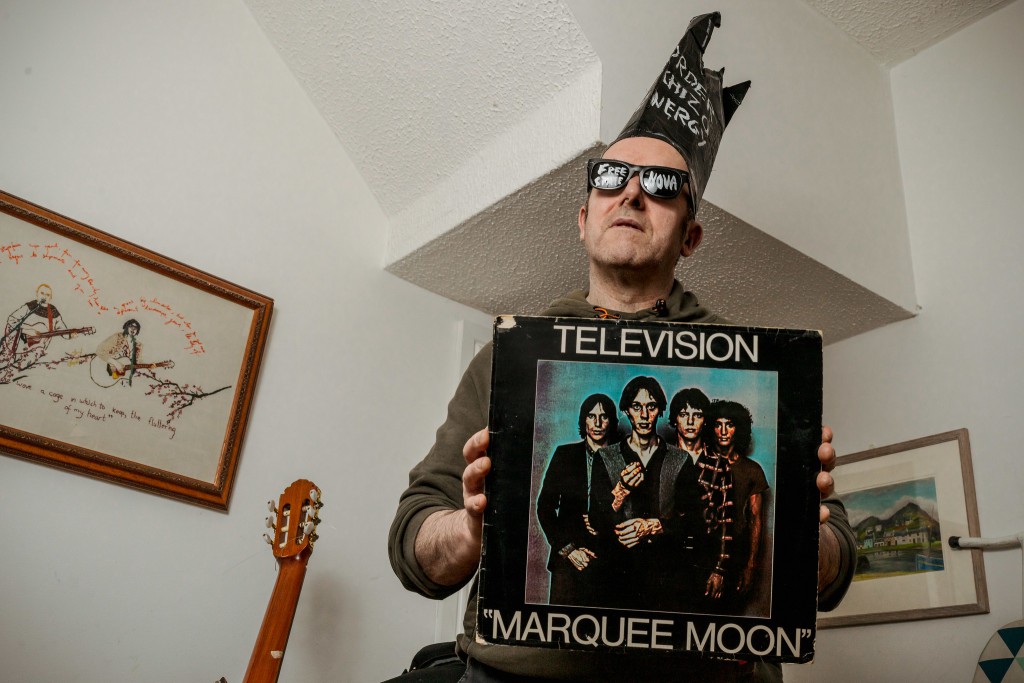 Television – Marquee Moon
Jock Mc Ardle had a record stall at the square in Dundalk, and I bought it there for 4 quid. I was hoping it was going to be New York Avant funk like Talking Heads were doing at that time 1981, but it wasn't! No hipster record neither, and bits sound a bit like REO Speedwagon. I got slagged off by mates ("sounds like a bad Rolling Stones Jinx") but the devil is in the details. I started to hear its influence everywhere. U2 had a single 'Fire' that summer that sounded like the solo in 'Elevation'. I grew up along with Marquee Moon – it's still boss.
Orange Juice – You Can't Hide Your Love Forever
I got this when I read Dele Fadele's enthusiastic review in Smash Hits. This is the sort of music you need to hear when you're 17 and pissed off with life. I couldn't get my head around girls, and Edwyn is laughing it off about it in a friendly way, which was what I needed to hear. The Cure and Simple Minds were my favourites then, but they give you nothing lyrically to deal with life. OJ sounded like the songs were going to fall apart any second but they gave you something back you could use to keep you sane – they were a key.
The Associates – Sulk
Look at the two lads on the cover, like – they're lounging about on sofas on a strange planet in an original Star Trek episode. You wouldn't think they were from Dundee. The Associates were way ahead of any of the other 80s electro pop kids tastewise, and I thought they looked great – the most stylish outfit going at the time, and the one band I was a fan of before I heard a note. Billy Mackenzie sang like Scott Walker and Alan Rankine was a multi-instrumentalist who played most of the music. This was the pinnacle album of that whole era before it got shit. I got it for my 18th birthday from Music Tapes in Dundalk – I had to order it in. Bjork is a big fan of this particular LP too.
Iggy and The Stooges – Raw Power
I bought this in Belfast in 1987 in Our Price during the Troubles. It was £5.99 – pure ignorant punter madness like finding the Velvets in the bargain bin. Some gave out about Bowie's production but it sounds great. It's the best rock album ever for me – totally off it's trolley. Iggy did his own mix – I have that on CD and it's gnarly but still great, cos this album is indestructible. You can't destroy it. I saw him in Belfast at Queens in 1988, mad bastard!
Bob Dylan – Blonde on Blonde
Paula Flynn who used to sing with me would say "out it comes" when the singer-songwriter craze for the harmonicas was in full bloom in the 00s. There's a lot of harmonica here, but Dylan milks the mouth organ for every nuance. Look at him in his Tom Baker Dr Who get up on the cover. He sounds like he's making it up as he goes, but he's got a lot to say, nothing is wasted, and the band are totally on it. Dylan was my parents' music but it doesn't matter when it's quality. The only album of his I really really like. You don't need any more after this. I bought it in Soraghan's Music Tapes Dundalk who were better for finding the full back catalog of musicians like Bob, Tom Waits and so on.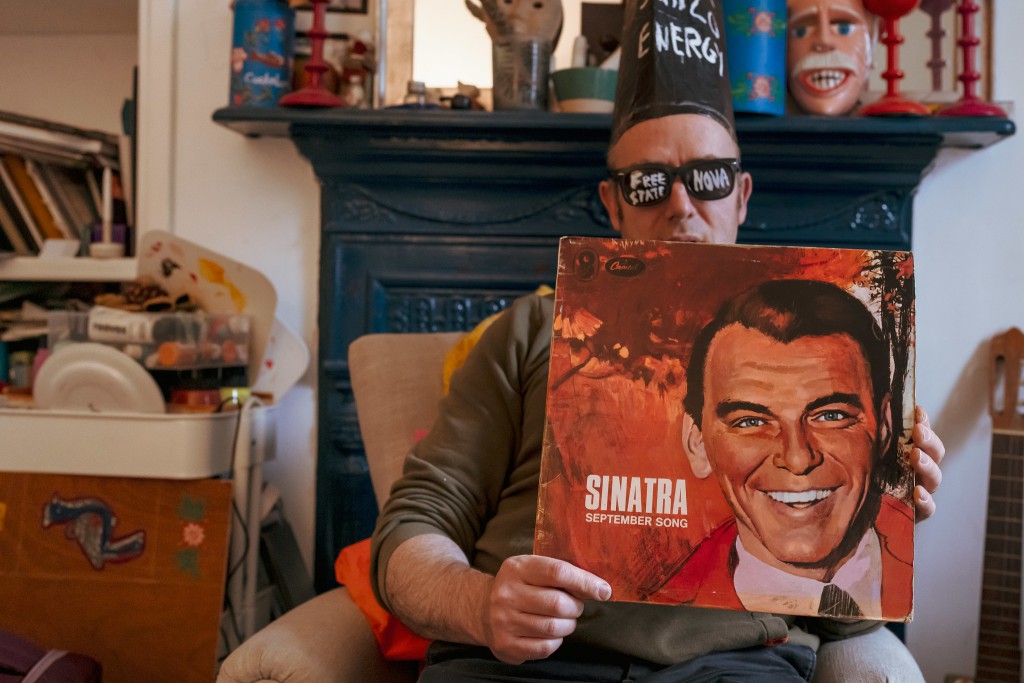 Frank Sinatra – September Song
I picked this second hand in a bric-a-brac shop called Pennywise in Dundalk around 1990. I was on the verge of cracking up because I'd drank the head off myself for a few years and I was getting fed up of pissing my talent away and playing stupid cover songs like 'Three Little Birds' at parties, and all the while this album was one of my drunken go-to's when I was miserable. There's a few crap Dean Martin-y type songs, but Nelson Riddle's strings and Frank's voice mix is something else. 'Around the World' was my wife Sophie and my wedding song.
Public Enemy – Fear of a Black Planet
This album fucked my head and changed my life immediately and then later on again. I mail-ordered De La Soul's 3 Feet High the year before but I thought it was a bit goofy and I still was wary of rap – was it really music or just samples and words? I read Kevin Shields' interview in Melody Maker before it came out. He was talking about the album and its implications for modern music. I ordered it from Slipped Disc in Dundalk along with Sonic Youth's Goo .'Fear' made a big impression. They had the lyrics on the sleeve and I was astounded how Chuck D would remember them all. The first song had as many lyrics as 3 Dinosaur Jr albums; Nothing I was listening to made me think about the world like PE did and it was much better than punk politically – more savvy. By 1995, all I wanted to hear was rap music.
Jinx Lennon plays the Galway Mechanics Institute on 9th June. Listen to his current album on Bandcamp here.