Off the back of their new single 'Maybe,' Ciara Byrne chats to Dundalk neo-soul duo Negro Impacto about encapsulating the vitality and fun of the scene, representing diversity in genre and celebrating the cultural soul of Irish music
Photos by Sean McMahon
Emerging from the effervescent Dundalk music scene, Negro Impacto have been making a name for themselves across the island of Ireland since forming as a band in 2021. Composed of vocalist and songwriter Chi Chi and multi-instrumentalist Laurence Kapinga, aka StrangeLove, Negro Impacto first met as part of the skate scene in Dundalk, living within 2km of each other during lockdown. ChiChi reflects on posting a Phineas and Ferb cover, which sparked a conversation between the pair about music. "One day Laurence sent me the beat for 'Lockdown Syndrome' and proposed that I sing on it. From then onwards we continued making music together. And the rest is history." With a lo-fi sound and vocals of angelic proportions, Negro Impacto have been climbing the ranks of the Irish music scene, making a name for themselves on the back of their fun and funky live performances.
Dundalk natives StrangeLove and ChiChi grew up surrounded by a vibrant music scene. StrageLove reflects on the community in the town and how it has impacted their success, and the success of notable others to date. "A lot of the heads that put on gigs would cross over in similar circles; everyone was friends with each other in some way or another, so we would attend gigs to support each other. From TPM's infamous Lidflippers Ball to local DJ nights hosted by Couch Crew (which boasted David Noonan from Just Mustard), a lot of these things were setting people up to do what they do now – Just Mustard, The Mary Wallopers, Hyyken and ourselves."  
The adjustment from writing in ChiChi's bedroom during lockdown to performing on stage could have proven a challenging move, but for Negro Impacto, the transition seemed effortless. Their live set encapsulates everything that an in-person performance should. From their sweet melodies to the variety of instruments and a surprise rendition of the cha cha slide, ChiChi and StrangeLove bring a vibrant energy to each performance. On their writing process, StrangeLove acknowledges that "we're quite open and keen to search for something that excites and challenges us when making music while keeping it fun for each other."
With a fluid genre that flows from neo-soul, to R&B and funk, Negro Impacto refuse to be confined to one way of being. With music tastes ranging from indie and emo to gospel music, the pair credit their families as early influences. ChiChi discusses how their musical influences have impacted the music they create today. "My biggest music influence has to be my dad. He would always sing to me growing up and he introduced me to singing and different types of music including R&B, 80s ballads, classic rock, reggae, gospel and highlife. As I got into my late teens I started listening to the likes of Tyler the Creator and Jaco Pastorius who helped me broaden my musical taste and pushed the boundaries of what I viewed as the 'correct' way of making music." StrangeLove adds, "There are a few notable people from the present and past like Joy O, Hudson Mohawke, Tyler The Creator, Q-Tip and Kanye. The through-line within the musical figures I respect is that they have a deep appreciation for the music before them and pay it forward in a way that's genuine but still has something fresh and new to it."
Making moves on the festival scene, Negro Impacto have torn up stages across the country and abroad this summer. Starting in Barcelona, the duo represented Ireland as part of the Primavera Pro Irish showcase earlier in the year. They have also graced the stages of Body & Soul, All Together Now – of which ChiChi notes that "the vibes were phenomenal" – and Another Love Story, cementing their place firmly in the Irish music industry and gaining new fans at home and in the sun.
As well as acquiring notoriety across many a festival stage this summer, Negro Impacto curated a Christmas Fundraiser gig at the Spirt Store Dundalk in December of last year. "The fundraiser gig we hosted was something special. We were raising money for St Luke's Radiation Oncology Network who do radiation therapy and chemotherapy. We had so many family and friends at the gig and we also had the amazing Toshín as well as local artists Fabiana and Rowan Murphy supporting us. It was a really fun and wholesome gig."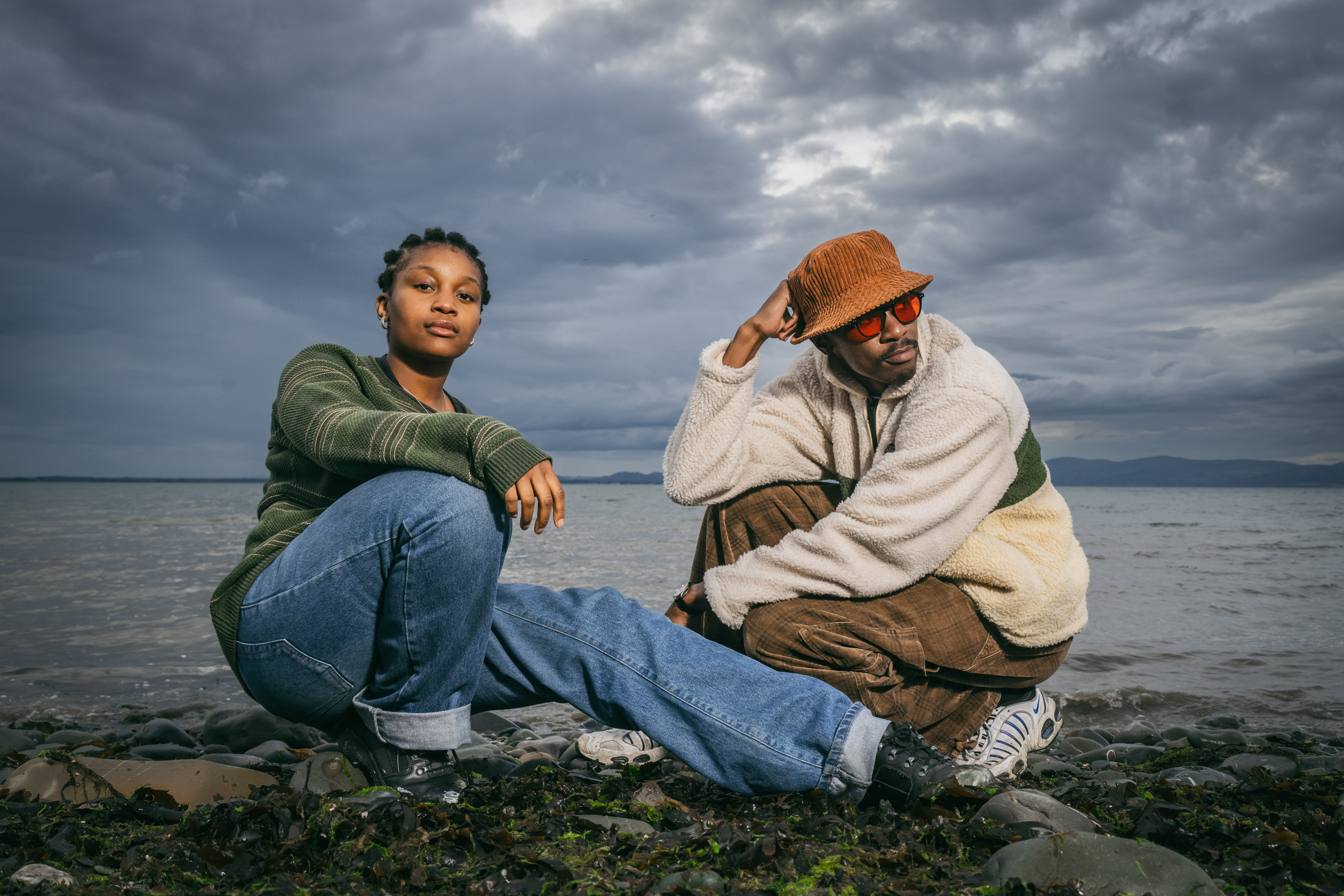 Collaboration with friends and creatives plays an essential role in the ever-expanding sound of the band. 'Negro Impacto and Friends' was a curated showcase featuring a lineup of Irish rising stars including Papa Romeo, Shiv, Bella Festa and Handsome Paddy amongst others. The night spoke to the versatility of and community fostered by the vibrant Irish music scene, posing the perfect stage to witness a multi-genre and multi-talented line-up. A full-day set-up, 'Negro Impacto and Friends' brought together musicians from across the country, with collaboration and fun at the core.
The pair recently made their Other Voices debut, playing an intimate set in Castletown House, County Kildare for Anam: Songs for Hearts and Minds. The set-up was equal parts intimate and unique, encapsulating and reflecting the virtues of the band themselves. In May of this year, they also took to the stage in London for the first time, alongside Alex Gough and Clockwork Graveyard. 
A collaboration of passion and musical minds, Negro Impacto encapsulate the vitality and fun of the Irish music scene, representing diversity in genre and celebrating the cultural soul of Irish music. Off the back of their new single 'Maybe,' the band can be found gracing the stage of Westival in October and may have something special to share around Christmas time. On the music front, further new tunes "that definitely feel like a step up from our initial releases" are on the way. Ciara Byrne
Follow Negro Impacto on Instagram