Off the back of the release of their debut LP Blouse Club and winning Best Video at the Northern Ireland Music Prize, Jack Rudden speaks with Belfast queer punks Problem Patterns about politics, representation and fancy blouses
Photos by Sean McMahon
Political frustration, an insatiable hunger for justice and pure unabashed cheek are the weapons of choice for Belfast punks Problem Patterns. Formed in 2018 in the wake of a high-profile rape trial, the four-piece has spent years espousing calls for collective action and solidarity amongst oppressed peoples with their distinct brand of abrasive, infectiously catchy and unforgivingly queer hardcore. These qualities allow the group to craft songs around the kind of chants you would more likely hear at a protest.
"We all had a lot of frustrations that we wanted to let out," says member Alanah Smith. "A lot of that anger was due to political and social issues. Thankfully, we are all on the same page about what those things are."
The aforementioned calls for solidarity are far from surface level, they are integral to the fabric of the band's makeup – the group does not have a front person. There is no singular voice for the band. Duties are divided and shared amongst members, creating a sound and onstage presence that feels more like an army than a General.
 "We all write songs and switch instruments to be more authentic about how these issues impact us and lift up the voices of our bandmates," notes Beverley Boal. "In that way, we could almost be seen as more of a collective than a band. Each of us has our own unique experiences and we switch roles to amplify that."
Now, with the release of their debut album, Blouse Club, the quartet are looking to push their modus operandi of uplifting each other and members of their punk community to new heights. 
Regarding this, Smith says, "Blouse Club is a really good amalgamation of our time as a band so far; it captures the journey we've had getting to this point but also where we are now, and where we plan to go."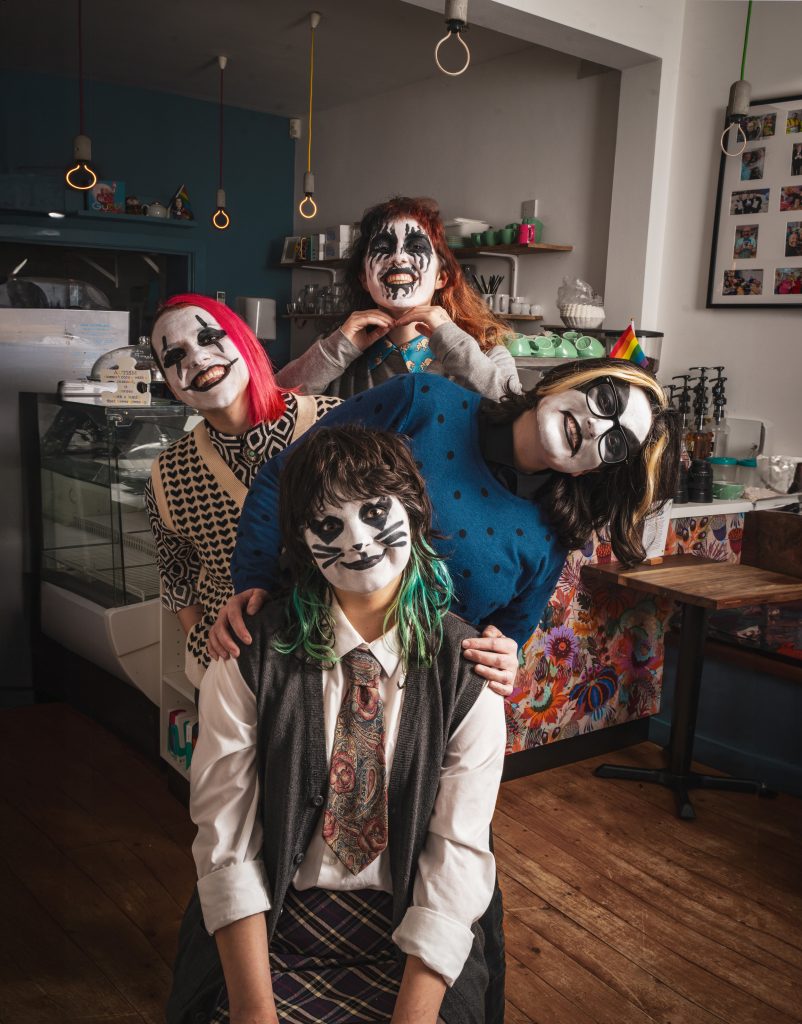 The singles released ahead of the LP show Problem Patterns in all their giddy nordy splendour. The decidedly fed-up 'Letter of Resignation' is peppered with giggles that tickle between casually biting lyrics. 'Lesbo 3000' is a direct attack on the dichotomy between lesbian hatred and fetishization – untethered queer rage, while 'Poverty Tourist' pokes the prickly topic of "playing poor".
"It's just wild to me that anyone would ever pretend to be poor," says Smith. "These are very likely the same people who were bullying kids at school for wearing charity shop clothes. There's nothing cool or relatable about a rich person pretending to be broke."
Hardcore and riot grrrl influences are worn upon sleeves across the group's discography. Kathleen Hanna of Bikini Kill has called the group one of her favourites – underscored when Problem Patterns supported Le Tigre on two UK shows earlier this year – while Henry Rollins has hyped them on his KCRW radio show. True scene cred. However, the group are far from aping their forerunners. Their sound is – and always has been – imbued with a serious cheekiness that could only be bred out of Belfast. The opening track 'Day and Age' from their debut EP Good For You Aren't You Great? descends into a frantic and scattered monologue – a tongue-in-cheek apology for being "a wee silly woman". 'Gal Pals' from the same release looks at the phenomenon of lesbian relationships being mistaken for extremely tight-knit friendships:
"Leaving all your Earthly possessions
To the love of your life, ah ah ah
Sharing a plot forever
With your wife
For the rest of your life,
Gals being pals!"
Politics has permeated the makeup of the group from its inception, as has a keen awareness of struggles experienced by queer women the world over. These two factors make themselves known loudly on the group's furious contribution to 2020's Litany of Failures Vol. 3 – 'TERFs Out'. The track shows Problem Patterns at their most explosive. Vocals devoid of discernible melody but brimming with wit skid across a stomping instrumental, calling out for all women – cis or otherwise – to unite against the forces of trans-focused hatred.
"We've just had Rishi Sunak spewing hatred against the trans community at the Tory conference," notes Smith. "If you have the privilege of being able to be outspoken about it, it's important that you do so. The attack on trans people will not stop with trans people, it's just that they're the chosen target at the moment. This goes beyond us and queer punk."
"It's also wild how some of our songs become more and more relevant over time," adds bandmate Boal. "Imagine a world where what we shout about in 'TERFs Out' was just a bad memory."
At the time of writing, the group are on the cusp of the launch of their debut LP, Blouse Club. Five years in the making and consisting of twelve tracks, one wonders how it feels to have poured so much into a release made by and for the queer punks of Ireland.
"Creating this album has been an absolutely amazing experience," Boal assures. "The late nights, the moments where everything fell into place, that time I showed up late to find Ciara boking her heart out… it's been a wild ride with the best people. I'm just hoping that everyone comes to the Blouse Club launch in their fanciest blouses. I will actually cry if I walk into a room of blouses, I promise you that."
"I think the bond we have has deepened," adds member Ciara King. "We just keep getting more Problem Patternsy. We are much cheekier too. We hope to win the Eurovision Song Contest. Here is our email…"
It feels important that this album is being released when it is. Its subject matter is incredibly pertinent to the current climate. There is a community of people across and outside of the island of Ireland that needs representation. More specifically, their angers, their fears and their needs require representation. Is punk not the perfect vehicle for said representation? If so, Problem Patterns are behind the wheel. Jack Rudden 
Blouse Club is available now from Alcopop! Records