Features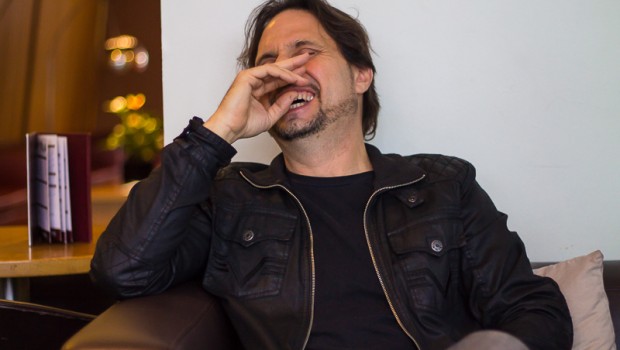 Published on March 12th, 2014 | by Brian Coney
0
Interview: Dave Lombardo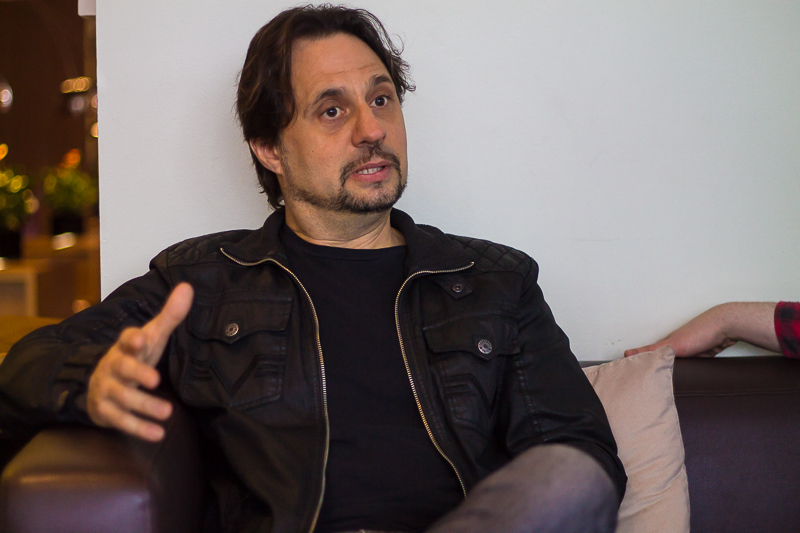 Ahead of an unforgettable drum workshop at Belfast's Crescent Arts Centre, Brian Coney and photographer Liam Kielt met up with boundlessly influential metal drummer Dave Lombardo for a career-spanning interview, touching upon everything from his legendary work with and acrimonious departure from Slayer, his latest string of musical projects and keeping grounded and being at one with his fans.
You're hear from the drum workshop in Belfast. What encouraged you to go off and do these things?
It's a good way for me to get out there and talk to the fans and get in touch – get at ground level. You're coming from way up there in the Slayer world so it's a good way to get down to the roots and connect with the fans, stirring up interest. It's like Dave's still out there – he's not just in a corner, being all "Oh no, I'm not in Slayer anymore." No, no, no – I've got a new production. It's my second production and things are moving fast.
That's Philm, right? How are things coming together there?
Well, we did the first album – that was fun. It was released on Ipecac. We had a great time recording that album. The new album is done and ready to go – all we need is a record company. These days, the questions that arise are "Do you really need a record company?" and "Why do you want to sign a bad mortgage?" It's basically a bad mortgage – you're never going to be able to repay. It'll take forever for you to repay it. Who knows if you ever will? And you don't own the masters at the end of the period, so I was thinking possibly putting it out on Tunecore or Nimbit. That's where everybody is going.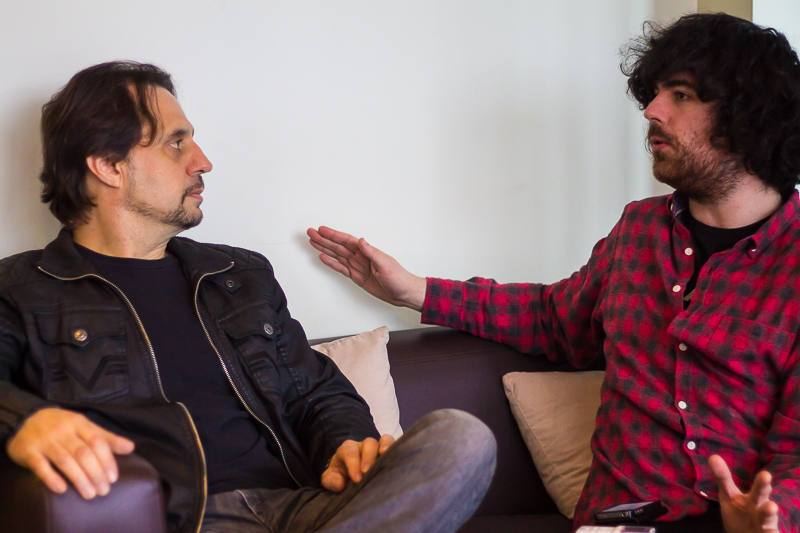 So you're really embracing the present in terms of getting your stuff out there?
Yeah, although the only thing I don't embrace so much of the present is probably the technology that is used to record. I love digital and protools, because they save me a lot of time. I could do five or six different takes, and what they do is they take half of one song and half of another take and they'll piece them together – and there they get the best performances. So, I love protools but I frown upon the abuse that drummers or engineers put their drummers through. They abuse the technology, and perfect everything to the point that it doesn't sound human. Now, if that's what you want, which bands like Nine Inch Nails and more industrial and electronic musicians often do, then I love it. But if you're going to show me a band that is going to go on stage with a drummer, and I go to that show and that drummer lacks what I heard on the record, that's disappointing. I'm not into that. So, I feel that that's the only way I don't embrace the technology. I like the social media and everything that comes along with that.
You've always struck me as someone who doesn't really embrace symbols and ego and all the rest – you're just a guy who loves drumming. It must be liberating to have that sense of freedom, to operate on your own terms once more. How have you found that in the last year or so?
In the first eight months after everything went down, I was trying to find my way – "What am I going to do"? – and I kept the door open for Slayer. It was like, "Ok, let's see if we can work this out, man." But it didn't and words obviously were flying in the media and things were said and later I found out more information, so that just squashed the idea of anything ever happening between us again. So I just started moving forward, starting a book, starting to get the machine going. When I was married – I'm divorced now, for about four or five years now – I really didn't get out much. So now it's going to be more a case of people seeing more Dave Lombardo – more playing, more stuff with Philm and John Zorn and possibly other bands. You're going to see a lot more of me – I couldn't do that before. In ten years, Slayer put out two albums. In one year I put out four and a book. You know, so I'm productive and getting out there.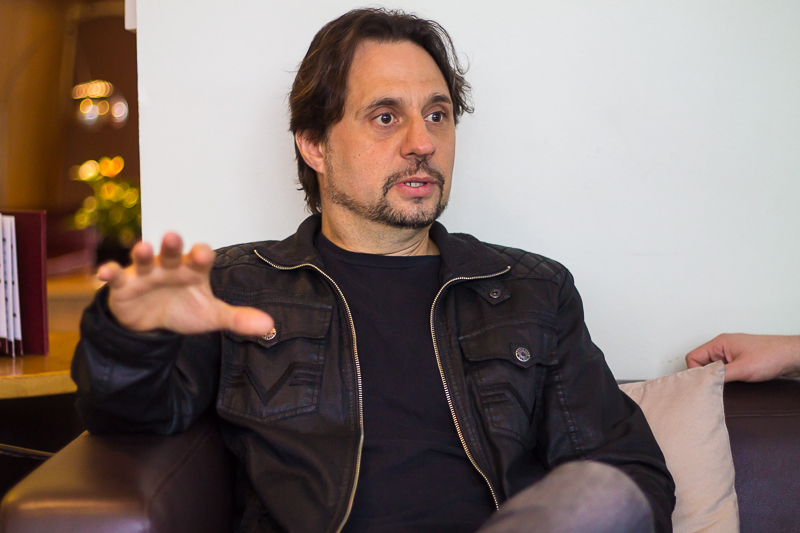 That's always really been the case with you, especially in the last fifteen years or so. You seem to be increasingly hungry for new challenges. Do you feel that that's the case?
Yes. I'm not afraid of taking any challenges. I'm more careful of projects that I choose, making sure that they're not cheesy or dumb. It has to be at the same level as where I'm at. I can't go down to a lower level. It just doesn't work, so you've got to make the right choices. So that's kind of been my focus, in making sure I weed out the bad stuff, stuff that's not going to give me good press – surrounding myself with good musicians.
In terms of drumming, generally, how enthusiastic are you of learning new techniques and stuff that you never thought you would try out?

It's constant – absolutely constant. I'll find heavy sounds… for example, drum n' bass. Some people, and especially metalheads, probably don't like that kind of music but I find a heavy element in that music. It is, in a way, intense, fast and sometimes violent because of the drums and how fast they are. So I feel that and I embrace it. I listen to that music and it challenges me, in that I sometimes try to mimic that style that drum machines do. There's a drummer – I can't remember his name – but he specialises in jungle and drum n' bass drumming and I like it. I watch his videos and I feed off that stuff. So, I'm motivated to try in that genre, as well as several other genres. I don't limit myself and I don't allow for restrictions. Let's take drumming in indigenous Irish or Celtic music. Like, the bodhran – it's crazy how they do that. I don't know how to do that – it's like "What the hell are these guys doing?" So that opens the door. I listen to those rhythms and that's inspiring. I'm all over the board when it comes to the scene and different styles.
Obviously, you've got quite a reputation as being a pioneering and influential drummer. Do you embrace having that clout and influence over others?
You see me, I'm just chilled, right? I'm not pretentious or this big rock star who thinks he's God on earth or whatever. I've never embraced it or taken it in. I've never believed it. Recently, within the past couple of years, my girlfriend, my band members in Philm, when I was going through a hard time, they were all "Man, don't worry about it. Things are going to work out. You're Dave Lombardo. You're fucking Dave Lombardo. You don't know who you are!" It's just difficult to put yourself in the position where you believe that. At least for me. I come from a family where my Dad maybe saw something in my future? He told me "Dave, never, ever think you're better than anyone else." And this was before he ever saw me on stage. I thought that was the best advice that my dad ever gave me. So people trip out when they meet me – "Woah, Dave, dude… you're cool. You're chilled" – but this was just the way I was brought up. You accept people. And being immigrants from another country, I embraced other people that welcomed my family. I thought was really cool.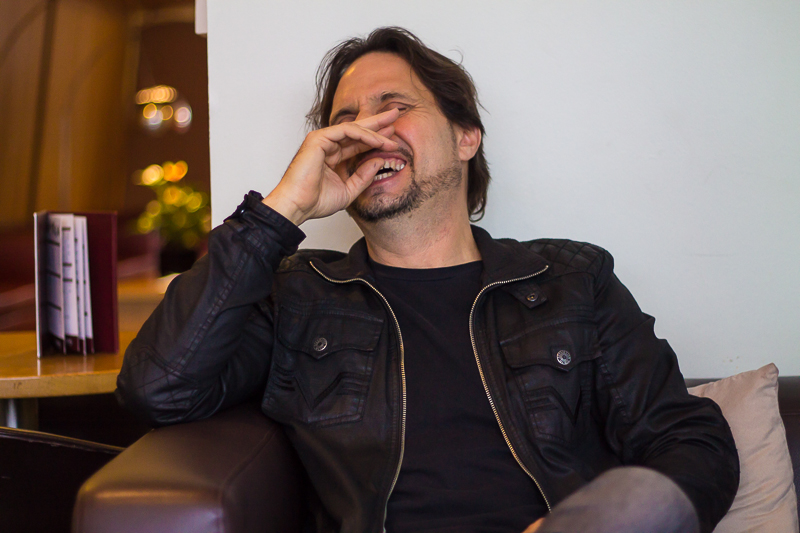 Touching a little on your departure from Slayer. Your Facebook post about it, which wasn't a "rant" whatsoever…
Yeah! We kept it short. It was detailed and I wasn't bursting anybody's chops…
Exactly. Since then, have you had any contact which would suggest you might be able to have any sort of friendship with Kerry and Tom again?
No, none whatsoever. I've texted them, I've e-mailed them saying "Hey guys, let's put all this aside and let's sit down and talk". No contact. I texted Tom maybe a couple of months ago – "Tom, thinking about you bro – hope you're well." Nothing. Fine! I was that indispensable that they picked a drummer that's been on the couch probably for the past ten years and has done nothing. Oh, here I go… don't get me started! I don't want to be mean to anybody because I'm not like that but, shit, guys, really? Is that the best you can do? Oh, bring back the other guy so it's a revolving door? I think the door just shut. But one door shuts and five have opened.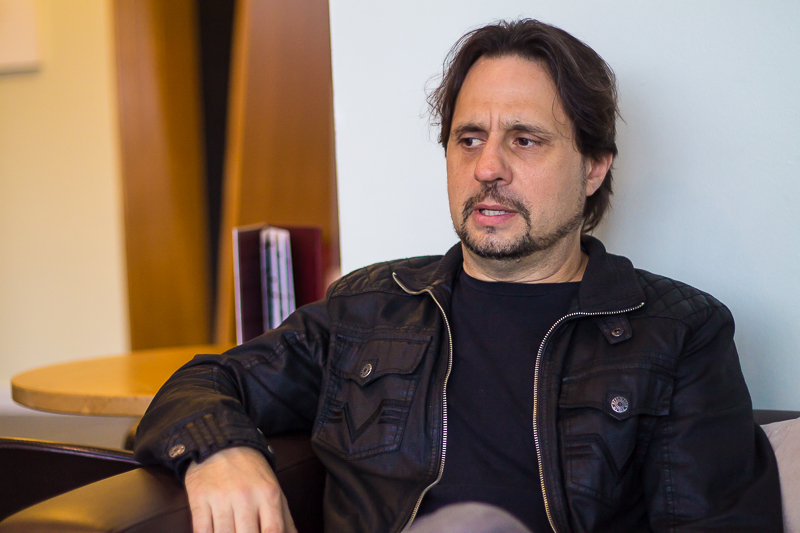 That music and that band put me on the map, which I'm very proud of. There's nothing I regret of being in that band – or out. Everything I've done I've been very happy and I've no regrets, but it's unfortunate that it happened and I really wished for the fans and the band that we could have went out in the golden years still together. Because we made an amazing choice in acquiring Gary Holt, who's fantastic. He's perfect. He should be on the new album. When I was in the band, Kerry wanted to write all the songs – "Gary's not ready. He'll probably come in for the leads". Gary's not ready?! He's been playing in the band for the past three years. How can he not be ready? He knows my style. What was cool, when we were in India, Gary and I go up on stage during soundcheck and we're improvising maniacs – which is how I like to write music, on an improvisational level. We went on stage and we just looked at each other and went, "Dude, we just wrote a whole fucking album." And it was awesome. I can't do that with Kerry. Kerry doesn't know how to improvise. That's why we didn't play the Big Four, because Kerry is all, "I don't do any songs unless I rehearse for the band."
So, that's thirteen months ago. You're moving on. Looking at other side projects, can we expect releases from any other band you've been associated with or play in?
Possibly. I'm going to see [Mike] Patton and Trevor [Dunn] – three of the four members of Fantômas are going to be in Australia. We're pretty damn close to doing a show over there. So you never know what could happen after this meeting.
Can you believe it's ten years since the last album?
I know! I was just talking to Patton's manager. I said "It's been ten years" and he was like, "Shit, Dave, it has!" I love working with Patton and it could be time again – so we'll see what happens. We're definitely in communication. As for Grip Inc., we might be doing something in the future. Although Gus [Chambers] is not alive, we have a possible replacement which I'm very excited about. There's the new Philm album coming out but we also have another album being written right now, so there's five new songs. One album isn't out yet and we already have five new songs for the third. And there's two other artists that I really can't say that I'll be working with on new stuff. Also, soundtracks for cartoons – I'm doing stuff with Disney now, so I'm really excited about that. There's a new cartoon called the The Dudes of Legend County. We're going to be playing the music for the pilot, so we'll see how that goes. If the pilot takes off, then the music takes off too. So, yeah, always writing!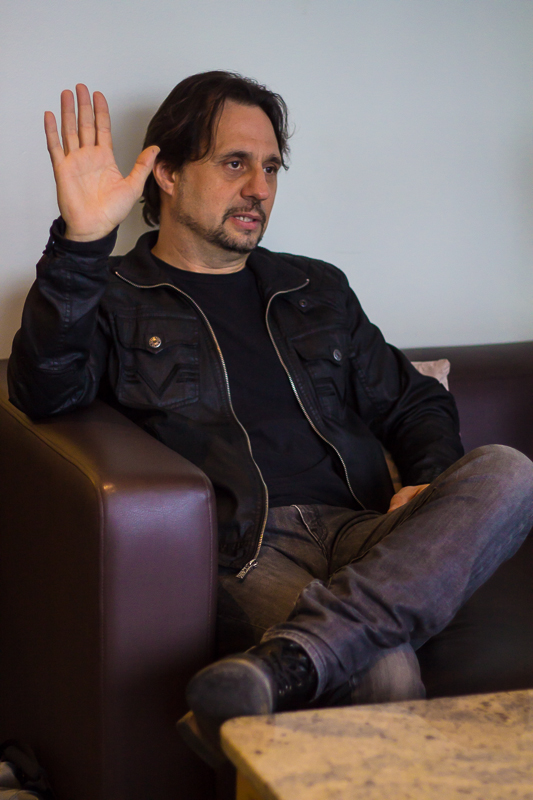 Touching briefly on [ex-Slayer guitarist] Jeff Hanneman, who passed last year. Looking back over your friendship and musical relationship, how would you pay tribute to him?
I had a great relationship with Jeff. I think I had a better relationship with Jeff in his later years when I came back into the band, because we would spend the most time in the tour bus. Kerry and Tom would go inside, or Tom would have his own tour bus. So it would be Jeff at the front of the lounge and I'd be in the back of the lounge, just chilling. I'd just go up there, get something to drink. "What's up? What are you doing?" "Yo man, want a beer?" Just messing around, you know? He would come down to the back of the bus and say, "Dave, put something on your iPod." He loved my iPod, because it has so many different styles of music. I'd trip him out. "What the fuck is that, Dave? What are you listening to?!" He loved it – he loved it.
Paying tribute to him I think is bringing up their name and bringing up their stories. Jeff was an amazing character – a very nice person. Let me tell you a story that should have been said at the memorial. I should have gone up there but I kept quiet because of everything that was going on. We were in Canada, driving across the country in a truck with a gear. We were four guys in a car driving across the country. We got to the venue in Toronto, the night before the show. We had a night off, there was a band playing – it was great. There was beers, I got wasted out of my mind. Jeff went out and looked for me everywhere. "Dude, I was looking for you everywhere!" That means he cared about me. He found me in a bathroom stall, just sleeping – because I was just out. He tore the door down, just ripped it off the stall. He was like, "Dave, I pulled the door off but then I realised, all I had to do is open the door!" He picked me up and took me back. The next day I asked, "Dude, did I have my pants down?" He said, "No" and I said "Oh, good!" That next morning I woke up with little pancakes in pockets – all my pockets had pancakes in them and I was sleeping in a little bed of pancakes. I was like, "Jeff, did you do that?!" and he was all, "Yeah, man."
Man, we used to go out to parties all the time. One time, we ended up in this pub in Canada. I think we were trying to cause a fight between some guys – we were instigators, you know? I think Jeff walked up to one of the guys and was like, "Hey man – that guy over there, he was checking your girlfriend out" but it was him checking the girl out, you know? Him and I we were troublemakers in a way – in the early years. Then I got a girlfriend and got really serious and I kind of strayed away from the band. Then we picked up where we left off when I got a separated four or years ago and we started having fun again. It was great. I miss him – I really miss him. It's sad because he didn't want this to happen to Slayer. He used to ask, "Hey, Dave… what's going on here? What's going on?" There was friction, sure, but I didn't know they were going to take the position of not taking me to Australia. My bags were packed.
We were all on the same page at one time but Kerry didn't drink, party or anything – and Tom, Jeff and I did. Now Kerry is different. Now he drinks like crazy.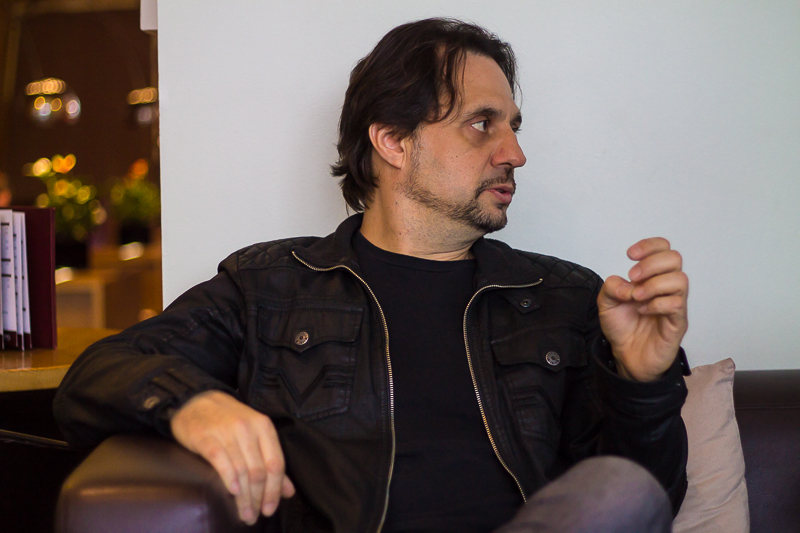 Moving away from Slayer for a minute and talking about drumming generally, what one piece of advice would you give to new drummers who look up to you?
I think the one main thing now is, of course, to study your music and practice – stay in school, etc. But you also have to learn the business. There's two sides to being in a band. There's a business side and there's obviously the music side. Band members can forget that a band is a business, is a company – is a corporation. And you don't know that when you first start out, in your younger years. You don't think that way. Like I've said before, though, there's no friends in money. Everyone saying, "You're with me bro. You and me 'til the end bro. We're going to do this and that bro." I can't stand that "bro" shit. It's two-faced. So, that's what I tell the kids now. You've got to understand that a band is a business and you've got to learn your rights.
Finally, looking back over your career, do you have any particular favourite album, concert or moment as a musician?
Well, obviously, all of the first six or seven records. Those records were amazing. I think the last one Jeff was on – World Painted Blood – I was going through turmoil. I was practicing with the band and they didn't know what my problem was. I was there for rehearsal all the time but one day I show up with a black eye. "What the fuck happened man?" I got into a fight with my wife's boyfriend – as I discovered – at the time. There was a lot of shit going on there but Jeff was a part of the writing process, he was there all the time – he was bringing in music and we were all contributing. It was just a special moment. It was the last… bit.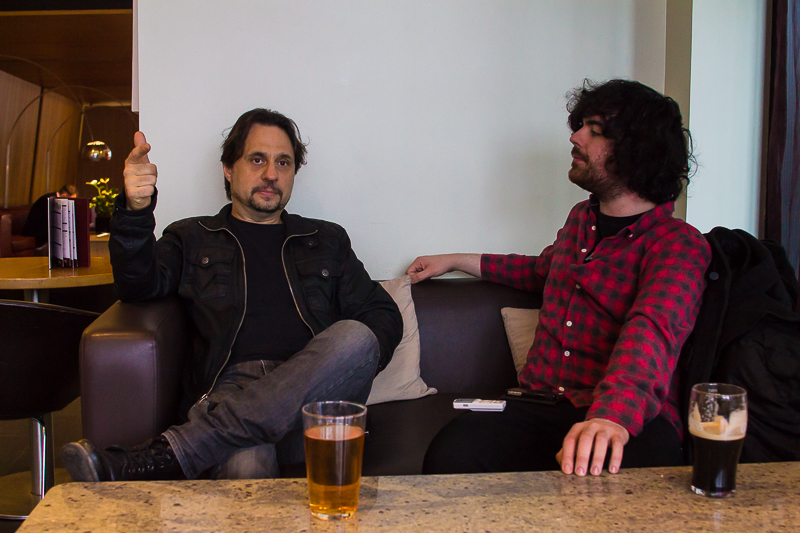 That has the most memory for me because I had the most freedom. I wasn't married and I was able to relax with the guys a lot more. I had a beer with Jeff at the airport – it was different. I dragged Jeff out to go see this band called Jucifer, a husband and wife death metal band. Jeff like the music as I would play it for him backstage. They came out and visited me on tour and they had a show that night. I said, "Jeff, let's go and see them after the show." At that point, he never went anywhere – he was like a hermit, he didn't care to go anywhere. I dragged him out and we went to see Jucifer at this little bar – I don't even know what state we were in. We had a blast. It was awesome and we sat at the bar and chatted to the band. That's a really poignant memory for me.
Check out some of Liam Kielt's other photos of Dave Lombardo at the aforementioned workshop at Crescent Arts Centre below.