Features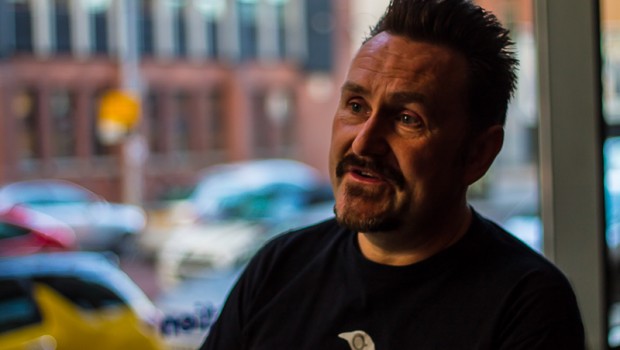 Published on March 31st, 2014 | by Brian Coney
0
Interview: Therapy?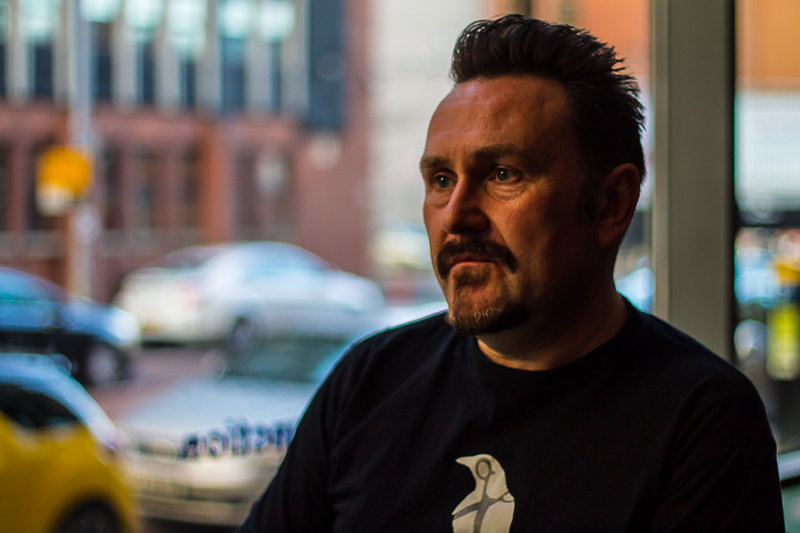 Following on from Mike McGrath Bryan's dotingly extensive Complete Guide To Therapy? over the last seven days, we're happy to present our feature-length Q+A with the band's boundlessly inimitable frontman, Andy Cairns. Featuring some superb photos by Liam Kielt, Brian Coney talked to Cairns about the brand new reissues of their albums Troublegum and Infernal Love, plans to tour the reissued material later in the year, how things are going with album number fifteen and much more besides.
Hi Andy. First things first: it is, of course, two decades since the release of Troublegum. One suspects it doesn't quite feel like twenty years?
It doesn't, no – it really doesn't. It feels probably about ten years. I was trying to work it out: whenever Troublegum came out – 1994 – that would have meant if I had bought a record that was two decades old it would have been out in 1974. I would have been nine. I was trying to think what I would have bought from 1974. I probably would have bought some Black Sabbath records, or maybe something like a Funkadelic record. But that would have been because I had read a review of it, not because I had any enduring memory of 1974. So it doesn't feel like that length of time at all, no. It's quite strange.
You're reissuing both Infernal Love and Troublegum. What was the process like in compiling the bonus material? Was it difficult including demos of singles of like 'Turn' and 'Knives' – versions of songs that weren't perfect?
Yeah, we wanted that to be on it. We wanted people to hear it as rough as possible – in a boom box, in a rehearsal room. As a fan that's the kind of stuff I like. I remember, I got the Stooges' box set of Fun House, and it's got stuff the band in rehearsal stopping and starting songs – which is something that I, as a massive Stooges fan, loves. We just that might be more interesting, because the people that will get this, it will either be their second or third copy of it, so they maybe want to hear something that they don't have or have heard before.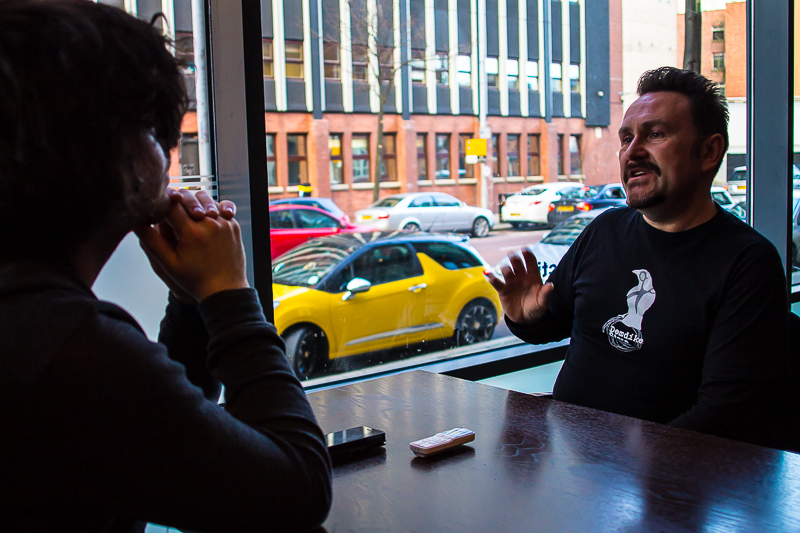 In terms of how the whole thing came out, the ball start rolling from within the band or elsewhere?
First of all, Universal – we used to be on Universal in the nineties – got back in touch with us out of the blue and said they were doing the twentieth anniversary thing and would we like to get involved. Myself and Michael (McKeegan, bass) – because obviously Neil (Cooper, drums) wasn't there – thought it was better that we do it than we don't. I remember Ricky (Warwick) from The Almighty, Black Star Riders, Thin Lizzy etc., being shocked once when he saw an Almighty Greatest Hits that he didn't even know was out. The cover wasn't very good and all the rest – this was years ago. I just remember thinking we may as well get involved just in case there's running errors or spelling mistakes or whatever. And we thought they were only going to release the album – touch it up a little, maybe add new sleeve notes or something – but they said they were going to make a three-disc thing. They said we have such and such in the archive and sent us a list. We asked how much they could put on it and they said we could put three discs out. So we were like, yeah, go for it!
It's certainly worth the wait anyway. In terms of promoting the reissues, what is the plan for the next few months? Will there be dates in Ireland and the UK?
I would like to think so but funny enough, we haven't been approached from the North. We've already done a Troublegum show in Dublin – on the twentieth anniversary of the band, not the album. But we haven't had any offers in from the North, which is why we haven't done it. People always go, "You haven't played the North. Do you not want to play the North?" but not one person has come forth asking if we would like to do a Troublegum show in the North. We think it would have to be a good gig, anyway – a good line-up, maybe a DJ playing something that's relevant now and old tunes from back then. We would have to make it a celebration, especially if it was in Belfast. In the UK shows, yeah, we're doing two hours or whatever stuff is on the three CDs, but I think if we did it here it would have to be an event. It would have to be an extravaganza to make it worthwhile.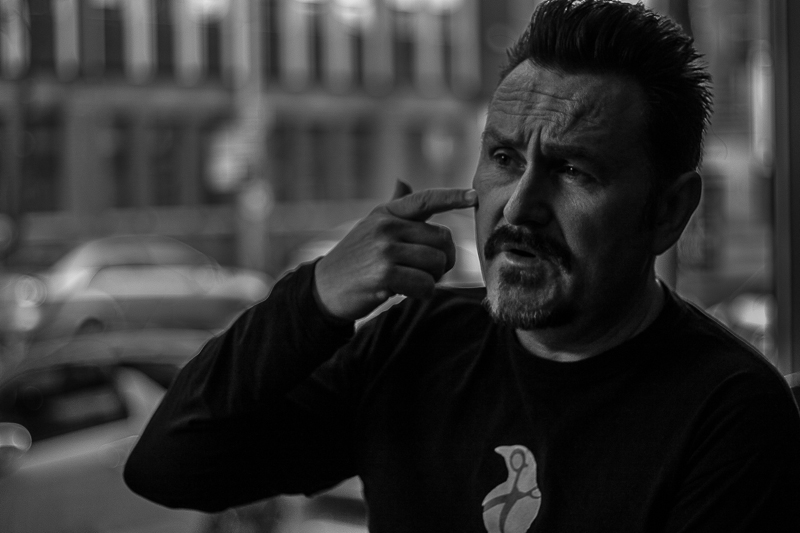 It's certainly warranted. Listening back to both Infernal Love and Troublegum back – obviously you know the songs inside out by now but did you notice anything new about the tracks, maybe some of the non-singles, during the remastering process?
Well, (Chris) Sheldon was very, very good making the album resonate very well – especially Troublegum. I remember thinking it was not quite a straightforward metal record, in places, you know with our little quirks – the snare sound, Michael's rattling bass, etc. But listening back to it, the way we put the guitars together is really quite clever. He's also very, very good at suggesting vocals that weren't so obvious. And little things like that. It's a lot darker. Over the years, a lot of people almost denounced Troublegum as Therapy?'s pop record, because of like 'Screamager' and 'Nowhere'. Listening back to it it's very, very dark, lyrically and musically. If you listen to something like 'Nowhere', which has quite a stock chord progression, even before it goes into the pre-chorus it has a flattened-fifth, a tri-tone, which people don't use in pop records. So it just made me realise that it's not this really shiny album. People sort of paint it like it's a NOFX album or a Green Day album. With all due respect to those bands, of pogo-friendly pop-punk – Troublegum is not necessarily that, not at all.
Two years ago, you released  the excellent A Brief Crack of Light, an album that's right up there with your best material. It proved, once again, that you're consistently hungry to push yourselves for the best results. How are things going for album number fifteen?
We're going in on the 17th of April to record. We've got nineteen songs and we're doing twelve. The guy who's doing it is Tom Dalgety, who did the last Royal Blood album, as well as the last Killing Joke album and stuff with the Maccabees – so he's very versatile. He's a young as well, and a massive fan of the band. So, we've already done the click tracks and guide guitars and guide vocals. We'll record twelve of them in two weeks and mix them, and probably go in over the summer and do the other seven tracks, just to have as extra tunes.
That all sounds very promising. Are there any sort of overriding themes or concepts taking shape with lyrics on the record?
We wanted to make this one very melodic again, probably because we've been so caught up in the whole Troublegum thing. That said, there's no point in a bunch of blokes twenty years older trying to do Troublegum 2, whenever it's almost like a teenage angsty-album. My starting point here was looking at that protagonist now, with bitterness, regret and failure, rather than just looking back – that's lyrically where it came from.
It's funny: Tom was all for it being more melodic but at one point he stepped in and was like, "Lads, lads – you're not making Dookie" so we kind of backed off a little bit, and it was a good call. The opening track is a bit like Big Black meets Ride The Lightning-era Metallica – it's called 'Still Hurts', there's a track on it that's completely Hüsker Dü that's called 'Tides'. There's a Killing Joke-esque song called 'Frightening Sparrows in Vain', from the Dostoevsky quote. It all sounds like Therapy? – it's got that guitar sound, that pingy snare and rattling bass – but it's a lot more leaning towards the melodic side. All the same, it's still very much the band that made A Brief Crack Of Light and Crooked Timber. Tom is very good at making sure we don't fall back into old habits or sound like a bunch of old lads. He's very good at any time we're doing something slightly lazy going, "You're better than that." Which is good!
We've never donned the rose-tinted glasses – we've never done that. It would have been the death of us. If we were going to be the same band, over and over, we would have made every record sound like Babyteeth, which works for AC/DC, Turbonegro and Iron Maiden – making the same record. Of course, there's nothing wrong with that. I love the Ramones, and they did that. But I think with a band like us, because Pleasuredeath is different from Babyteeth and so on, we have to stick to that template – they all have to be different from the last one.
You mentioned Dostoevsky there. Are there any other literary or artistic themes running through the record?
Yeah, there's still a lot of Beckett in there – stuff like 'Still Hurts', striving towards the void on a completely clean sheet, trying to just wipe everything clean and start again from scratch. But Beckett's always been there. There's quite a few movies that have influenced it as well, like Michael Haneke's Amour, just the actual loss of dignity and humanity in that kind of inspired us to have more grit and more hopefulness. The last track on the album, which hasn't got a title yet, that sounds like something off Third by Portishead. It originally wasn't going on the record – it's got a very unusual, almost King Crimson guitar riff, and it goes into this John Bonham-type beat. It's a bit like 'Ecclesiastes' off A Brief Crack of Light. So yeah, it's really taking shape and that's the themes of it so far – a lot of it is trying to get your head around moving on from any failure or loss, in a way that a man in his forties deals with it.
You've been doing some solo shows over the last while. What's it like playing Therapy? material in such a different set-up – just yourself, a mic, guitar and audience?
I miss the boys, to be honest. The recent string of dates was offered to me. I was offered a couple of shows, in arts festivals and stuff like – which are only thirty minute sets. Then I did a whole six weeks last year, around the UK and Europe. You really have to break the song down. Some of it doesn't work – it's all been trial and error. Sometimes someone will shout out something from Nurse, but unless it's something like 'Gone' it's not going to happen. What I like about it is you can tell stories about stuff that happened to the band or inspired the songs in between it. I really enjoy that end of it.
Looking back, whenever you released Troublegum back in 1994, did you think that in 2014 you would be working on your fifteenth album?
I didn't think we would, to be honest. We always took it an album at the time. We were still on Universal after Suicide Pact – You First but when it got to about 2001 and the whole music business side of things was going downhill and we had to change labels and drummers, I kind of thought, "This maybe has a couple of years in it." Funnily enough, though, things started turning up around Never Apologise Never Explain into Crooked Timber. We started to realising that we were playing bigger venues again around Europe and people were coming back. When you look at the history of rock n' roll, that tends to happen to a lot of bands that stick around. Years ago, Maiden played to like three hundred people in the Mandella Hall. When you tell that to people now they don't believe you – but that was their nadir. I think that's quite inspiring, not just a metal band but any band sticking around like that. With us, we've completely adapted our touring methods to play smaller venues and we were well equipped to deal with it. I'm glad, though – I don't think we ever felt we would split up. I think around 2002 we thought, "Well, if this gets any worse, just for economic sake, we might have to knock it on the head" but we were lucky.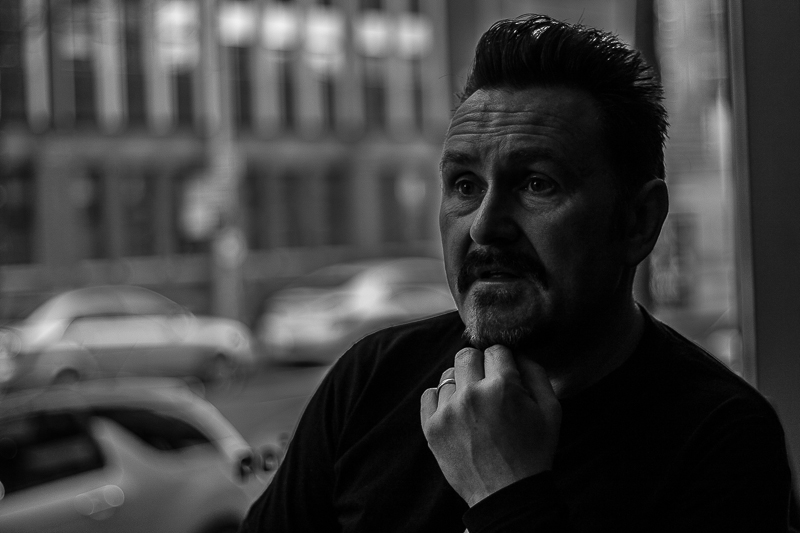 Obviously, you've been extremely influential to many bands, not just based here but also across Europe and the rest of the world. In terms of current Northern Irish music, are there any bands or artists that have particularly caught your ear?
I really like Blue Whale – they remind me a bit of Polar Bear. That song 'Was' is fantastic. They kind of remind me of Albert Ayler playing with a bunch of kids that grew up on Steve Albini records. I also like a guy called Queer Giraffes (Steven Toner). I got some of his stuff from Bandcamp, which I really, really like. But there's obviously a lot of great stuff happening outside of that too – it's all very encouraging.
Going back to the new album for a minute, are there any plans afoot in terms of videos, documentaries or collaborations in the pipeline?
At the minute, there's some things I can't mention yet in case it doesn't happen but there might be some form of reading material at some point if it all goes according to plan. There will be a video, I'm sure, and there will be a tour starting at the end of September, start of October, because that's when we're going to be releasing the album. And I might be hopefully coming back to the North for a show in September – an acoustic thing. So, yeah, there's a lot going on.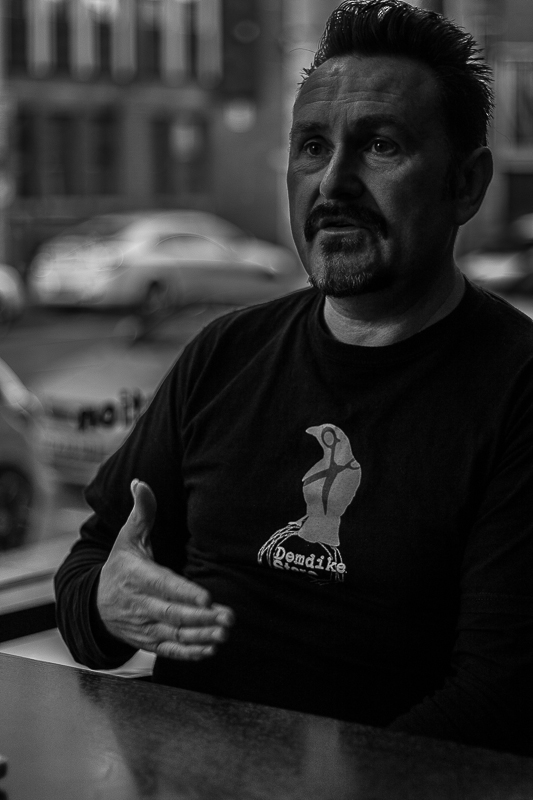 Therapy? have always attracted diehard fans, right from your inception until the present day. How have you viewed the allegiance of your fanbase over the last couple of decades?
I think we're a bit like the Manic Street Preachers in the way that people that like us, we're their favourite band. We seem to get an awful lot of people who we're their favourite band – people that are completely nuts about us. We don't seem to get a lot of people that maybe read about us in a magazine and come to see the odd gig on a whim. One thing that has been really sweet is seeing younger people come along to shows. For example, I did three shows in Finland on the acoustic thing and a lot of younger kids came along and you can just imagine that their big brothers had Therapy? in their record collection and they maybe get into KoRn or whatever and the big brother is like, "You should check this out." So I think there's probably a "handed down" element to that.
Finally, at this precise moment of time, do you have a particularly favourite era or record from your own back catalogue?
I really, really like Crooked Timber. I think it was just because I was working with one of my heroes from childhood, Andy Gill. It was a great experience doing it – a bit unusual. That said, I don't think it's as good a record, in hindsight, as A Brief Crack Of Light. I think my favourite Therapy? record has always been Babyteeth. Just looking back on it, growing up in Northern Ireland at that point of time, there was nothing like the Thin Air – nothing like that. Obviously there was the Limelight, but that was it. There was no magazines, there was no media. We recorded the album in Randalstown in two days and it was a bit like the Good Vibrations movie: John Peel played it, we ended up on Touch & Go records and for us, coming from Larne and Ballyclare, I'm really, really proud of that. To see my own record in Caroline Music on Ann Street, alongside Captain Beefheart and Hüsker Dü… that was very special.
Go here to purchase the new reissues of Troublegum and Infernal Love, here for our Therapy? goodie bag competition – including both reissued albums and several rarities – and here for the first part of Mike McGrath Bryan's Complete Guide To Therapy?